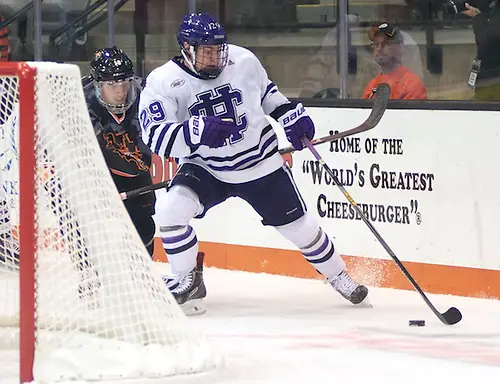 At Holy Cross, nonconference scheduling has always come with a philosophy of no fear. An all-sports member of Division I, the Crusaders have had the name draw to garner attention from some of hockey's power programs, allowing them to schedule games in what amounts to a virtual murderer's row.
Since 2010, they played Notre Dame, Wisconsin, Boston University, Northeastern, North Dakota and Boston College. This year, they opened the season with a home-and-home series against perennial national tournament contender Quinnipiac, then faced the defending national champion Providence Friars. It's something their second-year coach, David Berard, enjoys and embraces.
"Our scheduling philosophy is always to go out and get the best teams available to play," he said. "It gives us a good way to measure our progress against some of the best in the country. [The first three games] helped us prepare for our Atlantic Hockey games because they had us at a high level with knowing how to address our games [last weekend] at Canisius."
Against Canisius, the Crusaders jumped out to a 1-0 lead on a Mike Barrett goal in the first period. After the Griffs tied things with less than six minutes left in the second, Michael Laffin gave Holy Cross back a one-goal lead two minutes later. But Canisius battled back yet again to tie things up 2-2 after 40 minutes.
In the third, the Crusaders had to rally after Ryan Schmelzer scored nine minutes into the frame. They did just that, scoring with under seven minutes remaining to tie things up at 3-3. Shane Conacher scored about a minute later to give the Griffs the game, but the message was sent by Holy Cross. The next night, they jumped out to a 4-0 lead, ultimately winning 4-1.
"I think we've been getting better with each game," said Berard, "and the result was there this weekend with a road split. We had a really gutsy bounce-back game on Saturday, and I feel like we're starting to put ourselves in a good situation. I'm really encouraged with how we've been playing, and I look forward to seeing how we can keep getting better and better."
If there's one question that's been answered in the first couple of weeks, it's in goal. Entering the year without Matt Ginn, the entire Crusaders team knew it would need to step up and discover how to move forward from the program's all-time winningest netminder and first team All-Atlantic Hockey selection.
They've done that with a platoon approach. Sophomore Paul Berrafato, who played last year while Ginn was injured, is splitting time with freshman Tommy Nixon, who picked up the victory on Saturday.
"We knew entering the season that the goalie position would be a question mark because everyone knew what Matt did," said Berard. "He was the best statistical goalie at Holy Cross, and he was a big part of what we did and were able to do. But not enough credit goes to the rest of the team as a unit at defense. We lowered our goals against as a team last year, and we brought the shot totals against down.
"We aren't looking for Paul and Tommy to replace Matt Ginn," he continued. "We're looking instead for them to play up to the level that we know they can play at. Right now, it's about getting comfortable with playing regularly at the college level, and it's about our team doing well around them. I like their play so far, and there have been very good segments of games. We're going to keep playing both and see what happens.
"I used to be a goalie, and I know that stats like goals against and save percentage are nice, but wins are really the most important stat. Both goalies, right now, are giving us a good chance to win games."
Interesting numbers, Part I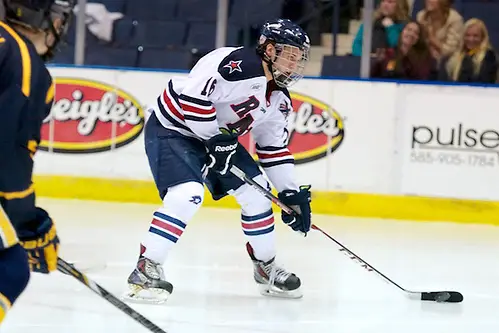 There's starting the season hot. Then there's what Robert Morris is doing.
In their first four games, the Colonials have trailed after a period only once — at the end of the second period of the second game of the year against Air Force, a game they came back and tied 3-3.
They've scored first in three of their first four games, and they've led after five of eight first and second intermissions. They're tied with Michigan for the third-best offense in the nation.
This is a continuation of their success last season, when they scored first 23 times. Last season, they trailed into intermission breaks only 24 percent of the time.
The fight for respect continues
Atlantic Hockey lost six more nonconference games last weekend, bringing its cumulative record to 5-24-2 on the season.
As you've read in this space multiple times, the race for a second NCAA tournament berth relies on the entire league's cumulative performance against the rest of the nation. Last season, Robert Morris went 5-3-1 against non-Atlantic Hockey teams, while Mercyhurst went 5-5-1. Neither made the national tournament.
Although statistics play a clear role, people within Atlantic Hockey don't see their teams as far off as outsiders may assume given the league's struggles to consistently win nonleague games.
"The parity of college hockey is better than ever," Berard said, "and we aren't that far off as a league. We are much closer now than ever before [to consistently winning]. There's a high quality of coaches, of players and of programs pouring more and more resources into their teams, and it's really paying off.
"These wins aren't huge upsets anymore. People outside the conference who don't know the college hockey game can look at a box score and see a more unknown program beat a program they recognize, but people who follow college hockey know Atlantic Hockey teams are winning more often and really aren't that far away."
Interesting numbers, Part II
Although they're still searching for their first win of the year, the American International Yellow Jackets are putting up gaudy offensive numbers worth another look. The Yellow Jackets' goals-per-game average dropped to 2.33 after scoring only one against Sacred Heart on Tuesday, but they were remarkably consistent in their first five games, scoring two or three in each contest.
In a twist that admittedly might have limited interest, the hockey team put up the same amount of points as the AIC football team in the last week. AIC lost to Assumption 32-7 last Saturday while the hockey team scored three, three and one, respectively in two games against Penn State and one against Sacred Heart.
Hello, old friend
One last note on Berard: The Holy Cross game at Providence held special meaning for him. A Rhode Island native, he played at Providence and was a long-time assistant before joining the Connecticut staff in 2011. He returned to the Ocean State as the coordinator of hockey operations in 2013, helping pour the foundation of the 2015 national champions.
"When [Friars coach Nate Leaman and I] committed to playing last September, we never expected it to be that kind of night, but I guess cosmic forces were in place," he said of watching the banner raising. "It was great to go to PC and see a lot of familiar faces. As an alum, I watched the regionals and attended the Frozen Four, so I was able to share an experience that I was very proud of.
"At the same time, though, it was different since it was the first time I was on the opposing bench [in Schneider Arena]. It was very special to be there, but at the same time, it was interesting because our intent is to go out there and compete and win a hockey game."
Weekly awards
Here's the latest selections for honorees from the league offices:
Player of the week — Robert Morris' Greg Gibson: Gibson scored five goals in two games against Niagara last weekend, recording a hat trick in the Colonials' 8-2 win on Saturday. He has eight points on the season, tied for 11th-best in the nation. He leads all conference scorers, of which the top five are all from Robert Morris.
Goalie of the week — Holy Cross' Tommy Nixon: Nixon picked up his first collegiate victory in Holy Cross' 4-1 win over Canisius. Although the season is still young, that performance places him first in the league.
Rookie of the week — Holy Cross' Michael Laffin: He had two goals and two assists in the Crusaders' split with the Griffs.
Defensive player of the week — Robert Morris' Chase Golightly: He contributed five assists to the Colonials' offensive attack and was plus-2 for the series against Niagara.