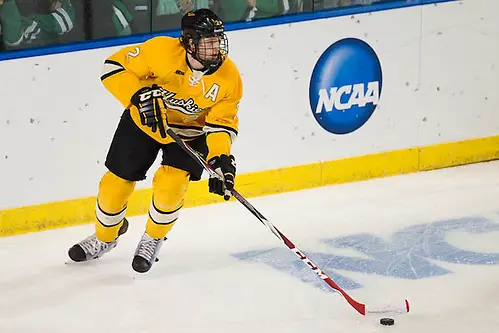 All three of the programs in Michigan's Upper Peninsula have, at one point or another in their history, been a powerhouse, all owning at least one Division I national title.
And despite being split between two conferences for most of their histories, Michigan Tech, Northern Michigan and Lake Superior State have developed a nice rivalry between one another.
But rarely have all three been good at the same time. And in the recent past, it's been rare when all three have even been decent at the same time.
Although it's too early to tell what this season will bring, it appears that the three UP schools are already finding the competition among one another to be fierce. All three teams have two wins on the season — Michigan Tech is 2-2, Northern Michigan is 2-2-2 and Lake Superior State is 2-4.
Northern has faced both Lake State and Tech already this season in a pair of home-and-home contests with each school. And so far, the home team has won each time.
"I think those rivalry games have been great for us," Northern Michigan coach Walt Kyle said. "They're all close, it's great for the communities, the fans and the students. They're all good teams and it's been very competitive every night so far."
For Kyle's Wildcats, starting the season 2-2-2 is a decent way to kick things off after an injury-riddled 14-18-6 campaign a season ago. Northern Michigan tied twice with Wisconsin in Madison in the first week of the season before splitting both home-and-home series with Lake State (technically a nonconference series) and Tech.
"I don't think we've reached any real highs or been down in any real lows," Kyle said. "I like our team. I think we're growing. I think we're getting better. We've played four of six on the road. We haven't had any great success there, but we've been in games."
Against the Lakers two weeks ago, sophomore Robbie Payne had a hat trick in the Wildcats' 6-3 win before they lost 4-0.
Last week against the Huskies, the Wildcats peppered goaltender Jamie Phillips with 46 shots to win 4-1 on Friday. Four different players — Casey Purpur, Denver Pierce, John Siemer and Darren Nowick — scored. The Huskies won the rematch 3-1 in Houghton.
Freshman goaltender Atte Tolvanen stopped 63 of 67 shots on the weekend for Northern Michigan.
NMU's other two UP foes haven't met one another yet. But both have two wins to start the season.
And the Lakers, though 2-4, are happy with where they are right now — especially considering they lost their first nine games last year.
"It's a much different feel around the program right now," Lakers coach Damon Whitten said. "We're in a much different place than we were a year ago. We've got a lot of work ahead of us and a long way to go, but we can feel and see some things that we're headed in a good direction."
The Lakers played well against No. 1 North Dakota and in-state foe Michigan State at the Ice Breaker Tournament in Portland, Maine, but lost both games. Then they lost the series opener to NMU on the road. It wasn't until returning to Sault Ste. Marie for the back end of their home-and-home that the Lakers exploded — scoring all four goals in the second period in a 4-0 victory.
Lake State's start has been powered by youngsters. Gage Torrel leads the team with five points, while Mitch Hults has four and C.J. Hayes three — all freshmen. Freshman goaltender Nick Kossoff was in net for the shutout against NMU, although sophomore Gordon Defiel has still seen a majority of the minutes thus far.
Whitten said newcomers (Lake State has 10 freshmen plus transfer J.T. Henke) have helped the Lakers, but his upperclassmen — the ones that endured the 8-28-2 finish a season ago — are responsible for getting them back to a winning mindset. Bryce Schmitt is the only senior with points (a goal in the win at Michigan State).
"A lot of our young guys are getting a lot of the publicity, but it's really been the leadership provided by our captains in particular but all of our seniors," Whitten said. "We spent a lot of time working with them on leadership this summer, and it's really paying off."
The third UP school, Michigan Tech, started a week after most of the country and dived right into WCHA play. The Huskies earned a split with Ferris State on the road and got the aforementioned split with NMU.
It's a bit different from 2014-15, when they went undefeated in their first 10 games en route to a 29-10-2 overall finish and first NCAA tournament appearance since 1981.
Tech coach Mel Pearson said he likes how his team has played to start the season in two hostile environments on the road — the Huskies have played just one home game so far.
"Overall there's a lot of good things," Pearson said on his weekly radio show. "We weren't going to go through the whole season undefeated. It's tough on the road. Last year, I think we caught some teams. … There's a lot of things I really like about this team. I think the growth of this team has a lot of potential to be really good down the road."
Senior Alex Petan has four points (two goals and two assists) to lead a balanced scoring attack for Tech, which has 16 players with at least a point through four games.
Phillips has started all four games in goal and has a 2.26 GAA and a .931 save percentage.
The Huskies return home this weekend to take on Ferris State again.
"There won't be any surprises on either side," Pearson said. "We're going to have to be ready to take advantage of home ice and play how we need to play at home."
Out of Alaska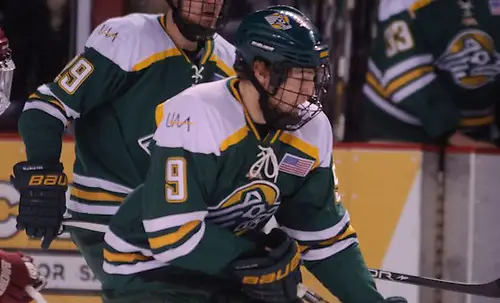 Alaska-Anchorage may have forgotten what it felt like to win outside the state of Alaska, it had been so long. But it finally ended a long winless streak in the Lower 48 last Saturday night.
The Seawolves' 3-2 victory at Alabama-Huntsville was their first outside of their home state since Feb. 8, 2014, when they won at Lake Superior State, an 18-game stretch in which they went 0-16-2.
The Seawolves came away with three points in the series, tying 3-3 in the opener, and are an impressive 4-1-1 to start the season.
Sophomore goaltender Olivier Mantha stopped 72 of 77 shots in the series, making 37 stops in the win.
Anchorage is averaging 3.5 goals per game, which leads the WCHA. Three players have seven points in six games: senior Blake Tatchell (3 goals, 4 assists), sophomore Matt Anholt (2, 5) and freshman Jeremiah Luedtke (1, 6). Luedtke leads all WCHA rookies in scoring.
The Seawolves are back at home this weekend to host Bowling Green. Since the beginning of the 2013-14 season, Anchorage is 26-16-5 in Alaska.
Ice chips
• This weekend is the first time all 10 conference teams will be playing, and all 10 are playing against conference opponents.
• Alabama-Huntsville travels to Lake Superior State this weekend after a tie and a loss at home against Anchorage. Saturday's loss marked the 100th career game for Chargers forward Chad Brears. Fellow senior Frank Misuraca is two games shy and will reach the century mark if he suits up for both of this weekend's games. UAH's third senior, Jack Prince, has played in 91 games and should reach 100 by the end of the season. That kind of longevity is normal for seniors in other programs but the fact that those three stuck around when the program's future was uncertain deserves a stick tap.
• Alaska returns to the ice after an idle weekend and will go to Minnesota State, where, last season, it pulled off something few opposing teams did — win a game at the Verizon Wireless Center. The Nanooks actually were the only WCHA team with a winning record against the Mavericks last season, going 2-1-1.
• Bemidji State heads to Marquette, Mich., this weekend for its first real road trip of the season — the Beavers played four of their first five games at home and are 1-2-1 in Bemidji.
• Bowling Green is also coming off an idle weekend and is playing at Alaska-Anchorage to open its conference schedule. The Falcons remained ranked No. 12 in the latest USCHO.com Division I Men's Poll, the highest ranking of all WCHA teams.
• Ferris State coach Bob Daniels is one win away from the 400th of his career. If it happens this weekend, it will happen against the team he got No. 398 against: Michigan Tech, whom the Bulldogs played just two weeks ago in Big Rapids. Ferris State, which tied and beat Wisconsin in a nonconference series last weekend, lost the first game against the Huskies 5-1 but rebounded to win 3-2.
• Minnesota State snapped its three-game scoreless streak and four-game losing streak to start the season with a pair of 3-2 victories at Bemidji State last weekend. The Mavericks scored two short-handed goals in Friday's game, with senior Bryce Gervais' coming late in the first period to stop the goalless streak at 213 minutes, 58 seconds.
• Minnesota State will unveil its new center-ice scoreboard during this weekend's games against Alaska. The scoreboard is part of the hockey renovations nearly completed at the Verizon Wireless Center. The upgrades also included new locker rooms, offices, weight room and athletic-training facilities, allowing the Mavericks men's and women's teams to move to the arena full time.
• Five freshman goaltenders have wins already this season: Lake Superior State's Kossoff, Northern Michigan's Tolvanen, Alaska's Jesse Jenks, Minnesota State's Jason Pawloski and Ferris State's Darren Smith.
• WCHA players of the week were Ferris State junior forward Gerald Mayhew (offensive), Alaska-Anchorage sophomore goalie Mantha (defensive) and Northern Michigan freshman goalie Tolvanen (rookie).