A recent proposal to the NCAA by the Big Ten calls for changing the maximum age of incoming freshmen looking to play four years of college hockey from 21 to 20. It would have a wide-ranging impact on recruiting as well as on the junior hockey systems that act as feeders to college hockey.
Atlantic Hockey would surely feel an impact, as its members typically don't compete for the same players as the Big Ten. Large schools like Minnesota and Michigan have their pick of the litter of the highest-ranked prospects, which often come on board at 18 or sometimes even 17.
Legislation: Read the Big Ten's proposal
On the other hand, Atlantic Hockey rosters usually include a crop of late bloomers, players who needed more seasoning before beginning their college careers.
Because the Big Ten is a multi-sport conference, it has the power to propose this change directly to the NCAA Division I Legislative Council as opposed to members of the American Hockey Coaches Association, which typically sponsors proposals or makes recommendations to the NCAA on behalf of member schools.
The proposal, which is expected to come up for a vote at the NCAA convention in April, looks to reduce the gap between a potential 25-year-old senior and an 18-year old freshman. For example, senior Andrew Gladiuk, who has 118 career points in 119 games at Bentley, will turn 25 on March 7. Wisconsin freshman Luke Kunin, tied for second in points for the Badgers, will turn 18 this month. That's an age difference of close to seven years.
For Rochester Institute of Technology coach Wayne Wilson, it's not just the changes that are proposed but how the Big Ten is going about it, circumventing the other conferences.
"I'm not so much against the [proposed] rule but the process," he said. "Let's hear their side of it, why they want this change. 'We don't want older players in the league' isn't a good [enough] reason.'"
The proposal looks to benefit the Big Ten the most, as less prominent schools can level the playing field with older, more experienced players.
"It looks self-serving," said Wilson. "It can limit opportunities for some players. If there are legitimate reasons, then let's discuss them and all vote on them. We're not all going to agree, nor should we, but let's open it up for discussion."
Wilson cited his son Stu, a senior at Yale, and the differences between his development and that of Mario Lucia, a senior at Notre Dame and the son of Minnesota coach Don Lucia, the primary spokesman for the proposal.
"They're at two ends of the spectrum," he said. "Don's son was more developed, 6-feet-2 [as an 18 year old]. My son was 5-feet-10 and when he went to Cedar Rapids [of the USHL] … he weighed 137 pounds. He graduated [high school] a year early, but he needed three years to physically mature. Kids are different."
Wilson said he opposes any legislation that could potentially limit a player's development.
"One of the selling points of college hockey is that you're going up against older players," he said. "Even if it's just for one year. Jack Eichel was good for Boston University and good for college hockey even if it was just for the one year. And he developed going up against older players.
"We want the best possible hockey player that will qualify to go to RIT," said Wilson. "If the rules change about how we do that, then let's go about it the right way."
Taming the Tigers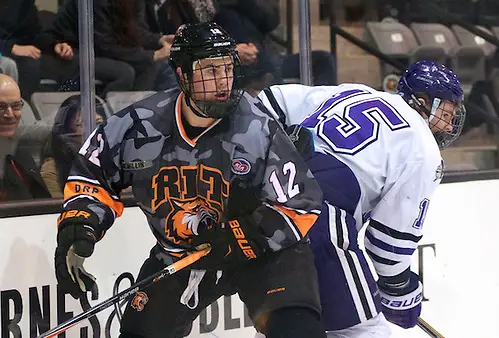 Wilson also shared his thoughts on his team's frustrating start to the season.
The Tigers are coming off a 6-2 loss to No. 2 Boston College last Saturday. RIT had an early 2-0 lead but fell behind 3-2 at the end of the first period and never recovered.
That was the third straight loss for RIT, which two weeks before dropped a pair of 3-2 overtime games against Bentley in a series that saw the Tigers score just four goals on a whopping 96 shots.
"When you generate that many chances, you have to bear down," Wilson said. "We felt like we should have won both [Bentley] games. It was the same story against Colgate [a 4-3 loss on Oct. 24]. We outshoot them 46-27 but don't come away with anything."
Things don't get any easier for the Tigers (3-7-2, 3-2-1 Atlantic Hockey), who host first-place Robert Morris this weekend.
"We'll have our hands full for sure," said Wilson. "We can't feel sorry for ourselves. This series and then Niagara are four big games before Christmas. I think we're knocking on the door but these next games will let us know where we stand."
Sweeps are sweet
A pair of teams were able to gain some ground in the bunched-up Atlantic Hockey standings thanks to sweeps last weekend. Robert Morris took four points at home against Sacred Heart, and Holy Cross also claimed a quartet of points on home ice in a sweep of visiting Niagara.
The pair of sweeps in just three conference series (Army tied and defeated Canisius in the other) was notable because just four of the previous 18 league series this season resulted in sweeps.
Bentley is the only team so far to record a sweep as well as being swept.
Ten years after
It's a little early, but this weekend Holy Cross will commemorate the 10th anniversary of the Crusaders' NCAA tournament victory over Minnesota.
The 4-3 overtime win on March 24, 2006, against the West Regional's No. 1 seed Golden Gophers shocked the college hockey world and gave the young Atlantic Hockey Association a defining victory.
[youtube_sc url="https://www.youtube.com/watch?v=9Na2pCHA8QI"]
Weekly awards
Player of the Week — Zac Lynch, Robert Morris: The Pittsburgh product tallied five points in a sweep of Sacred Heart. He had a short-handed goal each night and has scored short-handed in four straight games.
Goalie of the week — Paul Berrafato, Holy Cross: The sophomore was 3-0 last week, including his first career shutout on Nov. 24 against American International. In all, Berrafato stopped 67 of 71 shots.
Rookie of the week — Spencer Trapp, Holy Cross: The defenseman had a four-point week, including the game-winner in Saturday's 3-2 overtime victory against Niagara. It was the first collegiate goal for Trapp, whose older brother Bear Trapp was a standout at Sacred Heart from 2005 to 2009.