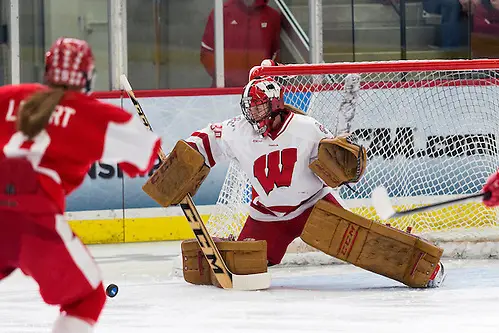 Those meeting junior goaltender Ann-Renée Desbiens during her early days at Wisconsin likely came away with a misleading first impression. People like forward Rachel Jones, now a senior for the top-ranked Badgers and Desbiens' roommate.
"She was very shy, didn't really communicate with people at first," Jones said.
That's hardly the way people in her hometown of La Malbaie, Québec, would describe her.
"That's definitely not the first thing people would say," Desbiens said. "I'm really outgoing. At first, a lot of people thought I was [shy], because I'm just not able to communicate with people. It's like, 'Oh my gosh, she's so shy!' I'm just standing there. I want to speak, but I just don't know how to say or what to say."
Before she wound up at a university in the Midwest, dealing with both a country and a language that were foreign to her, Desbiens says that she had to give serious thought to whether she really wanted to put herself through such an adjustment.
"I grew up in a really small town up north Québec," she said. "We really don't learn English out there, because that's not something we have to face every day. Maybe like once in a while, but not very often. Usually you have like some really basic class that's not really preparing you for what I'm doing right now."
On the ice, her preparation was much better.
"Growing up, I was playing guy's hockey my whole life," Desbiens said. "I was at the Under-22 series and a couple universities approached me, and I was like, 'I'm not ready to go yet.' I was still playing guys' [hockey]. I should have come a year earlier [than I did], but I was not ready yet. I still want to play guys' [hockey], I still have things to do, and I was like I don't know if I want to make a move to women's hockey."
When the talent is there, recruiters keep asking.
"I was at the Under-22 women's hockey and [Wisconsin assistant coach and former Badger] Jackie Friesen was there," Desbiens said. "She was like, 'So, are you going to college?' I was like, 'I haven't decided yet.' I wasn't ready yet. I came and visited Wisconsin, and I knew English was going to be a challenge."
That trip provided the first exposure to her future teammates.
"I first met her when she was on her official visit," Jones said. "I didn't really talk a whole lot, a little; she didn't really speak English, so it was more like, 'Hi,' 'Hi.' That's it."
Often players tell me that they chose a program because they immediately clicked with the team. Desbiens had to find her connection elsewhere.
"I was challenged on my visit just communicating with the other players and all that, but I just fell in love with the city," Desbiens said. "Everything is very cool. I just like everything about here. That's when I decided, I'm just going to do it. I know it's going to be hard. It's going to be another challenge in my life, but it's just one more. I can do it. And here I am."
First, she had to figure out the steps to take her to Madison.
"Playing guys' hockey I was not really talking to a lot of other girls that were playing hockey, so it was kind of hard in a sense," Desbiens said. "I asked [Québec native and former Minnesota-Duluth player and coach] Caroline Ouellette about the process, like everything I need to do, and she was really helpful for that. Mostly, I made my decision myself. My parents don't speak English also, so they were not able to do any research. I know my last year of playing guys' [hockey], my coach was like, 'Do you know this about this school?' He'd keep bringing facts. I think he was more excited than I was."
Perhaps that was because she had a sense of what was in front of her.
"The first couple weeks on campus were really hard, not being able to communicate with the people," Desbiens said. "Just going to class and you come back and your brain is fried. I'd come back at 4 p.m. and I would lay in my bed and not being able to talk to my roommate. She's a swimmer here, and we were in the dorm and I was like, 'Sorry, I can't do it. I just need to sleep.'"
She survived those early weeks.
"It got better with time, and even classes," Desbiens said. "I think something that was helpful, the classes are really specific, so it was not necessarily terms that I was used to in French, so I would have had to learn them in French. I feel like throwing myself into it was the best way to learn English."
As proof of the progress Desbiens has made, in March the business major was named to the WCHA All-Academic Team.
On the ice, Desbiens started out playing behind Alex Rigsby, then in her final season at Wisconsin. Rigsby was injured in a game in Duluth at the end of November 2013, and Desbiens became the starting goaltender for several weeks while Rigsby was out. She performed very well, finishing the season with a 11-1-0 record, a 1.06 goals-against average, and a save percentage of .957.
Yet even in goal, Desbiens was having to adjust.
"I played guys' hockey my entire life and that's something really different to a women's hockey game, and I needed to be more patient," she said. "I used to over move a lot and just make things complicated. And now, I'm way more patient. I just wait for the puck to hit me, because I know I'm in the right place. When things don't go that well, it's usually because I went back to my old habits of moving too much or doing things that I should not have done."
These days, it's very seldom that things don't go well for Desbiens. She allowed single goals in her first two games of the season as Wisconsin swept Providence on October 2 and 3. She wasn't scored on again until the third period of a 4-2 win over UMD on November 14, starting all but one of the nine consecutive shutouts that the Badgers rattled off. For the season, she has 16 of the wins for Wisconsin (18-0-0, 12-0-0 WCHA), with a 0.57 goals-against average and a .966 save percentage.
"She's playing well," coach Mark Johnson said. "There's been games where she was tested more. This weekend [versus Minnesota], she was tested. There weren't volumes of shots, but there were quality of shots. There were breakaways. What you ask your goalie is give your team a chance to win, and she's been able to do that."
In at least the two games versus the Gophers, she was the biggest reason that Wisconsin did win.
"They do have a great team, but, we know, because a lot of people say that about [Minnesota goalie Amanda Leveille] that she's not as strong because of the strong team in front of her," Minnesota coach Brad Frost said. "In games like this, both goalies are tested and they've got to play at the highest level. Desbiens [Friday] night and [Saturday] night made some saves that on most goaltenders, those are going in."
In such games, where the first went to overtime and the second was a one-goal game until a late empty-net goal, each save is vital. Much as she may wish to patiently wait in the proper position for the puck to hit her, that isn't always an option.
"There are some times where you just have to go with it," Desbiens said. "I know it wasn't pretty, some of them, but the main goal is to keep the puck out of the net, whatever, how you do it. There are some ways that are more effective than others, but at one point, you just have to do it."
The result was that she limited an offense that came into the series averaging over six goals per game to three goals on the weekend, a quarter of its typical output.
"She normally has a lot of big saves," Jones said. "You've got to give a lot of credit to her. You talk to her, and she'll give credit to the team in front of her, but it's really the whole group."
To be sure, there are many things that Wisconsin does well that enable the Badgers to lead the country in scoring defense, allowing less than half as many goals as the next-best defense.
"They're the best team with their sticks we've faced all year," Frost said. "It just seems like they all have eight-feet long sticks, and they use them to their advantage, and they block passes and shots."
North Dakota is up next for the Badgers as both teams wrap up the 2015 portion of their schedules, and after watching film in preparation, Fighting Hawks coach Brian Idalski knows the challenges Wisconsin's defense will present.
"Their D corps is mobile, skate really well, do a good job of keeping things to the outside," Idalski said. "Team speed is good. They backcheck to the house and have good technique as far as their sticks and angling. I think they probably forward angle through neutral better than anybody else. And they have a great goaltender, so you put that all together, and they're tough to play against."
The defense also profits from the fact that the Badgers aren't required to defend as often as most teams.
"When they lose the puck, they get it back extremely quickly," Frost said.
The whole package means an opponent has to at times settle for very small victories.
"When you have an opportunity after a long shift to get it deep, you've got to do it," Frost said. "And then their goaltender is so active that you've got to keep it away from her at the same time."
Desbiens goes to places on the ice to play the puck that other goaltenders simply don't. On Saturday with her team on a first-period power play, when an opponent cleared the puck the length of the ice, she left her crease to cut it off along the side boards before it reached the goal line. When the puck hit the snow in front of the benches and slowed markedly, Desbiens was undaunted and came out near her own blue line to collect and distribute it.
"It's not really something I think about," she said. "I just see the puck come, and I just go now. I've been doing it for awhile. I've been doing it in guys' hockey, women's hockey, and it's how I do it. It just makes me feel confident in the crease if I'm able to help other people."
It aids the forwards, as well as her defensemen.
"When she first started becoming a more active goalie, people were like, 'Oh, wow!'" Jones said. "Now that she's been doing it more and more, it's more expected of her to be playing the puck and being active. It really helps us out offensively to get the puck out of our zone and into the offensive zone. I think it's great that she's like that, more aggressive."
In addition to continuing Wisconsin's perfect start to its season, Friday's win over Minnesota broke an 18-game winless streak for the Badgers versus their neighbors to the west.
"The girls were excited [Friday] night; they were really excited," Johnson said. "Not only with the victory, but an overtime victory. We had been close in our last five or six games. We've lost in overtime; we've tied. Find a way to finish it, and [Friday] night we did, and the players were excited."
Those wins also marked the first time any players on the current roster had defeated Minnesota.
"It meant so much, I can't even say," Jones said. "Since freshmen year, they've been the people to get, and coming out and being able to sweep them this weekend, it's unreal. It feels like a huge weight lifted off our shoulders, because we've known we could beat them all along, but now actually doing it, it's unreal."
A lesser team would have to worry about a letdown as it prepares to take on another ranked opponent, No. 9 North Dakota.
"Our team has done really well at just hanging out and doing the things that we need to do and staying focused on what our end goal is, and not letting certain streaks and other little things get to us," Jones said. "So I think this next week in practice is going to be like any other week and we're going to settle down and focus on the nitty gritty things and go to Grand Forks, and hopefully, win some games out there."
Road trips like the one to North Dakota offer teams the chance to spend more time with each other, even one like Desbiens who may be from a different country.
"It's a lot of fun just knowing her," Jones said. "She's an awesome person and being around her, she brings a different dynamic to the team being French, but it's a good dynamic. English is her second language, so she struggles with it, but she has picked it up very fast and has fit in with everyone very well. I don't think she ever really had a problem with switching into the culture, after her freshman year."
Meaning once everyone got to see the real Desbiens.
"I'm really outgoing and people know it now," Desbiens said. "They're like, 'You were not like this freshman year.' Well, I was really not able to speak."
Now, her actions on the ice are speaking even louder.