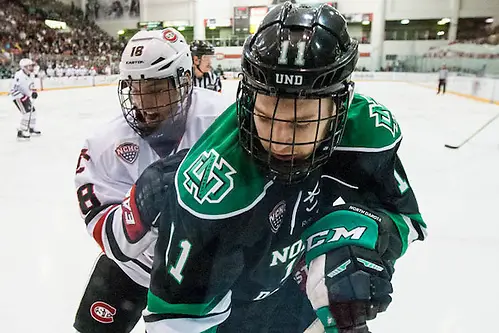 The NCHC resumes play on Wednesday, when Western Michigan faces Bowling Green. This weekend sees North Dakota and St. Cloud State take on overmatched nonconference foes, while No. 17 Denver faces No. 16 Notre Dame and Miami hosts Rensselaer. Minnesota-Duluth and Omaha play exhibition games.
The NCHC had a good overall first half. Three NCHC teams are in the top five in the PairWise Rankings (Omaha, St. Cloud State and North Dakota), and five (North Dakota, St. Cloud State, Omaha, Denver and Minnesota-Duluth) are ranked in the USCHO.com Division I Men's Poll.
As the second half gets underway, here are some questions that will be on the minds of those who follow the league.
How many NCHC teams will make the NCAA tournament?
Last year, in its second season of play, the NCHC sent six teams to the 16-team NCAA tournament, the most of any conference. Two of those teams (North Dakota and Omaha) made the Frozen Four, while three (Denver, St. Cloud State and Minnesota-Duluth) lost in the quarterfinals.
The previous year, the league's first, three teams (North Dakota, St. Cloud and Denver) made the NCAA tournament.
Entering the second half, it looks like the league will be closer to its first year in NCAA tournament representation than last year. While the NCHC has the best nonconference record at 37-22-7 (.614), too many of the league's teams have poor PairWise positioning, and with league play beginning in earnest — and likely splits as a result — there probably isn't enough room for Denver (21st in the PairWise), Minnesota-Duluth (24th), Miami (27th) or Western Michigan (31st) to move up.
I'll optimistically state the league will send four teams to the NCAA tournament, but it could be as likely that only three go.
Who wins the NCHC regular season crown, and when?
In each of the league's first two seasons, the winner of the Penrose Cup, awarded to the league's regular season champion, has been decided on the final weekend of the regular season. St. Cloud State won it in 2014 and North Dakota won it in 2015.
It seems somewhat fitting that those two are 1-2 in the league standings, with North Dakota having a three-point lead over the Huskies. The two league leaders don't play in the second half; they split their first-half series. The third-place team, Minnesota-Duluth, trails St. Cloud by 10 points, while fourth-place Omaha trails St. Cloud by 11 points but has two games in hand.
St. Cloud has two series against last-place Colorado College and two against Minnesota-Duluth in the second half, plus series against Western Michigan, Miami and Omaha. North Dakota has two weekends against Omaha and Western Michigan, plus series against Colorado College, Denver and Minnesota-Duluth.
With each league win worth three points, there is still the potential that Omaha could make a move on second place, but St. Cloud and North Dakota likely will be battling for the Penrose Cup down to the last weekend.
Who gets home ice for the first round of the playoffs?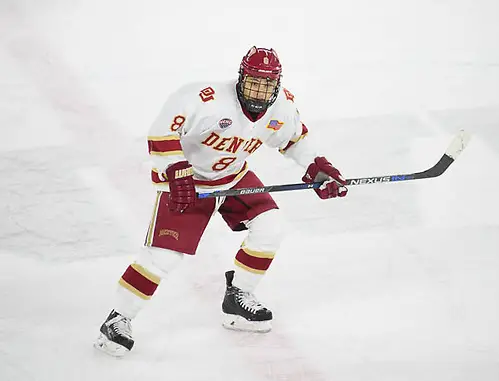 The home-ice playoff picture is even murkier. Four teams are within four points of each other for third place, and Denver and Omaha both have two games in hand on third-place Duluth and fifth-place Western Michigan.
It's interesting to compare Omaha and Western Michigan. Omaha leads the Broncos by one point in the standings, and each team has four wins in the league. When you look at overall records, Omaha at 14-3-1 looks to be a much stronger team than 6-10-1 Western, yet the Broncos were responsible for two of Omaha's losses in a series at the end of October.
Denver, with two games in hand and also a series win over Minnesota-Duluth in November, at least looks positioned to move into the home-ice picture. The Pioneers have been up and down, with groups of wins followed by groups of losses. They closed the first half on a downturn, losing four in a row to league leaders North Dakota and St. Cloud. None of those four losses was close.
Denver starts with a tough second half, hosting Notre Dame this weekend and then traveling to Omaha, so the Pioneers had better hope they've recovered from their December malaise.
Just like the Penrose Cup, who gets home ice in the first round of the NCHC playoffs might come down to the final weekend of play.
Can Miami bounce back?
Since beating then-No. 17 St. Lawrence on Oct. 23, the RedHawks have been in a tailspin, going 2-8-1-1. Granted, some of those games were tough losses, such as a 4-3 overtime loss to North Dakota and the 3-2 OT loss to Omaha. But the RedHawks can't feel good about how they closed their first half, being swept by a last-place Colorado College team that had only one win entering the series.
The RedHawks open their second half this weekend at home with a series against Rensselaer, a team that has posted some impressive results and will be a difficult out. They then host No. 19 Minnesota-Duluth for a pair and No. 12 Bowling Green for a one-off, then travel to No. 6 Omaha and close January by hosting No. 17 Denver.
In other words, it won't be easy, and it's not helped by Miami's anemic offense, which ranks 55th out of 60 teams and has only one player, freshman Jack Roslovic, averaging a point a game. On the plus side for Miami is goaltender Ryan McKay, who has a .915 save percentage. McKay should be able to at least keep the RedHawks in games, as will sophomore defenseman Louie Belpedio, currently an alternate captain with the U.S. team at the World Junior Championship in Helsinki.
How many NCHC teams will be regional top seeds in the NCAA tournament?
It says something about the competitiveness of the NCHC that Omaha, second in the PairWise Rankings, is only 4-3-1 in NCHC play. If the NCAA tournament started today, two NCHC teams — Omaha and St. Cloud State — would be regional No. 1 seeds, and North Dakota would be the highest-ranked regional second seed.
It's entirely possible that all three of those teams could finish well enough to be regional top seeds in the NCAA tournament, but given how much NCHC teams beat up on each other week in and week out, I'll say that only one will get a top region seed, while the other two will likely be two seeds.