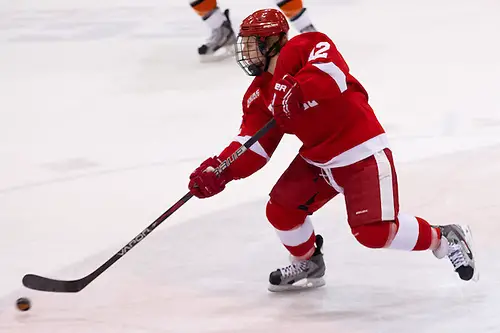 The admiration started pouring in to Cornell senior forward John Knisley and his teammates almost immediately after the game.
The Big Red, ranked ninth in the nation, had just handed previously undefeated and defending national champion Providence its first loss of the season in a 2-1 overtime victory in the Florida College Hockey Classic on Dec. 28. Fans reached out via social and traditional media, joining in the virtual celebration of up-and-coming Cornell slaying the proverbial beast.
It took 24 hours before the Big Red came crashing back down to earth in the form of an 8-0 loss to unranked Ohio State. It was quite the wake-up call for college hockey's most improved program at the halfway point of the season, but Knisley said the split taught the group a valuable lesson — something that they've been dealing with all season long.
"You always hear it when you're doing well," Knisley said. "That was the learning part of it for us. After the game against Providence, it's easy for people to reach out when you're having success. People are congratulating you. … [Once things go the other way], those people go back into the woodwork.
"We came prepared [against Ohio State]. That's the big thing," he added. "We're going to get everyone's best game. We can't look at the record."
Cornell ended last season stuck in mediocrity. The team finished with an 11-14-6 record and was dropped in the first round of the ECAC Hockey playoffs by Union. Big Red coach Mike Schafer pointed to inconsistency and a lack of cohesiveness that led to his team's subpar finish.
A year later, Cornell has been anything but subpar. The team is 9-2-2 heading into the 2016 portion of its schedule, with impressive results against college hockey's top opponents. A 5-4 overtime loss to ECAC-leading Quinnipiac on Nov. 7 certainly raised some early eyebrows — Cornell's first and only loss over the past three months until its 8-0 loss to the Buckeyes last week.
Heading into this week's doubleheader against Merrimack, Cornell is perched at No. 9 in USCHO.com Division I Men's Poll. A year after falling off, the Big Red has made it pretty clear that last year's result was a one-time thing.
"Last year we had some great players in our senior class. We just couldn't get on track," Schafer said. "It was just one of those things. We didn't come out of the gate with a lot of confidence. … I think this year we got off to a good start and that carried that into the first half."
Part of that turnaround has come from Schafer's playing style and the willingness of his players to buy in. Cornell, historically a low-scoring, defensively strong squad, has gone back to its roots this season, creating a sense of familiarity and comfort among Cornell's athletes.
"The big thing for us was that we transitioned here. We sort of hit the reset button from last season," Knisley said. "Cornell culture has always been blue collar, working hard. … We're a close-knit group. We're on the same page as last year, and we're all working toward one goal."
Part of that structure begins in net. Mitch Gillam has taken a significant developmental step in his junior season, posting a 1.89 GAA and a .931 save percentage through his team's first 13 games. Gillam has started every game, a reward that Schafer said is due to the jumps he's made.
"I think he played similar last year at this time," Schafer said. "I think his practice habits are better. He's a great cerebral goalie. He really understands the game and he's smart. That's his strength. … Any coach will tell you when your goaltender is struggling, you have to compensate for it. On nights where we've needed him, he's made some big saves. He's done his job."
Cornell as a hockey team has done its job so far. The question now is whether the Big Red's early season success is sustainable. For Knisley, finishing the season on a similar note starts with the right mentality.
"It's a new year and we're a 1-1 hockey team," he said. "It keeps us level. We don't want to look back and see what we've done. We don't want to get too high."
Around the ECAC
• Clarkson sophomore forward Janick Asselin announced Tuesday that he's leaving the Golden Knights to join the ECHL's Norfolk Admirals. Asselin played in 40 games for Clarkson over two years, scoring four goals and 12 assists. He had four assists in 15 games this season.
• Yale looked like a much more recognizable team against Massachusetts on Tuesday night, defeating the Minutemen 3-2 in overtime. The 12th-ranked Bulldogs have some catching up to do in the second half, with an 8-4-2 record and a three-game losing streak in their recent memory. An early January win over UMass was a step in the right direction.
• Anyone else do a double-take when a sub-.500 Brown team handed top-ranked Providence a 4-3 overtime loss last weekend? Any given Sunday, I suppose.