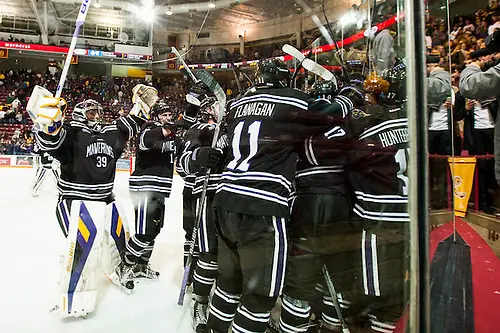 When we last left Minnesota State way back on Dec. 12, the Mavericks had extended their national-best unbeaten streak to nine games and maintained their first-place position in the WCHA standings.
Seems like a not-so-ideal time to take a three-week break, right?
Actually, it might have come at the perfect time.
While going 27 days between games — something only one other WCHA team, Alaska-Anchorage — is doing at holiday time, the Mavericks needed at least some time off, even if they were red hot.
"We know where we ended," coach Mike Hastings said. "That's in the can; that's done. I'm not saying it's great; I'm not saying it's terrible. It's done. We're going back and trying to continue to build our identity."
The Mavericks' sweep of Alabama-Huntsville on Dec. 11-12 marked a stretch of 10 straight game weekends without a break — 11, if you count the exhibition game played on Oct. 4, the day after college hockey's official start date.
Over that time, Minnesota State suffered several injuries, often leaving them with a minimum number of practice players and sometimes forcing players into different roles and even different positions — forwards playing defense, defensemen moving up front — for games.
Hastings said the team returned from break as healthy as it has been all season — just one player remains out — which means the Mavericks are also deeper than they've been all season. There's competition for playing time again, he said.
"Spots still need to be earned," said Hastings, whose team will host Northern Michigan this weekend.
Ranked 18th in the latest USCHO.com Division I Men's Poll and sitting on the bubble of the PairWise Rankings, Minnesota State (10-6-4, 9-1-4 in WCHA) may appear to still be the best team in the conference, but the team is hardly resting on its first half.
"We'll reset," Hastings said. "We'll go back and start with our foundation of effort and attitude and discipline, and we'll go back at it."
Minnesota State is one of the top defensive teams in the country, ranking first in shots on goal allowed (22.05). It's second in the WCHA and 14th in the country in goals allowed at 2.25 per game.
However, the Mavericks' offense has not been the high-flying act of recent years. Led by senior forward Teddy Blueger with 17 points, Minnesota State ranks 49th in scoring at 2.30 goals per game. Its power play is 47th with a 13.1 percent success rate.
"We've showed that when we play together, we're hard to score against," Hastings said. "Our goaltending is above 90 percent, and hopefully, we've developed a little bit of a thick skin because it's been a next-man-up mentality.
"I don't think you play half a season and say, 'That's where we are.' Our power play has to be better. Our secondary scoring has to be better. Those are two things we need to address and be better at."
If the Mavericks stay healthy and do indeed improve in those areas, the sky could be the limit in the second half of the season.
Michigan Tech, Northern Michigan use GLI to prep for second half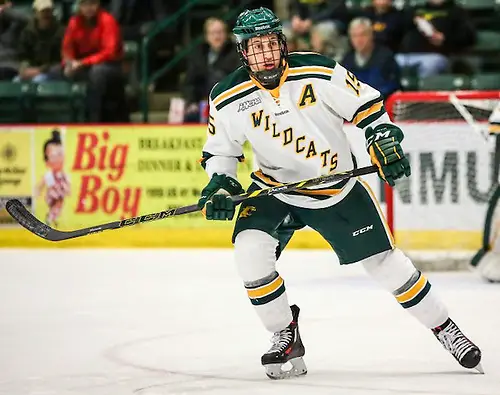 Both Michigan Tech and Northern Michigan experienced similar results in last week's Great Lakes Invitational in Detroit. And both teams hope to use those as a springboard for the rest of the season.
The Huskies (11-7-2) took second place in the annual event that they host, coming back to beat Michigan State 3-2 in the semifinals before losing to Michigan 4-2 in the championship game.
Tech coach Mel Pearson told the Detroit News before the tournament that he didn't think his team had reached its potential yet and likely found that to be the case again against the Wolverines on Dec. 30. The Huskies had a 2-0 lead in the first period but let Michigan score four unanswered goals to take the title.
However, a few Tech players had excellent showings in the tournament.
Junior forward Brent Baltus scored the game-winner in the 3-2 overtime win over Michigan State in the semifinals, then scored a goal against Michigan in the finals.
"Brett Baltus is one of those players we've been waiting for to come into his own," Pearson told the Detroit News. "He works so hard and now he's getting rewarded for all that hard work."
Sophomore defenseman Mark Auk also got in on the action, notching three assists in the two games to earn a spot on the all-tournament team.
The Wildcats, meanwhile, also lost to Michigan and beat Michigan State. Northern Michigan (7-7-6) lost to the Wolverines 4-2 in the first round then beat the Spartans 3-2 in overtime in the third-place game.
Dominik Shine, a Detroit-area native who was named to the all-tournament team, scored goals in both games. He told the Detroit Free Press after the game he was happy to perform well with his family in attendance.
"My grandmother's gone through cancer. She was here at the game and I kind of saw her in warmups," he said. "It kind of gave me a little motivation. I was excited to play in front of her."
Shine generally played well in December, scoring a WCHA-high six goals and eight assists to earn him the WCHA player of the month award.
That bodes well for the Wildcats, who have been looking all season for elite scoring and look to have found it. Shine, Darren Nowick and Robbie Payne have seven goals apiece and all three are double-digit scorers.
Northern Michigan is fifth in the WCHA with a 5-5-4 record and 14 points. The Wildcats travel to Minnesota State for a key series this weekend. The teams tied in both games they played in Marquette in November.
Ice chips
• Although Alabama-Huntsville lost both of its games at North Dakota to ring in the new year, the Chargers were in both games until the very end. On Friday, although the story was UND goaltender Cam Johnson breaking the program's 61-year-old shutout streak record, UAH's Carmine Guerriero was every bit as good. He made 38 saves and gave up just one goal — Bryn Chyzyk's second-period power-play tally — in the 1-0 loss. In Saturday's game, the Fighting Hawks won 4-1 but UAH's Richard Buri ended up being the player who broke Johnson's record shutout streak. It was Buri's second goal of the season.
• Bemidji State took three points from Alaska last weekend in Fairbanks, but there's another, more important three that could be a game-changer for the Beavers in the season's second half. For just the third and fourth time all season, all three of BSU's Fitzgerald brothers (Gerry, Myles and Leo) were in the lineup together. And for the first time this season, all three produced at least a point over the course of the two-game series. Myles, who missed 12 straight games due to injury, scored his first two goals of the season in Saturday's wild 6-5 overtime thriller, including the game-winner. Gerry, Bemidji State's scoring leader, netted two assists on Saturday and another Sunday for a three-point weekend. Leo had an assist Saturday before scoring the Beavers' lone goal in Sunday's 1-1 tie.
• Lake Superior State took second place at Vermont's Catamount Cup last week, going 1-1 with a pair of solid defensive games. The Lakers lost to Vermont 1-0 in the opener, but sophomore Gordon Defiel made 29 saves to keep them in the game the entire way. In the second game, freshman Nick Kossoff stopped 28 saves as the Lakers shut out Brown 3-0. Kossoff, who is 3-3-1, has three career victories and all three have been shutouts so far. (He also blanked Northern Michigan on Oct. 17 and Alaska on Dec. 5).
• Alaska-Anchorage, like Minnesota State, has been off for the last three weekends. The Seawolves finished the first half of the season 8-7-3 and 5-5-2 in WCHA play with their 12 league points already matching last season's total. They were 5-9-4 overall at this point a season ago and 8-8-2 two years ago in coach Matt Thomas' first season.
• Alaska will hit the road for two weeks, going to Alabama-Huntsville and then Northern Michigan. The road might be good for the Nanooks, who dropped to 1-6-1 against WCHA opponents in Fairbanks (3-6-1 overall at home) when they lost to and tied Bemidji State last weekend. Alaska's last home victory was on Nov. 6 against Northern Michigan.
• Bowling Green had its 14-game unbeaten streak at the BGSU Ice Arena snapped on Saturday against nonconference opponent Clarkson. The Falcons lost 3-2 after winning the series opener 6-3. The Falcons also dropped a home game a few days earlier to Western Michigan, although that game was played at the Huntington Center in Toledo, Ohio. Despite the split against Clarkson, the Falcons' eight goals scored marked a season high for back-to-back games.
• Ferris State is idle this weekend after taking third place at the Mariucci Classic in Minneapolis, where it fell to Harvard 7-3 and beat Connecticut 5-2. That marked yet another weekend in which the 9-9-4 Bulldogs neither won nor lost both games it played. Ferris State will host Alabama-Huntsville on Jan. 15-16 and then play seven of its next nine games on the road before closing out the season at home.
• The WCHA will make its debut this week on the American Sports Network national college hockey package when Alabama-Huntsville hosts Alaska on Friday. The game will be broadcast live on 107 ASN affiliates nationwide, spanning 39 states and including regional sports network MASN (Dish channel 432, DirecTV channel 640). Joel Goldberg and former Minnesota All-American and two-time All-WCHA performer Pat Micheletti will be on the call.
• This week's WCHA players of the week are: Michigan Tech's Baltus (offensive), Bemidji State sophomore goaltender Michael Bitzer (defensive) and Ferris State freshman forward Jacob Hetz (rookie).
• The WCHA players of the month for December were: Northern Michigan's Shine (player) and Lake Superior State freshman forward Gage Torrel (rookie).