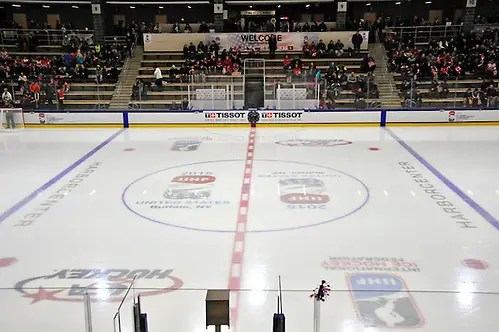 For the first time in conference history, College Hockey America will hold the semifinal and final rounds of its 2016 conference tournament at a neutral site, the HarborCenter in Buffalo, N.Y.
"We are extremely excited to bring the CHA tournament to the HarborCenter," said CHA commissioner Robert DeGregorio in a news release. "We believe that this is a great step for the CHA and envision 2016 being the best conference tournament to date. HarborCenter is a top-notch facility that has shown that it can support the sport of women's ice hockey to its fullest extent.
"We are looking forward to the partnership and the exposure that both the CHA and our member institutions will receive."
HarborCenter, which opened in Oct. 2014, is a multi-rink facility that also includes a Marriott Hotel, (716) Food and Sport restaurant, Tim Hortons Café and Bakeshop, IMPACT Sports Performance training facility, boutique retail shops, and a parking garage. It is also home to several hockey affiliates, including Atlantic Hockey member Canisius, the NWHL's Buffalo Beauts, the Buffalo Jr. Sabres and the Academy of Hockey. In addition to hosting the IIHF U18 Women's World Championships, HarborCenter was also the site of the 2015 IPC World Ice Sledge Hockey Championships and the 2015 NHL Scouting Combine.
The 2016 CHA tournament begins on Feb. 26 with a best-of-three first round being played at campus sites. Then on March 4-5, the tournament will head to HarborCenter for the semifinals and finals. The times for the three games have yet to be determined.