Back in the day, it seemed that St. Lawrence could never beat Harvard. That was particularly true in games that really mattered, such as back-to-back Frozen Fours in 2004 and 2005.
While not as much of a given in recent years, the Crimson have continued to be problematic for the Saints.
"I don't know if we've ever shut Harvard out," coach Chris Wells said. "I'm pumped when we hold Harvard to three goals a game."
I'm spared having to go back to the annals to research if and when St. Lawrence has posted a shutout of the Crimson, because I can remember exactly when it last happened — Friday night.
"We shut them out, that was a big shot in the arm," Wells said.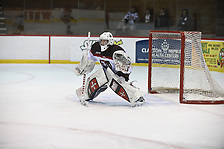 Just as surprising was the goaltender who helped deliver that shot. It's a safe bet that freshman Grace Harrison was the first goalie from her country to ever shut out a Harvard ice hockey team, women's or men's.
"The irony of it is that she's from New Zealand, but she's playing 45 minutes away from us at Ontario Hockey Academy in Cornwall," Wells said. "Unfortunately for Ted [Wisner], our recruiter, he didn't get a chance to get on the plane to fly over to New Zealand to see her play. He had to drive up to Cornwall all the time to watch her in tournaments."
Her presence in Ontario certainly made it more likely that she might end up at St. Lawrence, but the bigger question might be how someone from Auckland, New Zealand, became a hockey player in the first place.
"I think she started, maybe, with her dad," Wells said. "He's a big hockey fan, and he's been kind of a team leader for the national program over there, the younger kids, and running some of the younger national tournaments, and that's how she got started. So, we're fortunate. We had a spot for her, toward the end of last year and kind of got her late in the recruiting process."
Harrison, making just her fourth career start, picked an opportune time to record her first shutout.
"The team played well, and she was able to stop a couple of nice chances that they had," Wells said. "They had some really good chances that just went wide. In a game like that, so many teams are so even, some of the nights you're just missing the net by an inch, and some of the nights it's the other team that is just missing the net by an inch. Harvard had a lot of really good chances that Grace was able to stop, and they just missed on a couple, too."
Fortune smiled on the Saints at the other end of the ice as well in their defeat of the Crimson.
"We got a fantastic bounce on the first goal," Wells said. "Ricocheted off one of their hips, off our hip, and in the net. [Sophomore Hannah] Miller had a nice slap-shot goal, it was 2-0, and it was an even game from then out."
St. Lawrence may have first gotten the monkey off its back where Harvard was concerned with an overtime victory in the ECAC semifinal in 2012, the season the Saints went on to win the championship.
"We've had some absolutely fantastic games, especially at Appleton, against Harvard," Wells said. "Right off, last year we won in overtime. [Three] years ago, they won in overtime or they won in the last minute. They scored on a penalty shot with 24 seconds left one year. This year down there, they scored with a minute and a half to go."
Stylistically, the two are a good match.
"We've always had great games," Wells said. "I think they play very similarly to us in terms of just trying to push the pace as much as possible and play hard. They're always fun games. Good hard, fun, clean games to play against them."
St. Lawrence (12-10-2, 6-5-1 ECAC Hockey) didn't have much time to celebrate its latest win over Harvard, because it had to be back in action less than 24 hours later as it hosted Dartmouth.
"That's one of the nice things about our league and our league schedule is you don't play the same team twice, so it does give you a jolt," Wells said. "It does allow you to have a short memory, because if you lose to one team on Friday night, you're playing another team on Saturday. It just kind of helps that way."
The Big Green were the team in that game coming off a loss, after being shutout themselves at Clarkson the night before, 1-0.
"If you were to walk into that rink and said that you're watching a team that's two games over .500 and a team that was on a 10-game skid, if I was a fan, you'd have had to knock me over, because what a game," Wells said. "That was up and down, 34 shots apiece on the cage. It was a fantastic game. They showed no signs of losing 10 games in a row. They showed good poise. They had some great chances, and so did we. That was a fun game."
Dartmouth broke its 10-game losing streak, five of which were in the league, and the Saints got three points out of their weekend, as they battle in the league standings. To pinpoint just which opponent or for what position St. Lawrence is competing is more difficult in the wide-open ECAC.
"There's going to be a few teams out of the playoffs this year that are very good hockey teams," Wells said. "This year, it has been as close to what I experienced on the men's side when I was coaching there as I've seen. It's going to be a fun race to the finish. Everybody always says, 'Every night, every night,' but every year, it has a little bit more of a punctuation behind it than it has in the year previous."
That's apparent when you look at SLU's schedule and see a key weekend is followed by another.
"Heading down to Colgate, they've done a fantastic job," Wells said. "They've slapped together a couple of recruiting classes and they have a great team energy about them. They're doing things that I think they thought they could do. They came up and swept us and Clarkson and have continued on since then. So you head down there, and then Cornell is always Cornell."
After that, it's more of the same.
"The next weekend for us is a pair of Clarksons," Wells said. "It's the same for every other team. It's two points Friday and two points Saturday. As you can see, every game is tight. Brown goes in and ties Cornell. It's great. It's great for the game, seeing everybody being as competitive as they are."
With all that competition, a team needs a good goalie. Or two.
"The three kids, actually, have had a chance to play," Wells said. "Grace just kind of is getting her chance to go here now. I think they've given us an idea of what they can do."
St. Lawrence is crowded at the goaltender position with five on the roster. After getting the nod versus Dartmouth, Harrison has started five times, while sophomore Brooke Wolejko has started nine games, and freshman Sonjia Shelly made nine starts between the pipes.
"Everybody has played well at certain times," Wells said. "Like all our players, we're just looking for consistency in the play of everyone. I think goaltending is such a big piece of the puzzle for all teams, especially in these close games that we're in. Our kids have done a good job keeping us in the games, outside of the two five-goal games, the one at Yale was an empty-netter and the one against Quinnipiac. I think we've given up 27 in the league. Take those two games out, we've only given up 17 goals in 10 games in our other league games."
That's been a big improvement for the first month of the year as SLU embarked on its post Carmen MacDonald era.
"I thought every game was going to be a West Coast, old-style, San Diego Chargers [and] Miami Dolphins, Kellen Winslow type games," Wells said. "Then we got settled down. We went down and BC scored seven on us both nights, but we scored four one night and three the next. I thought there were going to be a lot of high-scoring affairs, but we've been able to settle things down nicely."
When all of a team's goaltenders start to show improvement, it's often a sign that the team in front of them is clamping down.
"I think that one of the most pleasant surprises has been Lydia Grauer, who was put back on defense around Thanksgiving time," Wells said. "She probably made the mistake of telling me that she played defense before she started playing girls' high school hockey, and I said, 'You did?' So she went back to defense around Thanksgiving. She's been really steady back there, making good passes out of the zone. She's got a good stick. So that's been a surprise here since Thanksgiving, a nice pleasant surprise to have her back there. She's settled in and gotten quite a bit of ice. As a freshman to crack into our D corps, midway through the season as a forward, that didn't have anybody graduating says a lot about how she's played."
Such contributions are important on a team with a lot of solid players, but no real superstars.
"Everybody has been trying to find a way to chip in," Wells said.
Sophomore Brooke Webster, with 17 goals and 32 points, leads the team in both categories and is one of four players with double-digit goals and at least 29 points.
"Goals were kind of easy to come by early," Wells said. "We've been just about two goals a game after that. Every game seems to be: two goals, two goals, two goals. I think we'd all like to score a few goals, because I think in our game, first one to three is going to be the winner."
There have been positive signs.
"We've been getting some good scoring here on the power play for the number of chances that we've gotten has been good," Wells said. "Some of the younger kids came back from Christmas having a much better idea of what to expect from college hockey and have really adjusted well the second half. Not that they didn't have a good first half. I thought they all played really well, all our freshmen skaters, and now, they've really had a good second half in terms of the five games that we've played. Hoping to get a few more goals from some of the underclassmen, too."
With the exception of league-leading and fourth-ranked Quinnipiac, which has seemingly been on a roll all year, teams in the playoff hunt have had both highs and lows.
"We're probably like the NHL," Wells said. "You've just got to get in the top eight, and anybody who gets in the top eight has a chance to win it."
At the moment, there look to be eight playoff-worthy teams fighting for those eight spots. For sixth-place SLU, the glass can be either half-empty or half-full.
The Saints are just three points behind Clarkson and Colgate, who are tied for third. Thus, home ice in the opening round is seemingly in reach. On the other hand, Cornell and Dartmouth, tied for the eighth and final postseason berth, are just two points back.
Once qualified for the postseason, who knows what could happen?
"So much of it in a two-out-of-three-games series is you get a hot power play, you get a hot goaltender, and the matchups," Wells said. "Certain teams match up with certain teams a lot better, and I think that is a big piece of it, too."
Whatever the future brings in the ECAC race, Wells and his team are glad to be a part of it.
"It's going to be a lot of fun," he said. "Going to the rink every day this time of year really gives you a boost as to why you do it, reaffirms why you do it, because the kids are excited. Everybody is scoreboard watching. I've heard people say that they don't look at the scoreboard. I don't know who doesn't look at the scoreboard. I'm always looking at the scoreboard. I'm always looking to see what everybody else is doing. That's what makes it fun. I guess I'm just as much a fan of the league and the chase as I am a coach."