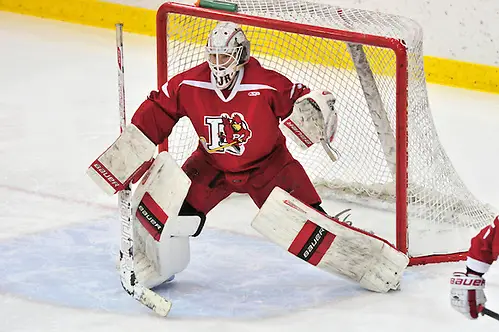 If it is at all possible, the playoff picture with just a couple of weeks remaining got cloudier, not clearer, across many of the conferences this weekend.
Some teams with opportunity to create separation fell victim to upsets, while some other teams looking to make a late-season run made a statement about the fact they are still in the mix and aren't going to go away anytime soon.
Here's the East weekend recap:
ECAC Northeast
After conference leader Nichols stumbled earlier in the week against Western New England, the door was open for some contenders to make a move, but teams making a late-season run kept things very tight at the top. The Golden Bears got their first conference win by a 4-1 score behind two goals from Dane Genord and 43 saves from Kevin Gollmer in the 4-1 win over the Bison.
Wentworth is showing they are going to be a tough out down the stretch and into the playoffs with wins over contenders Endicott and Suffolk. Kyle Lebrun scored twice and Joel Miller made 38 saves in the 4-3 win over the Gulls, while Miller again showed he is among the best in the conference by making 37 saves in a 3-1 win over Suffolk.
ECAC West
Neumann finally figured out how to slow Hobart down with a 2-0 win on Friday night despite being outshot 42-27. Nick Perruccio had a goal and an assist, while Mitch Wiebe stopped all 42 Statesmen attempts to earn the shutout and two important points for the Knights. Hobart earned a split on Saturday with a 7-1 win powered by two goals from Andrew Silard.
Hobart has opened up a large lead in the standings, but Utica made a strong statement for second place with a weekend sweep over Manhattanville by scores of 5-2 and 2-1 in overtime. Adam Moody scored twice for the Pioneers on Friday, while Shawn Lynch figured in both Utica goals, including scoring the overtime winner on Saturday night.
MASCAC
The battle at the top continues to be tight with Plymouth State and Salem State both posting key conference wins heading into their head-to-head showdown this week. Both teams showcased the hallmarks of what makes them both successful this season. Salem State used goals from five different scorers to earn Marcus Zelzer his 12th win of the season, while Plymouth State used a similar formula in downing Massachusetts-Dartmouth by a 4-2 score. The Panthers got goals from four different players and Gordon Caesar picked up his 13th win, making 18 saves.
NE-10
Stonehill remains unbeaten in the D-II conference at 7-0-2, having picked up two wins over Franklin Pierce and Assumption. Kevin Airoldi picked up a goal and an assist in the 3-2 win over the Ravens, while Thomas DePaolo notched a hat trick in the Skyhawks' 6-1 win over Assumption on Saturday night.
NEHC
Maybe it was the back-to-back losses in December before the break or not being nationally ranked for the first time in this millennium or maybe it was just home pride that found Norwich winning two crucial games against Babson and Massachusetts-Boston by 5-1 and 4-2 scores, respectively. Paul Russell scored four goals for the Cadets in the two games, including a hat trick in the win over the Beacons on Saturday. Braeden Ostepchuk picked up both wins in goal with a combined 52 saves for Norwich, who solidified their hold on third place in the standings.
NESCAC
What many thought might be a defensive duel for the top spot in the conference standings turned into a wild offensive showcase as Williams used an overtime goal from Zander Masucci to down Trinity 5-4. The Ephs overcame 2-0 and 3-2 deficits before the Bantams used a late extra-attacker goal tie the game at 4-4. Masucci just needed 27 seconds to settle the affair and Williams capped off the weekend with a 4-3 win over Wesleyan to match Trinity's 4-1 over Middlebury.
Bowdoin appears to be making a late-season run as they took four points with road wins over Amherst and Hamilton to move into fifth place in the standings. Matt Rubinoff had two goals and an assist in the Polar Bears' 6-2 win over Hamilton, who have lost three of their last four games.
SUNYAC
Connor Gorman scored twice, including the game winner with just two seconds left in the five-minute overtime session, to give Plattsburgh a 4-3 win over archrival Oswego on Friday night. The Cardinals moved to moved to 11-1-1 in the conference with a 6-1 win over Cortland on Saturday. Six different Cardinals scored and Brady Rouleau picked up his seventh win of the season.
While the Cardinals opened up some space at the top of the standings, the battle for the remaining top four places is wide open amongst Geneseo, Potsdam, Oswego and Buffalo State, who picked up a big four points with a weekend sweep over Morrisville.
The 4-0 and 5-1 wins moved the Bengals into the thick of the battle for a home-ice berth. In both games, Buffalo State exhibited great balance with four different goal scorers on Friday and five different goal scorers on Saturday.
Weekend Biscuits
Tyler Stepke, Becker – the Hawks' goaltender had quite the week, making 58 saves and recording an assist in Becker's 4-1 win over Salve Regina that was ultimately decided by two empty-net goals. Stepke also made 46 stops on Friday in a 3-1 loss to conference leader Nichols.
Bryce Nielsen, New England College – scored all three of his goals to complete a hat trick in an eventful second period that saw seven goals total between the two teams in the Pilgrims' 6-4 win over the University of New England on Friday night.
Zander Masucci, Williams – after yielding the game-tying goal in the final minute of regulation, the Ephs defenseman wasted no time in OT scoring the game winner against Trinity. The 5-4 win put Williams atop the NESCAC standings.
WEST WRAP – Brian Lester
MIAC
Augsburg maintained its hold on first place in the MIAC with a sweep of Hamline over the weekend. The Auggies, who topped the Pipers 8-2 and 2-0, have a four-point lead (31-27) over second-place St. Thomas in the conference standings. Jordyn Kaufer made a season-best 43 saves in Saturday's 2-0 win to help the Auggies clinch a MIAC playoff berth. It was his second shutout of the year and the third of his career. Kaufer has won five consecutive games and has allowed only six goals during the impressive stretch. Trevor Stewart and Mack Ohnsted both scored goals in the win. In Friday's opener, Nate Flynn and Drew Allen scored two goals apiece to pave the way in an 8-2 victory. The win marked the 11th time this year that Augsburg has scored at least four goals in a game. Flynn stretched his point streak to four games and came through with his fourth multi-point game of the season. Andy Faust dished out three assists, the first time in his collegiate hockey career that he has tallied that many assists in a game. Augsburg is now 14-6-1 overall and 10-1-1 in the conference … St. Thomas kept pace in the title chase as it swept Concordia (Minn.) over the weekend. The Tommies defeated the Cobbers 5-3 and 4-3 and are unbeaten in their last five games. Michael Dockry, Thomas Williams, Connor McBride and Wille Faust all scored goals for the Tommies, who improved to 11-6-4 overall and to 6-5-1 in the MIAC. Faust also came through with an assist in the win, while Joe Morris made 28 saves. St. Thomas fell behind 2-0 in the opener Friday, trailed 3-0 after two periods before exploding for five goals in the third to secure the win. McBride delivered the game-winning goal for the Tommies. Jon Grebosky played well for Concordia, scoring his 11th goal of the year. Jordie Bancroft scored his eighth goal of the season for the Tommies. St. Thomas and Augsburg battle next weekend in a home-and-home series that could very well determine the regular-season championship in the MIAC.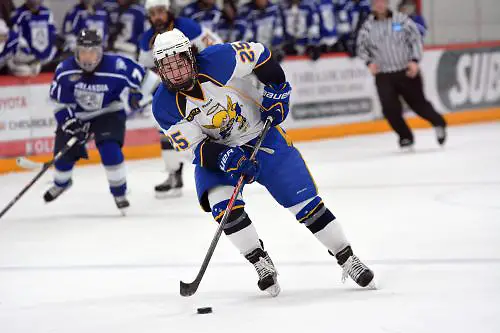 NCHA
In a showdown of two nationally ranked opponents, Wisconsin-Stevens Point prevailed in a battle with Adrian. The Pointers took down down the Bulldogs 6-4. Stevens Point scored four unanswered goals to earn the big nonconference win. The fifth-ranked Pointers capitalized on two power-play goals as Joe Kalisz and Kyle Sharkey both scored on those opportunities. Kalisz also dished out two assists. Sharkey and Lawrence Cornellier both tallied a goal and an assist. Taylor McCloy led the Bulldogs with a goal and two assists. Top-ranked Adrian fell to 17-3-1 on the year. The six goals are the most given up by Adrian in a road game under second-year head coach Adam Krug. Adrian had its two-game win streak snapped. The Pointers avenged a 3-2 loss they suffered to the Bulldogs back in November. Stevens Point has won its last six games … Concordia (Wis.) pulled off an upset of No. 13 St. Scholastica Friday night, knocking off the Saints 3-2 in overtime. The Falcons won on a goal by Braden Crone with 8.9 seconds left in the extra session. It was their third OT win in program history. The Falcons trailed 2-0 before Connor Hogg and Taylor Gauld both scored to tie the game at 2-2. Prior to this season, the Falcons had beaten a ranked opponent only once. They have three wins over ranked opponents this year. The win was their 10th of the year, tying a single-season record. Concordia won 10 games two years ago as well. The Saints bounced back on Saturday with a 5-1 win. Dylan Nowakowski scored twice in the win as St. Scholastica improved to 14-5-2 overall and to 12-4 in the conference. Concordia fell to 10-9-2 overall and to 6-8-2 in the NCHA. The Saints are in second in the North Division, while Concordia is third in the South. Bruce Keegan played well for the Falcons, scoring one goal and dishing out four assists.
WIAC
Wisconsin-Superior turned in one of its best offensive performances of the year in a game against Wisconsin-River Falls, knocking off the No. 10 Falcons 5-2 Friday night. The Falcons had allowed only 37 goals all year. Superior scored five goals en route to the win, their first over a nationally ranked opponent this season. Jimmy Hughes, Daniel Litchke, Beau Browning, Viktor Sallhag and Jordan Neduzak all scored goals for the Yellow Jackets. Litchke also came through with an assist in the win. Bryce Fink earned the win as he made 24 saves. The Yellow Jackets weren't as fortunate in Saturday's game against nationally ranked Stevens Point. The Pointers struck for six goals in the third to secure the 9-1 win. Joe Kalisz played a key role in the win as he dished out four assists. Jacob Barber punched in two goals and dished out an assist while Lawrence Cornellier came through with a goal and two assists. Jono Davis also came through with a goal and two assists. Stevens Point improved to 18-4-1 overall and to 4-2 in the WIAC. Superior fell to 8-13-2 overall and to 2-4 in the conference. Litchke scored the lone goal for the Yellow Jackets.