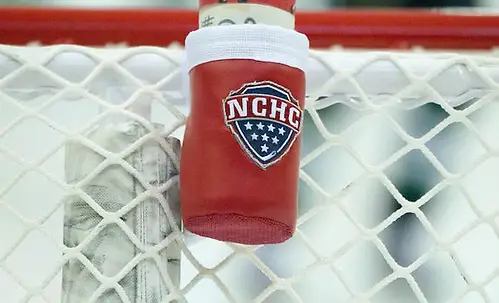 When the 2015 NCAA tournament first-round pairings came out 11 months ago, the NCHC was in a position of strength like college hockey had never seen before.
In the second year of the league's existence, six of the conference's eight teams qualified for the 16-team national tournament. This year's number — it would be four getting in as things stand now — isn't looking quite as gaudy, but four league teams make up almost half of the PairWise Rankings' top 10.
Two more NCHC teams — Minnesota-Duluth and Miami — are knocking on the door to join St. Cloud State, North Dakota, Denver and Omaha in the national postseason picture.
That's all music to league commissioner Josh Fenton's ears.
Fenton spoke to USCHO on Wednesday from Minneapolis following an event at the Target Center, which is getting set to host the third edition of the NCHC Frozen Faceoff.
The arena has a five-year pact with the NCHC, and Fenton indicated that discussions will be had with league board members this spring about possibly extending the league's postseason ties to Minneapolis.
The Target Center stands to witness highly competitive hockey once again this year while teams vie for the NCHC's automatic bid for the NCAA tournament.
"I feel our league is in great shape," he said. "Competitively, we don't take credit for goals scored or saves made in the league office, but competitively our teams have done well.
"The measuring stick and the overall strength of the conference [surrounds] how you are doing out of the conference, and in nonconference our results have been very strong."
Fenton's right on that. So far this season, NCHC teams are 48-26-10 (.631) in nonleague play, better than those from each of Division I men's hockey's other five conferences.
As for what could happen over the final three weeks of the regular season and into the NCHC playoffs, plenty is still up for grabs, and just how well the league will fare on NCAA selection day is not yet easy to predict.
"It's something that we obviously watch and it's outside of our control from the conference office standpoint," Fenton said, "but our teams are trying to position themselves to get there at the end of the year.
"Six was a little bit of a surprise last year. I don't think anybody, when the conference was formed, thought six could get in. We thought that four could get in with maybe an outside chance at five on odd years, and we may have that opportunity this year."
Fenton was asked Wednesday about, among other issues, the league's experimentation with three-on-three overtime this season, a Big Ten-sponsored proposal to lower the age limit for incoming student-athletes and the possibility of Arizona State joining the NCHC down the line.
Double-bonus hockey
This season, the NCHC became the first college hockey league to implement a three-on-three overtime period for regular season games. That rule is invoked if teams remain tied following a NCAA-mandated, five-minute period of five-on-five overtime.
The NHL has a similar setup but goes directly to a three-on-three overtime following regulation.
"I think that's gone over really well with players and with the fans," Fenton said of the NCHC approach. "You look at the feedback regarding three-on-three in the National Hockey League, and I think the same has been shown by media members and players.
"We don't play as many games as [the NHL], and we don't have a ton of games that are getting to that particular point, but we've had our fair share and we may have a few more here as the regular season winds down, but we think that's been a shining point in our conference."
Fenton hopes that embracing three-on-three overtime hockey moves the needle around the rest of the college game.
"We hope it starts a discussion nationally about overtime and what's going to happen with overtime in college hockey in the future," he said. "We're not advocating that three-on-three is all of a sudden the answer, but college hockey in its growth and evolution still needs to have discussions about overtime because other leagues around the world are doing different things."
Changing age limits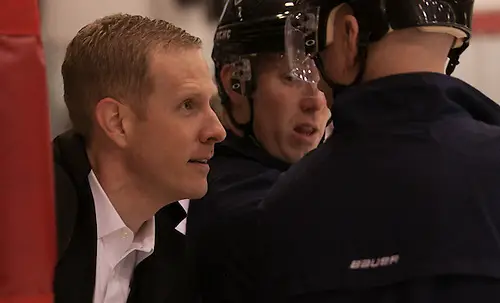 The Big Ten recently made a proposal to the NCAA calling to change the maximum age of incoming freshman four-year hockey players from 21 to 20. That proposal has come under heavy criticism, not least from NCHC officials.
"We've been vocal in opposition of the proposal," Fenton said. "That was right away from the start when there was a realization that the proposal was out there at the start of last fall, and our athletic directors and coaches are unanimously in opposition to it.
"There's some merit in the discussion about the proposal, but we feel as though there are some things within our game and our structure right now that would be impacted more negatively, that are actually [currently] good things and positive things, if the proposal would go through."
Arizona State
On Jan. 31, Arizona State's first-year varsity hockey team played against a fellow Division I school for the final time this season. The Sun Devils, who have three games left on their schedule this season, are 5-22-2.
The NCHC, among others, has long been considered one of the leagues likely to extend an invitation to the Sun Devils. On Wednesday, however, Fenton said the NCHC has no set timeline for bringing Division I hockey's newest team into the fold.
"There hasn't been a whole lot recently," Fenton said when asked if movement had been made toward inviting the Sun Devils into the NCHC. "We've had discussions and conversations with them, somewhat informal, over the past six months or so.
"As it relates to what's occurring right now, I stay in touch with them and gather updates as needed, but I still believe they're looking at figuring out what they're going to do from a facility standpoint, which is an important thing for them first and foremost, but it would be an important thing for conference affiliation."
The Sun Devils have played most of their home games this season at Tempe's Oceanside Ice Arena. Four home games this season were scheduled to take place at the Gila River Arena, home of the NHL's Arizona Coyotes.
Three of those games have already been played, while Arizona State will head back there on Feb. 28 for the Sun Devils' season finale against the U.S. Under-18 Team.
Arizona State's last game of the season against a Division I foe came on Jan. 31 when the Sun Devils fell 10-0 at Merrimack.
On top of where it plays its home games, Arizona State is also getting its feet wet at what was a new competitive level when this season began.
"They're in their first year of Division I hockey and they have a lot going on," Fenton said, "so they were just trying to understand and figure out what it was going be like to be a part of Division I hockey, and I think they have a better sense of that now.
"They've been working on some of their own things, and if there's an opportunity or time to have a discussion about conference affiliation, I guess that would come in the future."
Home stretch
As for the NCHC's current group, Fenton is excited to see how the final few weeks of the regular season and playoffs shake out. He believes he's far from the only one.
"It could go as late as after the second-to-last weekend of the regular season to figure out what the standings look like," Fenton said. "But it's tight at the top with the two teams tied and a third six points behind.
"In our league, when every game is worth three points, winning games or losing games moves you in the standings very quickly, and I think there's still a lot to be decided, not only at the top but in the middle and to a certain extent at the bottom of the standings.
"It'll be an exciting three weeks of NCHC hockey," Fenton continued, "and I think that's what our fans enjoy and what our fans want."
Players of the week
Offensive player of the week — Danton Heinen, Denver: The sophomore forward picked up seven points during the Pioneers' home sweep of North Dakota last weekend. Heinen finished the two-game set with two goals, five assists and a plus-7 rating.
Defensive player of the week — Grant Hutton, Miami: The freshman picked up two assists in Miami's 4-1 nonconference win at Bowling Green on Friday. Hutton had a plus-3 rating in his first multi-point collegiate game.
Rookie of the week — Dylan Gambrell, Denver: Gambrell complemented Heinen well last weekend, as the forward had four points of his own against UND. Two goals and two assists started from his stick.
Goaltender of the week — Evan Weninger, Omaha: The freshman had a strong weekend during a home sweep against Western Michigan. Weninger stopped 59 of the 63 shots he faced against the Broncos.