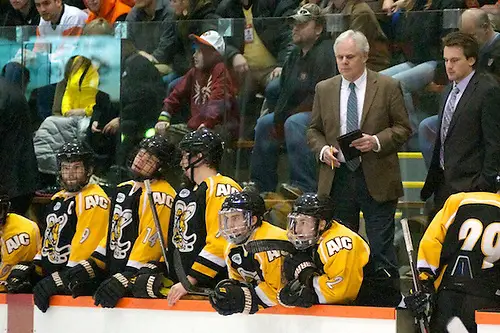 Each preseason, I find myself fortunate to call the Eastern-based coaches of Atlantic Hockey to talk about the upcoming season. More often than not, it's the first time I'll have talked to some of them since the end of the season, and the first few minutes serve as a chance to catch up on the offseason.One of the phone calls I looked forward to the most is to Gary Wright, the head coach of American International. Every time I called Wright, we seemed to spend the majority of the time talking about the summer. There would be a couple of mentions about golf, about how the summer went, and, finally, we would start discussing the upcoming season.
As a 32-year coaching career comes to a close, that's the one thing I'll always remember. Beyond the game itself, beyond the way people think they know the game, few coaches leave a legacy of class quite like the longtime coach of the AIC Yellow Jackets.
Wright's departure requires, of course, the obligatory mention of wins and losses. In a growing world of college hockey, he stewarded his program through incredibly murky waters. After a short tenure as an assistant at Maine, the former Vermont Catamounts player started coaching at AIC during the same season as Red Berenson started at Michigan, making the duo the longest-tenured head coaches in Division I.
In 1990, the Yellow Jackets won the ECAC East championship. In 1998, AIC moved to Division I and helped charter the Metro Atlantic Athletic Conference's hockey league, which later became Atlantic Hockey. In their first year, Wright's Yellow Jackets won 12 games, including 11 in conference, earning him MAAC coach of the year honors.Despite those successes, there is the obvious comment to make about wins and losses. Since reclassifying, the Yellow Jackets haven't finished .500 or better. Though they improved to 12-17-6 in 2012-13, AIC has had an uphill battle at the Division I level, even as it remained a thorn in the side of so many teams. In that fight, Wright leaves with 605 career losses to just 313 wins and a career winning percentage of .353.
But a career can't be defined solely by wins and losses, something that's evident by what AIC achieved off the ice. In 2014-15, AIC achieved a perfect Academic Progress Rate of 1000, and Wright leaves with the Yellow Jackets earning three straight Atlantic Hockey Team Sportsmanship Awards. Wright is widely considered one of the game's premier gentlemen, and there is nary a soul who brought up winning percentage when discussing his departure.Robert Morris coach Derek Schooley took to Twitter, calling him "pure class. He has always been kind & friendly to younger opposing coaches. Will be strange not to see him behind the bench."
From Bentley coach Ryan Soderquist, Wright is considered "one of the best guys in hockey."
"I will forever be grateful to Gary Wright for everything he did for me in our nine years together," said AIC graduate and current radio broadcaster Seth Dussault. "He gave me a lot of opportunities to help the team, and in doing so taught me uncountable lessons about life and doing things the right way. I am grateful to be able to call him a mentor and a friend and I will always appreciate everything he did for AIC and for me personally."
When a career lasts as long as Coach Wright's, everyone always winds up with a story. Mine comes after a conversation that ranged from my then-impending wedding to angering the golf gods that summer to preseason preparations. When we wrapped up, I said I couldn't wait to run into him during the year, and I hoped I would make it out to AIC during that season if work allowed it.
But instead of a farewell, Wright told me how great hockey was and how exciting the season would be, simply because it was hockey. This was a man who loved the game, who loved his players, and who loved everything about being a hockey coach. He did it the right way, and, ever the gentleman, he departs in a very humble method, leaving behind a legacy no win or loss can ever measure.