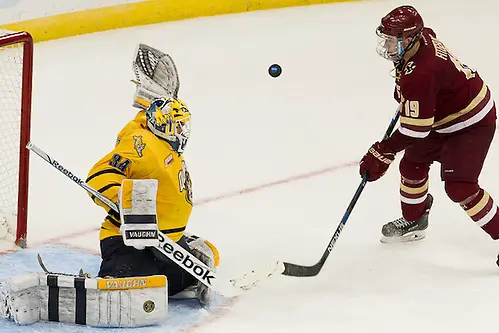 TAMPA, Fla. — All Michael Garteig does is win.
Despite a fantastic season, Quinnipiac's senior goaltender hasn't received the laurels that some other netminders have received this season. He wasn't in the mix for the Hobey Baker Award. He isn't a finalist for the Mike Richter Award.
2016 Frozen Four
Follow all of USCHO's coverage at Frozen Four Central.
But Garteig would surely trade those awards for a national title, and thanks to a 34-save performance in a 3-2 win over Boston College on Thursday, he has the Bobcats one win away.
Garteig improved to 32-3-7 on the season, with a 1.83 GAA and a .926 save percentage.
In three NCAA tournament games, Garteig has raised his game to new heights, allowing just three goals total and stopping 96 percent of the shots he's faced.
"Garteig is a winner," said Quinnipiac coach Rand Pecknold. "Great battle mode. All year long he's been going up head to head with the top goalies in the country. And he finds a way to win."
Garteig's two biggest saves came in the game's closing seconds, including a terrific glove save on a one-timer by BC's Ian McCoshen with three seconds left. He also stoned McCoshen on a similar play a couple of minutes earlier.
"The first one was actually kind of tough because the guy one-touched it to McCoshen and I had to slide into it," he said. "And I was lucky enough to get a glove on it.
"[The second one], I didn't see it until the last second and threw a glove up there. It was a good feeling."
On both saves, Garteig was able to get from side to side quickly in reaction to quick puck movement by the Eagles.
"It's something me and my goalie coach have worked on all year," he said, "working on my skating so that I'm available to make saves. That I'm in position to make the save."
The members of Quinnipiac's senior class have a chance to get the ring that eluded them as freshmen when the Bobcats lost to Yale 4-0 in the title game in Pittsburgh. Garteig watched from the bench, a year away from assuming the starting role. But he was able to take several things away from that game.
"In the national championship, anything can happen, He said. "We learned that in our game against Yale. We learned from our mistakes and the seniors that were there are hungry to get back at it this year.
"You can't take anything for granted. We have to seize the opportunity."
Pecknold knows his goalie will be up to the task.
"He's a great competitor," said Pecknold. "We're really happy we had him at the net tonight. He was great."