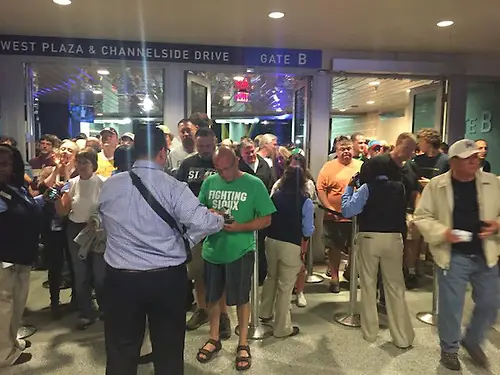 TAMPA, Fla. — When the final horn sounded after Thursday's Quinnipiac-Boston College national semifinal, a message on the enormous center-ice scoreboard urged fans to leave Amalie Arena.
This season, rather than being issued a single ticket, fans had a separate one for each semifinal game and were required to leave after the early game and reenter.
While the tight turnaround caused some logistical problems, having two separate tickets was a response by the NCAA to feedback from priority ticket holders, many of whom have been attending the Frozen Four for 20 years or more.
"We get feedback from this group of fans quite a bit," said Kristin Fasbender, associate director of championships for the NCAA. "That's part of the reason we did what we did last night by emptying the building. We've heard from our fans over the years a lot that they don't like being stuck in the building in essence for six hours."
The challenge for fans and security alike: getting everyone out of and back into the building in one hour.
Even 10 minutes before game time, people were jammed at the gates as they poured back into the facility.
"It was tight," Fasbender said. "We've been talking with [Amalie Arena security] since last fall that an hour turnaround was all we had, and they all thought we were nuts, but they've been nothing but wonderful to work with."
The NCAA also delayed the one-hour countdown between games for as long as possible, waiting for everyone to leave the ice before starting the clock.
Fan response wasn't the only reason that the NCAA used separate tickets for each semifinal — it also allowed fans to have different seats for each game so that they could sit behind their favorite team's bench.
It also provided an opportunity for seats that might otherwise be empty to be filled. "By adding that third ticket, if you can't get to the 5 o'clock game but you want to give that ticket to someone else, and still go to the late game, you can do that," Fasbender said.
ESPN's television broadcasts are another consideration in determining times for the games.
Also a concern is attendance at a semifinal scheduled early in the afternoon.
As late as 2007, the semifinals had been at 2 and 7 p.m. Fasbender acknowledged that the early start time wasn't considered an issue when every Frozen Four was sold out. Despite two crowds of about 18,000 on Thursday, that left more than 1,000 seats unfilled for each game.
The NCAA men's ice hockey committee will consider each future host city's location, weather and surrounding neighborhoods in deciding whether to have separate semifinal tickets in future years and how much time to leave between games.
"We will have some conversation about what went well and what we would potentially do differently if we would do it again," said Fasbender. "These things are up for debate and I don't think we are locked into anything."