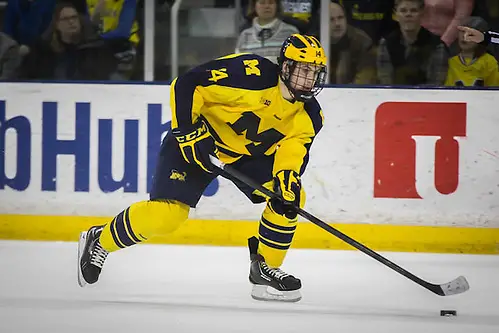 ST. PETERSBURG, Russia — JT Compher, Kyle Connor and Tyler Motte had so much success together in the United States this past college season for Michigan they thought they'd give their CCM Line a try in Russia.
Compher, Connor and Motte all gladly accepted invitations to play for USA Hockey at the World Championship in Russia and for the past few weeks have been enjoying one final ride together as teammates while representing their country.
"It's nice to have someone here that you spend the entire year with and are familiar with, especially coming to this kind of tournament," Compher said after a recent USA practice in St. Petersburg. "It's been nice to be able to hang out with them."
Motte said: "It's been great to have these guys here. We've been through a lot together this year, playing on the same line and getting this opportunity together. It's a great experience for all of us. I'm glad I got to share it with those couple guys."
The trio shared the puck throughout this past season at Michigan, and it's how they became the country's most proficient line. Connor led the country with 71 points. Compher was second with 63 points and Motte was fourth with 56 points.
Each member of the line understood his role, and they clicked together.
"I think we just had good chemistry," Compher said. "We all worked hard. When we had opportunities, we were able to bury opportunities. But overall, just a fun year playing together with those two guys."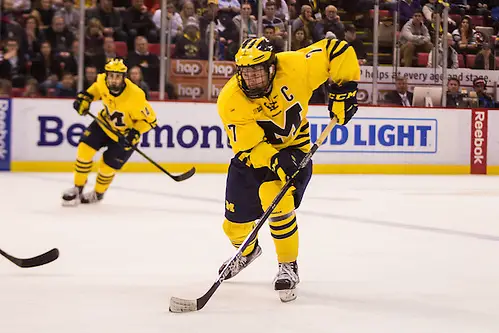 Compher, Connor and Motte continued to play together on a line early in the World Championship but were separated shortly into it. Connor also recently suffered an injury and missed three games in tournament pool play. He also missed the Americans' 2-1 shootout victory over the Czech Republic on Thursday.
The U.S. plays Canada in the semifinals on Saturday. The third-place and gold-medal games are Sunday.
Compher had one goal and one assist in the first eight games. Motte had two assists, and Connor had two assists in four games.
While it's a nice story that the three college teammates are getting an opportunity to play together one final time, USA Hockey assistant director of hockey operations Jim Johannson said the decision to invite the trio went well beyond that.
"I think there's good reason for all of them to be here," Johannson said. "I think unfortunately Kyle got dinged up a little bit, so we've got to be careful with him. I thought they were so dominant this year and they can play big-ice hockey. They can all skate. They've all got good energy. It just made sense to bring all three guys."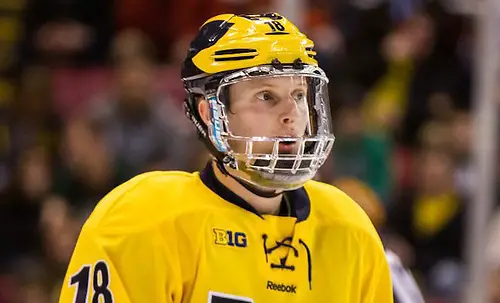 After the tournament, the three players will be going their separate ways. Motte signed with the Chicago Blackhawks after the college season, Compher with the Colorado Avalanche and Connor with the Winnipeg Jets. Coincidentally, all three of their teams plays in the NHL's Central Division, and they could be seeing a lot of each other in future years.
But before that, the three players are taking the time to enjoy themselves on and off the ice in Russia.
"Just the people they are away from the rink, I just think that's what makes a trip like this even easier," Motte said. "They're great guys. They like to have fun. They like to enjoy the experience here overseas. Obviously on the ice, they're awesome. They're making plays. They work hard. They're smart and knowledgeable with the game. They make it easy to play with. But away from the ice, I think what makes especially a trip like this even easier is to have those guys and be able to do things with them."