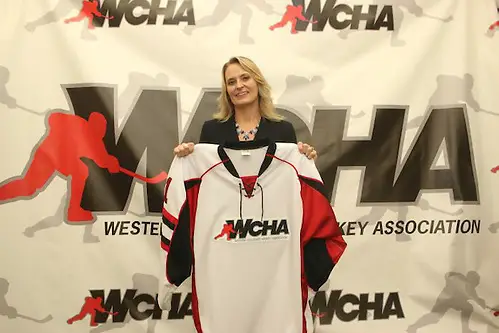 The WCHA on Thursday named longtime New York State Olympic Regional Development Authority executive Katie Million as its next vice president and women's league commissioner.
Million agreed to a three-year contract and will begin her role Sept. 2. She joins the WCHA after a highly-successful 17-year stay in Lake Placid, N.Y., including the last three years as ORDA's director of events where she oversaw multiple collegiate hockey games and tournaments, including six ECAC men's championships, five NCAA Division III men's championships and the 2007 women's Frozen Four.
"This is an exciting day for the present and future of the WCHA Women's League, as we welcome a dynamic new commissioner in Katie Million," said Minnesota-Duluth athletic director Josh Berlo, who served as chair of the league's six-person search committee, in a statement. "We received a strong, diverse and talented candidate pool for this position. Katie's passion for celebrating and growing the sport of hockey, along with a proven track record of accelerating exposure, partnerships and revenue through first-rate events and championships, makes her the perfect person at an exciting time in the league's history. Katie's relationships and progressive approach will further the WCHA's role in advancing women's hockey, while enhancing the championship-level success and unparalleled student-athlete experience that have long been league hallmarks."
Million becomes the third commissioner in the 17-year history of the WCHA women's league, following Sara Martin (1999-2014) and Aaron Kemp (2014-16). WCHA men's commissioner Bill Robertson, who has served in an interim capacity since Kemp's retirement in February, will continue in that role until Million officially begins.
"I am honored and humbled to be selected as the next WCHA vice president and women's league commissioner," added Million. "I am very excited to work with the coaches, administrators and faculty athletics representatives at all of our programs, but most importantly, the student-athletes that make up the top women's hockey league in the country. I'm looking forward to visiting each of our prestigious universities, cultivating relationships, engaging alumni and building on the WCHA's illustrious success. Drawing on my experience as director of events for the Olympic Authority in Lake Placid, I am excited to begin work on the league tournament – the WCHA Final Face-Off.
"I will do my very best to serve this association and our student-athletes as women's league commissioner and continue to promote, grow and build upon its rich tradition."
Million has served as an adjunct lecturer at Paul Smith's College in Paul Smiths, N.Y., for the last six years, while she also managed the Venue Communication Center at the Whistler Sliding Centre during the 2010 Vancouver Winter Olympic Games. Since 2005, she has managed the Songs at Mirror Lake Music Series – a Lake Placid-based nonprofit, volunteer-based community group she helped create.
She earned a Bachelor of Science degree in business administration from Oswego.