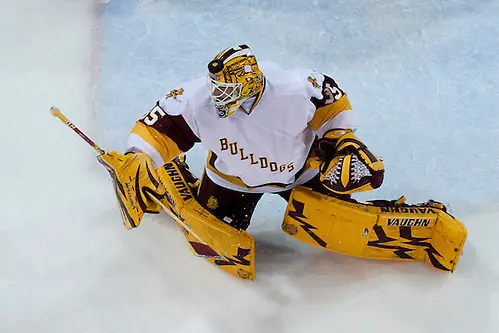 Minnesota-born freshman goaltender, Hunter Miska, registered a shutout in his first collegiate game as No. 6 Minnesota-Duluth trounced No. 17 Michigan Tech 6-0 in a penalty-filled affair.  Miska, who spent last season with Dubuque of the USHL, turned away all 21 shots he faced during his debut on Saturday at Amsoil Arena in Duluth, MN. "I was pretty well-prepared for this game tonight," said Miska. "I had swagger and confidence."
Miska registered his first save on Huskies junior forward Alex Gillies, who one-timed a shot in the low slot into the outstretched glove of Miska. He said that first save calmed his nerves for the rest of the night. I had some nerves coming in, but after I made that save, I thought 'alright, I'm here.'"Gillies was disqualified later in the first period for contact-to-the-head. The Bulldogs capitalized on that five-minute penalty for the first goal of the night, a point shot from sophomore defenseman Neal Pionk.
With the Bulldogs starting five returning defensemen, quality chances were difficult to come by for the Huskies.  Perhaps the best scoring opportunity of the night for the Huskies came in the second period on their third of four power plays in the game. The Huskies unit had established possession in the UMD zone and fired a series of shots on goal, as a final opportunity by senior sharp-shooter Tyler Heinonen was denied by Miska.  "The guys are stronger, more mature(at this level)," said Miska. "I just had to keep moving and stay on my feet."
To preserve the shutout, Miska made a sprawling save in the third period on Huskies forward Jake Jackson. "They had some good scoring chances," said UMD head coach Scott Sandelin. "We have to tighten up defensively."
Miska's counterpart, Huskies sophomore Matt Wintjes was chased out of the game at the halfway point after allowing four goals and classmate Devin Kero came on in relief.
In front of Miska, the Bulldogs offense provided plenty of support, converting on three of six power plays and receiving offense from six different sources. Defensemen Pionk and Willie Raskob, and forward Adam Johnson all registered power play goals while freshman Jade Miller and junior Blake Young notched their first collegiate tallies in the rout.  It was good thing for Jade(Miller) to step into his first game and score a goal," said Sandelin. Miska added an assist on senior Kyle Osterberg's second period, breakaway goal.
Michigan Tech will have an opportunity to redeem themselves in the second game of the series at 4 pm Sunday in Duluth.
Alabama-Huntsville 2, #20 Ferris State 1: Sophomore Hans Gorowsky's second-period goal propelled Alabama-Huntsville over the defending WCHA tournament champions, Ferris State in the WCHA season-opener, 2-1. Senior Matt Larose stopped 37 of 38 shots for the Chargers in Big Rapids, MI.
Colgate 2, Army 2: Army erased a two-goal deficit to skate to a 2-2 draw with Colgate in Hamilton, NY. Junior Connor Andrle scored both goals for the Black Knights and senior Parker Gahagen stopped 28 of 30 shots.  Calgary Flames draft pick Tim Harrison and fellow senior Derek Freeman scored as the Raiders outshot the Black Knights 30-27.