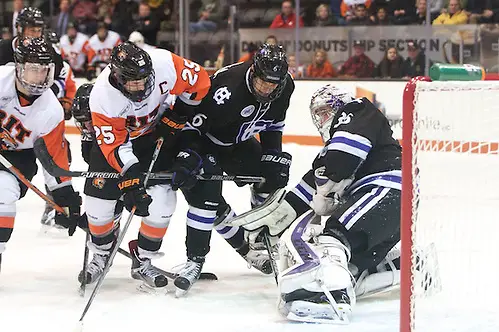 It's only early October, but the Atlantic Hockey schools are already planning to still be playing meaningful games next spring.
Here are the AHC team capsules in predicted order of finish:
1. Rochester Institute of Technology
Last Season
18-15-6, 14-9-5 (fifth) in the Atlantic Hockey. Won playoff title and lost to Quinnipiac in the first round of the NCAA tournament.
Names to know
Twin defensemen Chase and Brady Norrish enter their junior campaigns as co-captains along classmate Myles Powell. Chase Norrish was named AHC Defenseman of the year last season and Brady Norrish has been All-League his first two seasons.
Powell is the highest returning scorer, racking up 32 points including 15 goals last season. He was named MVP of the 2016 Atlantic Hockey Tournament.
Sophomores Gabe Valenzuela (28 points) and Liam Kerins (22) look to build on prolific rookie seasons while Mike Rotolo (.907 save percentage, 2.71 GAA) returns in net for his senior season.
Three questions
1. On paper, this team may be even stronger than last season. But is it enough to three-peat?
2. The Tigers' primary loss to graduation was leadership. Who will step up?
3. RIT will be the hunted and not the hunter for the second consecutive season. If winning two consecutive championships is difficult, can the Tigers stay in the mix to with challenge for a third?
Crystal Ball
RIT coach Wayne Wilson has had his share of success in his 18 seasons at the school, the most recent examples are consecutive Atlantic Hockey playoff titles.
He says while every championship is different, there's a common characteristic: chemistry.
"The last two years, they were great team to be around," Wilson said. "Really enjoyable to coach. No egos. We lost good people, on the ice and in locker room."
Wilson will look to a new group for leadership, three junior captains (twin defensemen Chace and Brady Norrish and forward Myles Powell) and six seniors going for a third and final ring.
The Tigers are picked to finish first in the preseason coaches poll, but Wilson knows that even a regular season title doesn't guarantee a spot in the NCAA tournament. Only once has an AHC team managed an at-large bid to the Big Dance. The Tigers came from third place in 2015 and fifth place last season to win the playoff title.
"I think a regular season title should be rewarded more, but for our league, you have to win your playoffs," he said. "But we have a long regular season (28 games) and that does allow you to experiment with different lineups and systems.
"But from mid-January on everyone's watching the standings and try to play their best hockey at the end of the season."
2. Air Force
Last Season
20-12-5, 16-7-5 (second) in the AHC. Lost to Rochester Institute of Technology in the league semifinals.
Names to know
Last season, the young Falcons rode rookie goaltender Shane Starrett to a second-place finish. Starrett (.924 save percentage, 1.92 GAA) was both the all-conference first-team goalie as well as the league's all-rookie netminder.
Up front, the Falcons return four of their four top scorers, a quartet of juniors that include leading-scorer Tyler Ledford (27 points) and Ben Kucera, who had a team-leading 15 goals last season.
Senior co-captain Johnny Hrabovsky was a second-team AHC all-star last season on defense.
A large freshman class includes defenseman Vince Renda, a Montreal native, the first Air Force player with dual citizenship since 2003.
Three questions
1. The Falcons will again be young, adding nine freshman due to the graduation of four seniors and the loss of five additional players who left the program. Can they mature quickly like they did last season?
2. Sometimes young teams overachieve and then come back to earth the following season. Can Air Force avoid a sophomore slump? As Falcons coach Frank Serratore is fond of saying, "Once is luck, but twice is skill."
3. Last season was a tale of two special teams. Air Force's penalty kill was best in the league but its power play was only tenth.
Crystal ball
Last season was one of coach Frank Serratore's favorites of his 20 year career behind the Falcons' bench. Picked to finish eighth, a Falcons team that had 12rookies and no goalies that with any college hockey experience flirted with first place late in the season and ended up second, losing in the playoff semifinals.
"It was the most enjoyment coaching I've had in my career," said Serratore.
The big question is whether his team can recapture that magic. Serratore thinks they're on their way to do it.
"If there are 10 steps in becoming a great team, last year at the start of the season, we were at step one," he said. "Right now we're at step seven. We are probably the deepest team we've had here. There's only three seniors but we're five lines deep and have eight defenseman and two goalies that can play every night."
Expect the Falcons to again be in the hunt for first place. Anything less than a playoff bye will be a disappointment.
3. Mercyhurst
Last Season
17-15-4, 15-9-4 (fourth) in the AHC. Lost to Rochester Institute of Technology in the conference quarterfinals.
Names to know
The Lakers return eight of their top nine scorers, including defenseman Lester Lancaster,who tallied 29 points, second on the team last season. Lancaster was named the 2016 Rookie of the Year in Atlantic Hockey.
Classmate Derek Barach led the team last season with 32 points, while junior Jonathan Charbonneau has 23 goals in two season, including a team-best 16 last season. Red-shirt junior Jack Riley (28 points last season) welcomes younger brother Brendan to the squad — their dad Brian Riley is the coach at Army West Point.
Goaltender Adam Carlson was one-and-done in Erie, turning an impressive rookie season into a pro contract in the Washington Capitals organization. Junior Brandon Wildung (2.10 GAA, .913 save percentage) split time in net with Carlson last season, and will be called on to lead the charge in net.
Three questions
1. Mercyhurst is in the mix for a championship every year but has not won a playoff title since 2005. Will this be their year?
2. Wildung had a great rookie season, but lost the starting job to Carlson last season. Can he rebound?
3. With just three seniors, do the Lakers have the leadership to win it all?
Crystal Ball
Mercyhurst coach Rick Gotkin, who earned his 500th victory last season and begins his 29th winter in Erie has seen it all, and hope that this coming campaign will work out the way so many others have, despite having a young team.
"Our goal is to get better every week and by Christmas, be playing pretty good hockey," he said. "That's what happened last season as our freshman got up to speed.
"Last year in the second half, there were points where we were playing great. But then we had some injuries. You never know when the injury bug is going to hit and unfortunately for us, it was at the end of the season."
If the Lakers can stay healthy and continue to mature, they'll be a team to be reckoned with come February.
4. Holy Cross
Last season
18-13-5 overall, 16-7-5 Atlantic Hockey (tied for second in conference). Lost to Army West Point in quarterfinals of Atlantic Hockey playoffs
Names to Know
Paul Berrafato entered the season competing for playing time in the Holy Cross net. By the end of the season, he was arguably the best Atlantic Hockey goalie. He won 17 games with a 2.17 GAA and a .917 save percentage. In league play, his GAA dropped to 1.98, while his save percentage rose to .925 with three shutouts.
Of the team's top seven scorers, six return, including T..J Moore, Mike Barrett, Scott Pooley, Michael Laffin, Ryan Ferrill and Danny Lopez. All of them posted 20-point seasons a year ago, with all but Laffin scoring 10 goals in the process.
Three Questions
1. It's been five years since the Crusaders went to Rochester. Is this "the year," and are they headed there as the league's top seed?
2. Who steps to the front of the line to keep the standard of defensive excellence rolling?
3. Can the offense produce a unit just as balanced as last season?
Crystal Ball
Following the departure of goalie Matt Ginn, nobody really knew what to think of Holy Cross last season. Some preseason polls had them in the middle of the league, some had them in the bottom of the league. Coming off of a sixth place finish, nobody, it seemed, picked them to be an overly competitive team.
So naturally they responded in a typical Holy Cross way by finishing in third place.
This year, things are different; picked third in the Atlantic Hockey coaches' poll, earning one first place vote, they're quickly gaining traction as one of the best teams in the conference, even though it's not on the team's radar.
"Preseason polls are preseason polls," said coach David Berard. "We don't pay attention to them when we're picked low, and we definitely don't pay attention to them when we're higher. All we can try to do is focus on our development and work on taking another step. We took a big step last year, but we have to focus on trying to continue to get better."
Like so many other teams in the league, the Crusaders return the majority of their core, including virtually their entire offense. But the most popular name will be Berrafato, the junior goalie who stepped to the forefront and quickly made the crease his after the departure of all-time great Matt Ginn. The only team to allow less than 60 goals in league play last year, a step forward could mean opponents simply need to save the puck if they actually score.
"Paul is very coachable in that he always takes to working on everything," said Berard. "He is capable of giving up a goal and putting one aside, and he can do it with a good goal where's he's beaten by a very good shot. He's mentally able to keep in the game at all times, even when we have a defense that limits shots, and he's capable of making a large number of saves when they start piling up. He always seems to make the big save when you ask him to. But at the same time, that was last year, so we're looking for him to make another step forward, as we are with everyone, since it's a blank slate."
Despite the elevated expectations, Holy Cross still feels like an under the radar type of program. With the explosion of facilities enhancements and changes across Atlantic Hockey's eastern pod, it's easy to forget how the Crusaders started it first in maybe the most subtle manner.
"The majority of the renovations at the Hart Center left the bulk of the rink the same," said Berard, "but there are a number of little changes that will make a difference. There's a new dehumidifer unit that will make for better ice, for example, and there are new offices for the coaches. The biggest change is going to be the new weight room for training and rehab. It will have a resounding impact on our student-athletes."
For a school like Holy Cross, subtle change is sometimes the best kind. Where there are more dramatic and radical changes, it's the little things that matter. For the upcoming season, those little things could add up and lead the team straight to a league championship.
5. Army West Point
Last season
14-15-9 overall, 8-11-9 Atlantic Hockey (sixth in conference). Lost to Robert Morris in the semifinals of the Atlantic Hockey playoffs.
Names to Know
For the first time in recent memory, the Black Knights are reloaded, not rebuilt. Juniors Conor Andrle and Tyler Pham (or "cows" as third years are known at the academy) bring back 56 points from a year, and sophomore (or "yearling") Trevor Fidler will look to build on his 28-point rookie season.
Veteran firsties Ryan Nick and Clint Carlisle each had seven goals last year, but Nick did it from the blue line as a defenseman. They'll form the most experienced core for the team with fellow senior Parker Gahagen, who comes back after a massive 34-game season. Last year, Gahagen set a single-season program record for save percentage at .937, recording the second-best goals against average in West Point history (2.01).
Three Questions
1. One of Atlantic Hockey most pleasant surprises last year, they won't sneak up on anyone this year. Can they rise to the elevated level of current expectations?
2. Parker Gahagen's historic season last year left us all wanting more. Can he join the ranks of Atlantic Hockey's all-time best with a follow-up encore?
3. Having not beaten Air Force since January 15, 2011, the two branches of the military meet four times this year, including twice in West Point. Is this the year the Army finally gets bragging rights in the Pentagon?
Crystal Ball
Last season, Cinderella turned in her glass slipper for a pair of combat boots. Ripping through the league in the season's second half, they turned a preseason 10th place prediction into a sixth place finish. In the postseason, they blew through the first two rounds with three shutouts, then pushed league favorite Robert Morris to overtime before losing in the semifinals in their first trip to Rochester since 2008.
With the entire core coming back, West Point is in a completely different position entering this season; the preseason coaches poll has them tied for fourth with Mercyhurst.
"It's been a process for us," said head coach Brian Riley. "We started rebuilding two years ago, and we brought in an incredibly strong couple of recruiting classes. When you consider the guys we already had in the program, we really started to move in the right direction as a team, and you saw the results starting last year. As a coach, you always have expectations for your team, but now everyone has those expectations for us. Now it's up to us to go out and prove that we're up to those expectations."
Putting together a rebuilding effort in college hockey is hard enough, but to do it at as tough of a school as West Point is even more impressive. It's something the Black Knights have been able to do, largely thanks to the men behind the man. "(Assistant coaches) Zack McKelvie and Eric Lang both did an absolutely great job," said Riley. "With Eric departing (for AIC), we brought in Chris McKelvie (Zack's brother), who we think is really going to be a great college coach. We've already seen that we're not going to miss a beat."
For Army, the ceiling for this season is virtually limitless, as long as the team can take the next step. They return their entire offense, their entire defense, and one of the best goalies in college hockey. "You can't teach experience, and it's a huge strength," said Riley. "We have a lot of guys with a lot of minutes, and we have to make sure that we get to use that experience to take the next step. We have to make sure it continues to grow. You can already see it; where we used to go into the season hoping to win, it's a different attitude. Now we're in a position where we expect to win."
6. Robert Morris
Last Season
24-11-4, 18-6-4 (first) in the AHC. Lost to Rochester Institute of Technology in the conference finals.
Names to know
Senior defenseman Rob Mann will captain the Colonials this season. RMU's leading returning scorer is junior Brady Ferguson, who had 34 points including 13 goals last season. Senior Daniel Levins' 18 goals were fourth on the team last season, behind three graduating seniors.
Senior goaltender Dalton Izyk has platooned with the now-graduated Terry Shafer for the past two seasons, so expect him to be the main man in net.
The large freshman class includes Luke Lynch, who has some big shoes (skates) to fill. His older brother Zac finished up his college career at Robert Morris last season as the school's leading all-time scorer (156 points). Luke Lynch led Johnstown (NAHL) in scoring last season with 29 goals in 57 games.
Three questions
1. How will the Colonials cope with the loss of six all-league players and nine overall?
2. How will Izyk fare as the main starter in net?
3. With 10 freshman on the roster, will it feel like four years ago, or will the success over the past three years bring a different outlook?
Crystal Ball
After consecutive 24-win seasons, the Robert Morris Colonials have a different kind of challenge ahead. Consecutive graduating classes have removed pieces of the puzzle that saw things come together for regular season and playoff titles, and a trip to the NCAA tournament in 2014.
Is this season a classic rebuilding project or has a winning tradition made it something different?
"We've established a winning culture and our goal is to build a new team chemistry," said Coach Derek Schooley. "I don't think there's a player here that doesn't think we can have success despite the players we graduated. There's still a lot left on the shelf."
That include Izyk, who is 25-8-1 through three seasons with a 2.86 GAA and a .915 save percentage.
"He deserves the first opportunity," said Schooley. "He gets to have the first shot as the guy to carry the mail. He's been all-league and all-tournament for us."
Being picked to finish right in the middle (sixth) of the league's standings in the coaches preseason poll may indicate the uncertainty that lies ahead. But Schooley says RMU brings back a solid group with the experience gained by being in and winning games with championships on the line.
"We have guys we need to step up," said Schooley. "There's a winning tradition here and we need to prove that we still have that."
7. Sacred Heart
Last season
13-20-4 overall, 10-15-3 Atlantic Hockey (ninth in conference). Lost to Bentley in the first round of the Atlantic Hockey playoffs
Names to Know
There's a deep, talented senior class ready to go in Fairfield, led by Justin Danforth and Evan Jasper. Last year, Danforth became the Pioneers' first 20-goal scorer in five years en route to a 41-point season. Jasper piled up 33 points, meanwhile, with all but five coming in AHC play. Jordan Minello rounds out the group after scoring 10 goals and 23 points in his junior campaign.
The senior class isn't limited to just forwards, though. Mitch Nylen and Erlich Doerksen are back for a final campaign on the blue line. They're ready to pass the torch to sophomore Liam Clare, who had 11 assists in his rookie campaign.
None of that precludes goalie Brett Magnus, who posted a .912 save percentage and 2.63 GAA as a freshman.
Three Questions
1. After playing home ice in the first round two years ago, can the Pioneers return a playoff series to Western Connecticut?
2. Is Magnus primed to take the leap as the next great Atlantic Hockey goaltender?
3. This is one of the deepest Pioneer rosters in recent memory; how does it stack up against other programs?
Crystal Ball
Forget about the ninth-place finish; the Pioneers were Atlantic Hockey's best-kept secret last year. They finished within two points of fifth-place Army West Point, and their 10 conference wins were more than both the Black Knights and eighth-place Bentley, tied with seventh-place Canisius. Of that foursome, their goals scored (72) rated right in Canisius (72) and Bentley (74), while their goals-against (78) rated right next to Army West Point (74).
In the playoffs, they pushed Bentley through a bitterly-fought three game series. After losing a one-goal game in the first game, they fought back for an overtime winner to force a decisive third game in what many considered the best series of the postseason.
So what's their encore? Virtually the entire team is back. They return all but one of their top nine scorers and all but two of their regular defensemen. They return a goaltender who made 64 saves in a single game last year. Despite a schedule featuring seven of their first eight games on the road, they won't play on the road for back-to-back full weekends the rest of the season.
"We want to be a program of growth and development," said head coach CJ Marottolo. "We've been making steps every year. We have a big senior class that's taken all the steps, and they're all back and very focused. They've been great leaders who let the new guys know what the expectation is, what to expect day-to-day both on the ice and in the weight room. It's really set the tone for what we're trying to do."
If the program takes another step, it'll happen at a new home. After playing home games at the municipal Milford Ice Pavilion, the Pioneers are moving to Bridgeport's sterling Webster Bank Arena. The home of the AHL's Bridgeport Sound Tigers, it's a multi-regional host for the NCAA Tournament while serving as a county staple for a number of different sports.
"This is an exciting time for our program," said Marottolo. "Playing at Webster Bank Arena is great for our players and our alumni, and it'll have a big impact on our recruiting. They recently just put in a video board, and that arena offers us an opportunity to host some non-league games at home."
8. Bentley
Last season
14-20-6 overall, 9-13-6 Atlantic Hockey (eighth in conference). Lost to Robert Morris in the Quarterfinals of the Atlantic Hockey playoffs.
Names to Know
This is officially Max French's team. Despite missing eight games, he produced the Falcons' third straight 20-goal season, scoring 23 goals and 24 assists. Now the captain, a compelling season-long storyline is how he fills the role of undisputed team leader. Junior Kyle Schmidt joins him fresh off of a 45-point season in which he led the team with a +15 rating.
The Falcon defense always seems to have someone as an anchor, top-flight blue-liner. Despite losing their top defenseman in Matt Blomquist, the torch is passed to sophomore Tanner Jago, who found himself on the All-Rookie Team last season.
An All-Rookie and all-conference two years ago, Jayson Argue found himself in a backup role after injury and a breakout year by Gabe Antoni, who posted the fourth-best, single-season save percentage in program history. Now a junior, Argue is in the right position to make the crease his once more. His .910 save percentage last year still rated 10th all-time, and his .934 save percentage as a freshman is a program record.
Three Questions
1. Bentley's top three scorers accounted for 56 of the team's 106 goals last year. How will they develop depth scoring within the other three lines?
2. Already one of the nation's best scorers, does Max French make the jump into the select group of the truly elite players in the country?
3. After allowing its most goals in six years, can the defense regain the mojo that made it one of the best units in the conference?
Crystal Ball
No teams is more emblematic of Atlantic Hockey's growth than the Bentley Falcons. Since the turn of the decade, they've gone from an unknown to a hidden jewel to a commodity. With the offseason announcement of a new, on-campus rink, they'll start the farewell to the fabled John A. Ryan Arena this season. After playing this year at the JAR, they'll play the first half of next season there before shifting to the new rink midseason.
It's not going to be a ceremonial goodbye. After falling to eighth place last season, Bentley has some cleanup work. They have defensive infrastructure, but their 124 goals allowed was the most since 123 in 2009-2010. With Jayson Argue returning in goal, there's a core to build around.
"Jayson looks great," head coach Ryan Soderquist. "Last year was really a growth year for him, and he's come back excited and fresh to start this year."
The firepower on offense shouldn't be a problem, but Bentley needs to get better through all four lines. They had a top line capable of scoring anytime, from any place on the ice. But injuries and inconsistent depth plagued them, something the team addressed in a talented crop of freshmen now on campus.
"We have a very strong group of freshmen," said Soderquist. "We have a lot of depth at the forward position, and we're going to have four lines this year that can contribute. We're going to get away from being a little bit more one-dimensional, and we're back to being fully healthy (to start this year)."
Among those freshmen is Jonathan Desbiens. The Montreal native tallied 83 points, including 44 goals, for the West Kelowna Warriors of the BCHL, then added 15 goals in the postseason. Joining him is goalie Aidan Pellino, a player Soderquist hopes to be able to "lean on" for additional depth in the crease behind Argue.
If the defense rounds into form and if Argue produces like everyone knows he's capable, they'll combine with an offense that's always one of the league's most dangerous. If that happens, the pieces are there to send start sending the JAR out in style.
9. Canisius
Last Season
12-22-5, 10-13-5 (seventh) in the AHC. Lost to Air Force in the league quarterfinals.
Names to know
The most recognizable names from last season are gone, as Ralph Cuddemi (123 career points) graduated and Shane Conacher (106 career points) decided to turn pro after his junior campaign. Goaltender Reilly Turner also has departed after two seasons.
Back is junior Ryan Schmeltzer is the leading returning scorer, coming off a junior campaign that saw him tally 32 points, third on the team. Dylan McLaughlin scored eight goals as a freshman last season, good for fourth on his team. Classmate Cameron Heath led all defenseman last year with 16 points including seven goals. Sophomore Simon Hofley (.920 save percentage; 2.71 GAA) is the only returning goalie.
Competing with Hofley are three rookie goaltenders as part of a nine-player freshman class. Netminder Daniel Urbani was the top goalie in the Ontario Junior Hockey League last season, posting a 1.69 GAA and a .930 save percentage with Trenton.
Three questions
1. Who will step up offensively to fill the to fill the shoes of Cuddemi and Conacher, who had 40 goals and 88 points between them last season?
2. Like a lot of AHC teams this season, the Griffs are young, with 18 underclassmen on the roster. How long will it take them to gel?
3. Will the Golden Griffins benefit from or succumb to a killer early schedule?
Crystal Ball
Canisius' early schedule is a doozy: Opening on the road at No. 1 North Dakota, then on to Alaska, followed by conference weekend against three of four teams that make ot to Rochester last season.
"And don't forget (at Penn State)," said Canisius coach Dave Smith. "This is the stuff that win, lose, or draw is about the student athlete experience. It's forming a bond through probably some adversity and some shared experiences."
Smith says his goal is to find some chemistry for a team that lost its main two offensive weapons in Ralph Cuddemi and Shane Conacher, who combined for 229 career points.
"Chemistry is the single most important ingredient to success," said Smith. "Every group takes on its own identity. I think this team will be closer to the 2013 (championship) team with more of a pack mentality than looking to Shane to make a play or Ralph to score a goal.
"We're excited to get things going."
If things go according to play, expect Canisius to weather some early storms and challenge for home ice in the postseason.
10. American International
Last season
7-29-3 overall, 6-19-3 Atlantic Hockey (Tied for 10th). Lost to Army West Point in the first round of the Atlantic Hockey playoffs.
Names to Know
Austin Orszulak is the biggest offensive weapon for the Yellow Jackets, entering the season with a chance to break the 100-point barrier. After 27 points a year ago, including 12 goals, he needs 33 to reach the mark.
Bryant Christian is the team's only other 10-goal scorer from last year, but he leads a pack of six other players who tallied 10 or more points. The grandson of 1960 gold medalist Bill Christian and the nephew of 1980 gold medalist Dave Christian, he's also the cousin of the New York Islanders' Brock Nelson. He's described by his coaches as a player who "does everything the right way," both on and off the ice.
On defense, Andrew Debrincat exemplifies the hard-working spirit AIC is looking for out of their team this year.
Three Questions
1. With a new head coach and a new home barn, how does the current roster respond to moves that will fortify their future?
2. After two straight seasons finishing in last place in Division I in scoring defense, how does AIC improve in back?
3. Who is on upset watch when they play AIC this year?
Crystal Ball
At the surface level, American International might look like the same team. The colors are still black and gold. The mascot is still a Yellow Jacket. The campus is still in Springfield, Massachusetts.
Pretty much everything else changed.
There's a new head coach, with former AIC player and Army West Point assistant coach Eric Lang taking over for Gary Wright. There's also a new barn, with downtown Springfield's MassMutual Center replacing the municipally-based Olympia Ice Center. And there's a new attitude.
"We have (the players') attention," said Lang. "The buy-in, especially from the older guys, is high. They're all in. They want to learn and get better. They're okay with being pushed, and they want exactly this what we're giving them as coaches. Right off the bat, it's extremely noticeable to see it, and I've been very excited about it."
Statistically, there's no ignoring the need to be better. They ranked 10th in scoring offense in the conference last year (better than only Niagara), 54th in the nation. Defensively, they ranked last – in both the league and national numbers.
"We're making a huge emphasis on getting to the net, both offensively and defensively," he said. "We need to keep players away from our net just as well as we need to be able to get to the net ourselves. If we can defend that area 10-15 feet in front of the goalie, we will be better. That's something that's huge, but it takes courage to play there. It's very hard to do against teams, and it's very hard to defend. A lot of the goalies today can handle the stuff from outside, so (inside) is where the games have to be played."
The blue-collar mentality will be how AIC will debut in a new rink. After playing its history in the Olympia Ice Center, a three-rink building in West Springfield, the team is moving a new hockey culture in the building. They'll share the building with the AHL's Springfield Thunderbirds, who are the relocated Portland Pirates.
"We inherited a top facility," said Lang, "and probably went from the bottom tier to the top tier overnight. Guys are walking into rooms like kids in a candy store; it's great for our current team, and I think it'll speak for itself in recruiting. We're able to recruit now in the USHL and leagues where they play in arenas like this. More kids are answering their phones when we call, so this is the start of something."
11. Niagara
Last Season
6-25-6, 6-25-6 (tied for tenth) in the AHC. Lost to Canisius in the first round of the Atlantic Hockey playoffs.
Names to know
Niagara returns all three goaltenders: senior Jackson Teichroeb, and sophomores Guillaume Thérien and Joe O'Brien. Each saw action in at least 10 games last season.
Junior Derian Plouffe was one of only two players to appear in every game last season, and he led the team in goals (11) and points (18) by wide margins. Defensemen Vinny Muto (37 career points) and forward T.J. Sarcona (51 career points) lead a senior class that looks to end their careers on a high note.
Newcomers include forward Tyler Tomberlin (63 points with Fairbanks (NAHL) and Joey Molinaro, who led the Amarillo Bulls (NAHL) in scoring last season with 45 points.
Three questions
1. How long will it take a large rookie class to get up to speed? Niagara returns nine of its top 10 scorers, but will have nine freshmen on the roster, replacing four graduating players and seven others who didn't return.
2. Will there be a go-to guy in net? All three goalies from last season return.
3. Losing three seniors from a unit that struggled last season (Niagara allowed 3.41 goals per game, second worst in the conference) presents a big challenge.
Crystal Ball
After a couple of rough seasons, Niagara coach Dave Burkholder says that a strong crop of recruits is expected to get the Purple Eagles back into the top half of the standings.
"We're pretty excited," he said. "We needed to be faster and we've accomplished that goal. We've got some freshman: Tyler Hayes, Caleb Boman and Noah Delmas that are moving defenseman and that will improve our ability to get the puck out of our zone faster."
Burkholder says that a plague of injuries and tough breaks are hopefully in the rear view mirror.
"We were in almost every game last season," he said. "We lost a lot of close games and we need to find a way to win those games."
Niagara expects big things from senior goaltender Jackson Teichroeb, as long as he can stay healthy.
"This is the first October that Jackson's been healthy," said Burkholder. "We're hoping that his senior season is going to be his best year."