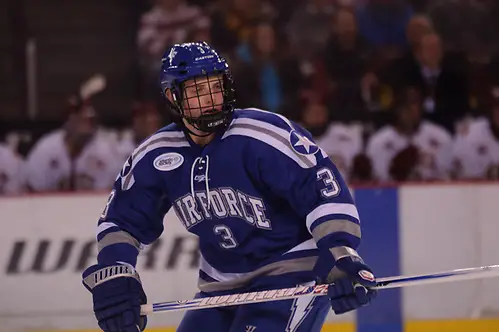 The start of a new season always comes with optimism, and for Atlantic Hockey, hopes are sky-high after a momentous offseason.
New Digs
Three schools announced plans to upgrade their facilities, including a pair of upgrades that begin this season. American International is moving from the Olympia Ice Center to downtown Springfield's MassMutual Center. Sacred Heart is also leaving its current off-campus home, the Milford Ice Pavilion in favor of the Webster Bank Arena in Bridgeport, Conn.
And finally, Bentley has announced plans to build a multipurpose on-campus arena that will be home to the Falcons, who will be relocating from the John A Ryan Skating Arena in Watertown, Mass. Bentley will drop the puck at its new home sometime in 2018.
"The last 5-7 years have been amazing to see the kind of growth Atlantic Hockey's undertaken," said Bentley coach Ryan Soderquist. "Bentley's commitment to a $45 million building is part of that, but Sacred Heart and AIC getting new homes is also great for the league."
"[New] facilities are going to be huge," said Air Force coach Frank Serratore. "Now you'll see more (nonconference) home and home series. In the past maybe some teams weren't willing to go into Milford (Ice Pavilion) or Olympia or the JAR. But now there's no excuse.
"If you want to win more non-conference games you have to play at home. You can't get better in that area when you're playing 75 to 80 percent of those games on the road."
"We've already started to receive commitments from teams for non-league home games, which everyone knows can be very difficult to do," added Sacred Heart coach C.J. Marottolo, whose Pioneers move into Bridgeport's Webster Bank Arena this season. "That's something that will really be great for our administration, our fans, our students, and everyone in Fairfield County."
18's the Limit
The league also announced in September that it would be incrementally increasing the scholarship limit from the current 14 to 18, the maximum allowed by the NCAA. This will but the league on equal footing with the other Division I conferences.
"We at Niagara think this is great news," said Purple Eagles coach Dave Burkholder, whose Niagara team came to Atlantic Hockey in 2010 from the now-defunct CHA, which had the full 18 scholarship limit. "It evens the playing field. Full credit goes to commissioner [Bob] DeGregorio and the athletic directors. We're making the league better in a lot of areas. We couldn't be happier with the vision."
Robert Morris coach Derek Schooley echoed Burkholder's remarks.
"It's great for the league," he said. "Showing improvements in scholarships and facilities are huge steps forward."
Air Force (along with Army and Rochester Institute of Technology) doesn't offer athletic scholarships, but Falcons coach Frank Serratore is on board with the change. "If we want to be viewed like the other leagues, if there's an ante to play poker with the big guys then you have to play that ante, in terms of scholarships and facilities," he said. "Our league gets better and better and is ready to take the final step. It's not going to be long before we're going to be on par with not just some leagues but all the other conferences."
"This is the next step in the evolution of Atlantic Hockey," said Holy Cross' David Berard. "It's tough to be consistent when you're competing with what amounts to one hand tied behind your back. So this is going to be a big help to close that gap with the other five leagues – and then pass them. It shows that we are moving in a great direction."
"These announcements address two of perceived negatives about the league," said Canisius coach Dave Smith. "In two press releases they've been done away with and we're very positive about the impact this will have."
Welcome, Coach
A coaching change in this league is a rare occurrence, but we also had one of those this offseason.
There's also a new face behind the bench at American International in former AIC player and Army West Point assistant coach Eric Lang, who replaced Gary Wright after 32 seasons at the helm.
"It is with great pride and humility that I accept the position of head hockey coach at my alma mater," said Lang back in April when the change was announced. "Together, our staff and players will embrace the overall mission of AIC and recognize the responsibility we share to represent our institution, program and community, on and off the ice, with class, enthusiasm and excellence."
"Our assistant coaches identified great young men, not only for what they could do on the ice but also what they offered as cadets," said Army West Point coach Brian Riley. "Eric is very deserving of that head coaching job."
On the Ice
In it's 10-year tenure in Atlantic Hockey, Rochester Institute of Technology has had great success, racking up four regular season and three playoff titles, including the last two. But only in 2010 did RIT capture both.
In recent years, finishing first hasn't guaranteed playoff success. Just once since 2010 (Air Force in 2012) has the regular season champion gone on to win the playoff title and advance to the NCAA tournament. And just once in league history did a team (Niagara in 2013) win the regular season title and gain an at-large berth in the NCAAs.
RIT, which became the second team to win consecutive titles (Air Force won three from 2007 to 2009 and also went back to back in 2011-2012) finished third in 2014 and fifth last season.
"It shows the parity and unpredictability," said Wilson. "It's about peaking at the right time and using the regular season to prepare yourself.
"Because we play a lot (28) of league games, it takes a bit of pressure off early. We use different lineups and different goalies. You can't be afraid to tinker with your lineups and systems. But from mid-January on, everybody's looking at the standings and things tighten up quite a bit."
It's not limited to the top of the league. Last season, the difference between sixth and ninth position was two points. A one-win swing therefore can be the difference between finishing as the highest seeded first round team and a road series in the playoffs.
"We feel like we're getting better, but we know everyone else is too," said Riley. "This league is so close year after year. You sit back and think to yourself how this league can get even tighter than it already is, but I think this year could be even tighter than last year was."