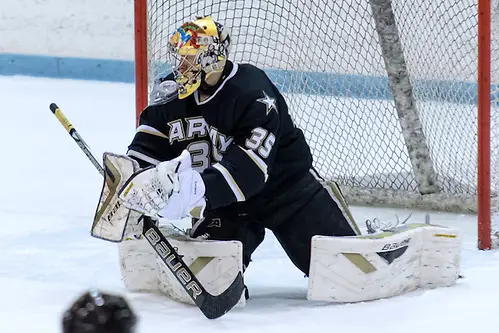 What's new in the world of Atlantic Hockey?
We've got you covered…
A little biased
Recently, there's been a national conversation on "media bias" — whether it exists and how it can affect the political landscape.
I'm here to tell you that when it comes to college hockey, media bias definitely exists, and I'm exhibit "A."
I pull for Atlantic Hockey teams to win. There is no cheering allowed in the press box, so I keep it to myself. But it warms my heart to see AHC teams do well.
I've been covering the league since 2007, a year after Holy Cross shocked the world with a 3-2 upset of Minnesota in the first round of the NCAA tournament. In the past 10 years, there have been other upsets, but the league as a whole has managed to win only about 25 percent (141-511-65) of its nonconference games. Atlantic Hockey won only nine non-league games total my first year covering the league.
But this season is off to a promising start, with the league currently at 6-7-5. Yes, I know, it's still below .500, but at this early juncture last season, AHC teams were 5-18-2 out of conference.
New facilities and more scholarships will help, so things should only get better. That makes me happy, because I spend time each season talking to a very talented and experienced group of coaches, who have done more with less for years. It's about time that the scoreboard reflects that.
So while I can't speak for my co-correspondent Dan Rubin — wait, yes I can because I know he feels the same way — my bias is showing so far.
Picking up…
We're only three weekends into the season, but Army West Point looks a lot like the team that came on strong at the end of last season, coming from the middle of the pack and advancing all the way to the conference semifinals. The Black Knights were 7-11-6 in late January, but went 9-4-3 after that, not allowing more than three goals in a game since Jan. 9.
The Black Knights allowed a total of six goals in six postseason games last year.
So far this season? Two goals allowed in three games.
"We've kind of picked up where we left off," said Army West Point coach Brian Riley, in his 13th season at the school. "Our goalie [senior Parker Gahagen] played extremely well in the second half [last season]. He has an experienced D-corps in front of him."
The Black Knights lost only one regular defenseman from last season, and added sophomore Dalton MacAfee, who transferred from Boston University.
"They've got a year under their belts and play with that poise," said Riley. "We've had a fun three weekends so far. Nobody's pushed the panic button when we've been down."
Riley's team found themselves in a hole in their first game of the season, behind 2-0 in the second period to Colgate in the inaugural game at the Raider's new rink, the Class of 1965 Arena.
"I really liked the way we responded," he said. "We were able to stick to our game plan and get two goals and tie it up."
Riley said it gave his team a boost to spoil the Raiders' party.
"Sure, they invited us for a reason," he said. "We knew they would come out strong. It was a great atmosphere and the building was awesome. It was an experience we won't forget."
Gahagen made 28 saves against Colgate, then followed that up with consecutive Friday night shutouts of league foe Sacred Heart, making a combined 55 saves.
"[In the first game], they outshot us 14-2 in the third period," said Riley. "They really had us on our heels. Their top line (seniors Evan Jasper, Justin Danforth and Jordan Minello) might be the best line in the league. They've got a high-powered offense, but we were able to weather the storm."
The Black Knights have another single-game weekend coming up, traveling to Massachusetts on Friday. Riley is looking forward to the challenge of another non-league opponent, and says his team will try to do its part to get Atlantic Hockey another victory against a Hockey East opponent.
Air Force kicked off its season by knocking off Boston College, Bentley beat New Hampshire on Oct. 8, and Holy Cross defeated Providence last Saturday.
"We all watch and are pulling for each other in non-league games," Riley said. "I text the other coaches right away after games and offer congratulations. When one of our teams teams does well, it helps all of us.
"It used to be that we were going to shock the hockey world by winning a non-league game. It's not like that at all anymore. Now there's an expectation that you're going to win."
New kids
Atlantic Hockey boasts 11 teams that have experienced starting goalies this season, bringing a combined 639 collegiate games between the returning netminders.
That means the opportunities for a rookie to get between the pipes has been rare so far.
But three freshmen have made their debuts in net, all with strong showings:
* Canisius' Daniel Urbani allowed just one goal on 25 shots in his first start, but unfortunately, the Golden Griffs couldn't find the back of the net in a 1-0 loss to Alaska-Anchorage last Saturday.
* In a game at Rochester Institute of Technology on Oct. 8, Robert Morris rookie Francis Marcotte entered the game with his team trailing 4-1 early in the second period. He allowed just one goal and made 27 saves to spark a big 6-5 comeback win for the Colonials.
* Bentley's Aidan Pelino had a nice outing in relief at Northeastern last Saturday, stopping 14 of 15 shots over the final half of a 7-4 Falcons loss.
Pumpkin convention
Another year and another capacity crowd at Rochester's Blue Cross Arena for RIT, which last Saturday tied Connecticut 1-1 in front of 10,556 orange-clad fans.
The Tigers settled for the tie, as they did last year against Bowling Green in the annual Brick City Homecoming game.
RIT hasn't won a Brick City game since 2011, choosing to bring in top teams like Boston College and Michigan. No cupcakes allowed.
"Homecoming is supposed to be an easy win, but we're not going to get any of those," RIT coach Wayne Wilson told the Rochester Democrat and Chronicle after the game. We want to challenge ourselves. I think having good teams like UConn come in is great for our fans. It's not a school where they said, 'Who are they, or who is that?' I'm not looking for an easy win."
Weekly Awards
Player of the Week — Johnny Coughlin, Holy Cross: The sophomore defenseman scored the game-winning goal in overtime for Holy Cross as the Crusaders defeated No. 11 Providence, 2-1 last Saturday. Coughlin has four career goals so far, and three of them have been game-winners.
Goalie of the Week — Parker Gahagen, Army West Point: The senior from Buffalo, N.Y. picked up his second shutout of the season and eighth of his career, stopping all 25 shots in a 3-0 blanking of Sacred Heart. Through three games, Gahagen has a 0.65 GAA and a .977 save percentage.
Defensive Player of the Week — Alexey Solovyev, Bentley:
Solovyev, a defenseman, scored a pair of goals, one each night, as Bentley tied and lost to Northeastern. He has three goals so far this season after tallying just one in his rookie campaign.
Rookie of the Week — Neil Robinson, Holy Cross: The freshman scored his second goal of the season on Saturday in a 2-1 upset of No. 11 Providence.
Sad news
I, like everyone in college hockey, am mourning the passing of former Connecticut coach Bruce Marshall. Marshall was taken from us way too young, at just 54. He was the head coach at UConn for 25 years, starting in 1988 when he was just 26 years old. He left the school in 2013 and was about to start his second season behind the bench at Division III Franklin Pierce.
I first interviewed Bruce in the mid 90s and we talked many times over the years. Our talks always left me impressed with his love of the game, and the desire to do things the right way for his players. The last time I saw him, about 18 months ago, he was full of enthusiasm about the new opportunities ahead of him, and was looking forward to a fresh start. He will be missed.