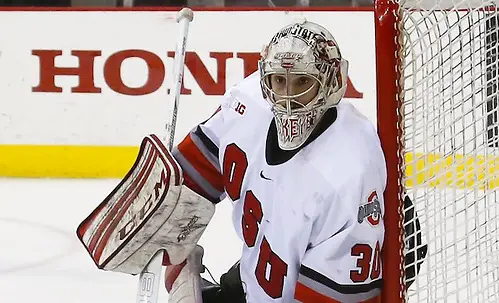 Getting through the first three games of the season with a 1-0-2 record may not exactly qualify as setting the world on fire but comparatively speaking, Ohio State is off to a great start.
Considering the Buckeyes lost their first seven games last season, started 1-4 the season before that and dropped their first three in head coach Steve Rohlik's first year at the helm, Ohio State fans have a reason to be quietly optimistic about this year's squad.
Many of those early-season losses came at the hands of in-state rivals Miami and Bowling Green. The Buckeyes weren't able to pick up a win at Miami last weekend, but came away with a 1-1 draw. This weekend, OSU gets a chance to exercise some more demons when they meet up with Bowling Green for a home-and-home series.
Despite getting preseason praise, the Falcons have fallen victim to the type of start Ohio State has suffered through in previous seasons. The Falcons own an 0-3-1 record.
Winless record aside, Rohlik said that BGSU is still a dangerous team.
"I've got a lot of respect for coach [Chris] Bergeron there, how his teams play and what they bring every night," he said. "It's no secret, they play hard. They're a very dangerous hockey team, they were picked in that league up top for a reason.
"As you know, in college hockey if you're not playing your best game, you're going to get beat no matter who you play. For us, you look at our schedule, there is no letup. We've got to play our best starting this Friday at Bowling Green, up there in that great environment, to win a hockey game."
Rohlik said he's happy with the team's 1-0-2 start, but added that there's still room for the team to improve.
"There's so much room for growth with these guys, still," he said. "We've made some mistakes and we certainly haven't played our best hockey yet."
The Buckeyes returned all four players that scored 30 or more points last season. Combine that with a fairly upperclassmen-led team that features only five freshmen and Ohio State has a recipe for success with one of the most experienced teams in the conference.
"Experience is always a good thing [and] certainly, you've got to lean on your guys that have been through it," Rohlik said. "For me, I'm fortunate, I've got three really good captains and I rely on those guys, and also a lot of guys that have been through some close games over the past couple of years. We've played an awful lot of one-goal games and that trend has continued this year."
The Buckeyes dropped most of those one-goal games last season, especially in the season's first half. If Ohio State can flip the script in those type of games, it may be able to live up to expectations this year.
"No one wants to start off slow and again, we played in so many one-goal games the last couple years," Rohlik said. "I can't tell you how many times I pulled the goalie in the first half last year, at least 10 times. We talked a bit about it with the guys this year, we want to get out and kind of throw the first punch and get after it."
Rohlik has been rolling two goaltenders so far this season. Christian Frey started the first two games of the season and Matt Tomkins was stellar in last weekend's 1-1 draw at Miami. Both Tomkins and Frey are seniors.
"They have both won big games here, they've both played a lot of games here," Rohlik said. "Frey played very well when he was called upon and Matt Tomkins was ready when his number was called and he's played very well.
"For a coach, you can't ask for much more. If you've got two guys back there playing at the top of their game it's certainly better than one. I have full confidence in either one of those guys."
Rohlik credited Tomkins with making a couple "unbelievable saves" during last week's game at Miami and said that Redhawks coach Enrico Blasi could say the same thing about his goaltender Ryan Larkin.
"It was nice to see a low-scoring game, but we're comfortable playing either way," Rohlik said. "If we've got to score two goals to win, or one goal to win, or four goals, we've got to adapt to the games being played."
Rohlik signs extension at Ohio State
It was announced Tuesday that Rohlik would be sticking around Ohio State for a while, through the 2020-21 season to be exact.
"It's certainly a nice feeling," he said. "But it has to do with a lot of good people around you and a lot of good players."
Rohlik said that they began talking about the extension at the end of July and thanked athletic director Gene Smith and associate athletic director Shaun Richard.
"I'm the fortunate one and obviously, it's very humbling," he said.
Through three complete seasons and three games this year, Rohlik has amassed a 47-51-14 record.
Badgers hope to build on victory over Boston College
A high-scoring game that resulted in a loss may have ended Wisconsin's weekend on a sour note.
But a split with Boston College is nothing to shake a stick at. Head coach Tony Granato talked about the weekend as a whole at Wisconsin's Monday press conference.
"Offensively, we have some really skilled players – they're exciting to watch," he said describing the team's offensive-prowess, which was one of the highlights of the weekend.
Granato also said that he liked the Badgers' special team play, especially the penalty kill. He said the power play was good at times, but not as consistent as the weekend before.
"I liked our comeback in the third period [on Sunday]," he said. "We had two choices going into the third period, either we were going to quit and wait next week or we were going to battle and try and win the game. When you're down 6-2 to a team like that, it didn't look good and we dug down and found a way to fight and get ourselves back in the game."
Goaltender Matt Jurusik played great during Friday's victory over the Eagles, but struggled and was eventually pulled from Sunday's game.
"That position is hard, and he's still a young kid," Granato said. "He got the experience he did last year on a team that played real sit back style defensive hockey where he got a lot of shots. This team is going to be a little different. so I think there's a little bit of an adjustment with how we're playing for him. Hopefully he will settle in and be more consistent."
Three stars of the week (All Freshmen Edition)
First star — Michigan freshman forward Jake Slaker: Slaker scored his first collegiate goal during the second period in Michigan's game against Ferris State last weekend to give the Wolverines a 1-0 lead. He added an assist on the game-winning goal late in the third. This is his first career weekly B1G award.
Second star — Wisconsin freshman forward Trent Frederic: The St. Louis native put up four points during Wisconsin's split with Boston College. He had one goal and three primary assists during the Badgers loss to the Eagles on Sunday. This is his first career weekly B1G award.
Third star — Penn State freshman goaltender Peyton Jones: Jones stopped all 20 shots he faced during the Nittany Lions' game against Mercyhurst for his first career shutout. This is his first career weekly B1G award.
B1G in the poll
No. 7 Minnesota, No. 11 Michigan and No. 19 Ohio State represent the Big Ten in this week's USCHO.com Division I Men's Poll. Penn State and Wisconsin received votes.
My ballot
1. North Dakota
2. Minnesota State
3. Quinnipiac
4. Minnesota-Duluth
5. Notre Dame
6. Boston University
7. Boston College
8. Massachusetts-Lowell
9. Minnesota
10. Denver
11. St. Cloud State
12. Harvard
13. Michigan
14. St. Lawrence
15. Providence
16. Northeastern
17. Bemidji State
18. Ohio State
19. Yale
20. Omaha
This week's matchups
Ohio State at/vs. Bowling Green (Friday at BGSU Ice Arena, Saturday at Value City Arena)
Denver at Michigan State (Friday and Saturday, Munn Ice Arena)
Penn State at Notre Dame (Friday and Saturday, Compton Family Ice Arena)
Michigan Teach at Michigan (Friday and Saturday, Yost Ice Arena)
Minnesota vs./at St. Cloud State (Friday at Mariucci Arena, Saturday at Herb Brooks National Hockey Center)