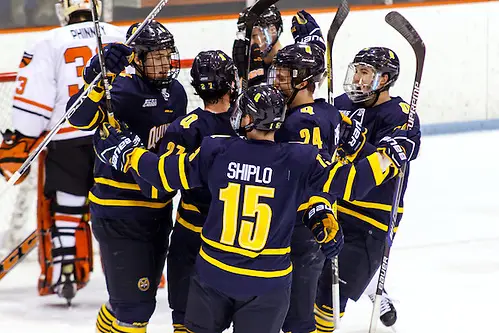 Quinnipiac returns to the ice this weekend with a pair of games against Arizona State after having this past weekend off.
After a strong start to the season where they started out 10-3-1, fortunes changed with the Friendship Four tournament in Belfast, Northern Ireland, which started the current 4-7-1 stretch.
Having a weekend off in the middle of January is something that's certainly not new for the Bobcats.
"We've had the unique experience in our schedule the last number of seasons where we had a weekend off in January," Quinnipiac coach Rand Pecknold said. "I think it always helped us to get healthy, mentally recharged and get a late push on in late January and February. We are excited to get back at it. Arizona State has done a nice job in Year 2. They have some big wins [and] they are coming off a nice tie with Ohio State. It will be certainly a good challenge for us."
Pecknold also said his team has played well in this current stretch and that they haven't gotten the bounces or ran into a hot goaltender. He did say there were games where they didn't play their style of hockey.
In 2015-16, QU didn't play weekend of Jan. 15-16 and after the break, finished the regular season 6-1-4 before going 7-2 in the ECAC and NCAA tournaments.
Pecknold hopes Quinnipiac can find its winning ways again.
"I don't think it's any one player, but we need to establish our identity," Pecknold said. "We get so much success and we get rewarded when we play to our identity. We will reestablish that and once we reestablish that, we will get our reward, we will get our wins and we will advance in the playoffs."
Pecknold doesn't go into detail what the team's identity is through the media. Last season, the Bobcats averaged 3.79 goals per game and allowed 1.98 goals per game. The power play was running at 27.5 percent, while the penalty kill was at 89.1 percent. This season, they are only scoring 2.92 goals per game and allowing 2.68 goals per game. The power play is down to 17.8 percent and the penalty kill is down to 84.3.
After the two games with Arizona State, Quinnipiac travels to Brown and Yale over Super Bowl weekend, hosts Clarkson Feb. 10 and then the following weekend, Union and Rensselaer come to town. The final weekend of the season, QU hosts Yale and Brown.
Another low-scoring Yale-Harvard game
Saturday's Yale-Harvard contest almost went into overtime scoreless until two late goals by Yale's Ted Hart and Harvard's Luke Esposito in the final four minutes. The game ended in a 1-1 tie.
It's been the sixth time in the past six times these two teams have combined to score five or less goals.
Why the lack of goal scoring?
"I think in all those games, there has been a lot of good scoring chances," Yale coach Keith Allain said. "But for whatever reason, the pucks haven't gotten in. I would like to think I have a pretty good team; Harvard obviously has a very a good team. The guys come out and battle hard against each other."
Harvard coach Ted Donato points to who had been manning the Bulldogs cage the past few seasons.
"Well I think a few years there, there was a guy named Mr. (Alex) Lyon that had a lot to do with that," Donato said. "He was one of the top goalies in college hockey for a couple years. so you knew every goal had huge ramifications. It looked like they were letting in more goals earlier in the season, but it looks like they have tightened things up. I thought both teams played well and both teams probably know they could do better as well."
Allain notches 200th victory
On Friday night, Allain notched his 200th career victory with a 7-0 victory over Dartmouth.
"I didn't realize it until someone told me after the game," Allain said. "I made sure to reflect a little bit and I think about the people who were a big part of that. I have been the guy who has been here for 11 years, but I have had some great players and great assistant coaches. I don't win one game with out them."
It was former Yale coach Tim Taylor who thought coaching would be in Allain's future after his playing career was over.
"I thought I was going to to play forever," Allain chuckled. "I wanted to be a hockey player, but I loved the game and being around the game. I became a coach because Timmy talked me into it. I played in Europe for a couple of years and got hurt, not sure what I was going to do. Timmy called me and said. 'You should come work for me.' He saw maybe there was a coach in me."
Allain played for the Bulldogs from 1976 to 1980 before playing in Sweden for the following two seasons before becoming Taylor's assistant from 1982 to 1985. He was a head coach in Sweden in the later 80s before joining the Washington Capitals organization from 1990 to 1997 in various roles. He also worked in the Nashville and St. Louis organizations before taking the Yale job for the 2006-07 season.
RPI adds goaltender for second half
With Cam Hackett suspended indefinitely for "failing to uphold team standards," RPI coach Seth Appert has brought in another goalie for the remainder of the season.
Kyle St. Denis started the season in the United States Premier Hockey League, where he split time with Springfield Pics and the Syracuse Stars. He went 5-7-1 with a 3.29 GAA and a .917 save percentage in 24 contests.
"We are excited to have Kyle join our hockey program," Appert said in a statement. "His work ethic, competitiveness and character make him a good fit for our program's values."
Around the League
• Troy Crema of Dartmouth was named the player of the week as he potted four goals and add an assist. The week started with two goals against Harvard before he was held off the scoresheet against Yale before adding two goals and assist in a loss to Brown. He leads the team in scoring with 12 goals and seven assists in 20 games.
• Ben Finkelstein was named the rookie of the week as the St. Lawrence defensemen had a pair of goals and a helper over the weekend. The Florida Panthers draft pick saw all three points come against Cornell on Saturday as he was held off the scoresheet on Friday against Colgate. On the season, he has five goals and 11 assists in 26 games played.
• Yale's Patrick Spano won the goaltender of the week honor as he only allowed one goal on the weekend. He defeated Dartmouth 7-0 and was minutes shy from his second consecutive shutout in the 1-1 tie with rival Harvard. Overall, Spano is 7-4-4 with a 2.35 GAA and a .917 save percentage.
• Colgate goaltender Charlie Finn became the third goaltender in program history to reach the 3,000 save plateau this past weekend. He's 26 saves away from passing Mark Dekanich for most all-time. This season, he has a 4-9-4 record with a 3.03 GAA and a .908 save percentage.