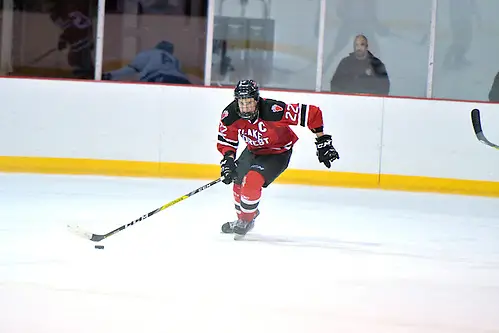 The NCHA announced Tuesday the men's conference year-end awards, including Player of the Year, Coach of the Year, Freshman of the Year, All-Conference Team and All-Freshman Team.
Lake Forest senior forward Jack Lewis is the 2016-17 NCHA Player of the Year, while Northland's Seamus Gregory was tabbed top coach and Adrian's Vincent Paquette the top freshman.
Lewis posted 32 points during the regular season on 17 goals and 15 assists, while leading the Foresters to the postseason. The 17 goals were most in the NCHA and his 32 points ranked second.
"Jack's a guy that does everything you could ask for from a senior captain," said Lake Forest coach Pat Kelliher in a news release. "He's so low-maintenance. There's no drama with him. He comes to the rink, works hard every single day, and in my opinion, he really deserves this award."
"It's a huge honor, even to be considered for this award," added Lewis. "I've never really been into the individual awards, not a guy who lit up the scoreboard and got awards like this, so this is a huge honor and a pleasant surprise."
Gregory led the Lumberjacks to their first playoff appearance since 2012-13, locking in a quarterfinal matchup with St. Scholastica Wednesday. Gregory's 11 wins on the year are an increase of eight from the time he took the program two years ago and also set a school record. Northland defeated and tied ranked teams this season, beating then-No. 12 Wisconsin-River Falls and tying then-No. 3 Wisconsin-Stevens Point.
Paquette notched 29 points in his first college season. Both his 29 points and 14 goals rank fifth in the NCHA among all skaters and his 1.16 points per game rank 11th in the nation.
2016-17 NCHA All-Conference Team
| Player's Name | Position | Class | School |
| --- | --- | --- | --- |
| Trevor Boyd | F | So. | Adrian |
| Gage Christianson | F | Sr. | Milwaukee School of Engineering |
| Lucas DeBenedet | F | So. | Northland |
| Tanner Froese | F | Jr. | St. Norbert |
| Jack Lewis | F | Sr. | Lake Forest |
| Brandon Millin | F | Sr. | St. Scholastica |
| Bryan Yim | F | So. | Adrian |
| Sean Campbell | D | Jr. | St. Norbert |
| Cory Dunn | D | So. | Adrian |
| Gianni Mangone | D | So. | Marian |
| Mark Whiteley | D | Jr. | St. Scholastica |
| T.J. Black | G | So. | St. Norbert |
| Kevin Entmaa | G | So. | Adrian |
2016-17 NCHA All-Freshman Team
| Player's Name | Position | School |
| --- | --- | --- |
| Kalib "Gus" Ford | F | Northland |
| Vincent Paquette | F | Adrian |
| Brett Radford | F | St. Scholastica |
| Joey Colatarci | D | Adrian |
| Connor Duncan | D | Lake Forest |
| Evan Cline | G | Lawrence |