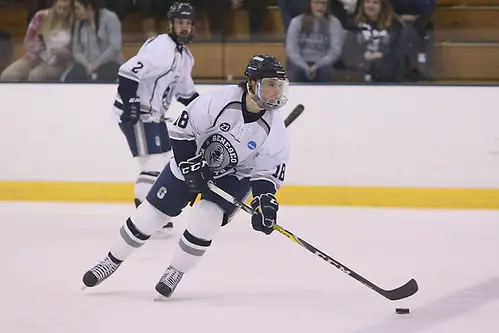 Geneseo's Stephen Collins is this year's winner of the USCHO player of the year award. Following a season where he scored 19 goals and added 29 assists for 48 points in 27 games played, Collins also was named first-team and POTY in the SUNYAC for two years running and more recently voted by the American Hockey Coaches Association as a first-team All-American for the second consecutive year.
"Stephen is by far the best player I have had the opportunity to coach from a skill perspective," noted Geneseo coach Chris Schultz. "His hands and edges are just crazy good. I have seen him skate through three guys in a tight area with great control and speed that a lot of players don't have. He by far has been our most exciting player to watch and he has been a draw for fans to come watch us play during his four seasons here at Geneseo."
Collins' career numbers are equally impressive as compared to his recently completed senior year. In Collins' 114 games played, he managed a scoring line of 59-78-137, which includes the program's two trips to the Frozen Four. As a freshman, the Knights reached the Frozen Four and lost in the semifinals to St. Norbert, while last season they returned and lost to eventual champion Wisconsin-Stevens Point.
"Stephen is a player that garners a lot of respect from opposing coaches," said Schultz. "We know he has been one of a handful of guys that other teams plan and game plan against when he is on the ice. That actually makes his production that much better knowing that teams are highlighting ways to stop him. He has been great at closing games out for us over the course of his career. In games we should or need to win, you could always count on Stephen to score the goal that gave us a comfortable margin or got us to a three-goal advantage."
The numbers, skill and leadership have been a mainstay at Geneseo since Collins arrived as a freshman in the 2013-14 campaign and produced 24 points. Looking ahead into next season, both the player and the coach have things to look forward to.
"No doubt Stephen made players around him better on the ice and in the locker room," said Schultz. "He has worked especially hard to be the best player in the country the past two seasons, so this honor from an organization that sees all of the teams play across the country is a nice one for Stephen to capture in recognition of his consistently high performance on the ice this season and for his career.
"About 95 percent of your guys are replaceable when they graduate, but this one is going to be hard to fill for sure. He is one of the special ones for sure and I know he has more hockey in his future and he is exploring a number of options right now."
Collins has been invited to the Washington Capitals development camp in July and is exploring other avenues to keep playing after graduation in May.