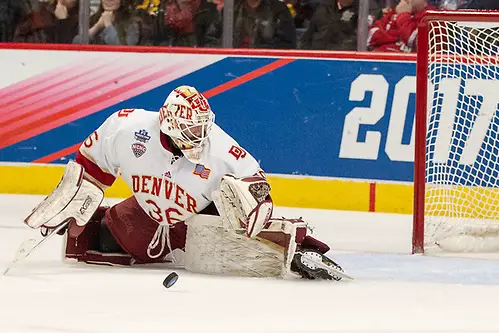 CHICAGO — In the hectic final minutes of Denver's 3-2 victory over Minnesota Duluth in the NCAA championship game on Saturday, the Pioneers withstood a furious but ultimately unsuccessful comeback attempt by the Bulldogs to tie the contest.
Outshot 17-3 in the third period and surrendering a goal with five minutes to play that pulled Minnesota Duluth to within one, Denver at times appeared to lose some poise, especially in its own zone. But Pioneers goaltender Tanner Jaillet didn't wilt under the pressure, and that helped his teammates regroup and hang on for the win.
"[At times] we were just holding on, like we were wearing seat belts," said Denver coach Jim Montgomery. "We weren't skating anymore and our communication was poor, which just allowed them to hem us in our end.
"But thank God we have the Mike Richter Award winner, and everybody realizes why he won. He was incredible in the third period. His confidence and poise and how secure he was in controlling rebounds gave us confidence that we were going to be able to prevail."
"You guys saw in the third period, [we] did a pretty good job of spending a lot of time in their zone," said Minnesota Duluth coach Scott Sandelin. "Our guys were awesome in the third, and we gave ourselves a chance to get back in the game. And we just came up one goal short."
Jaillet was the main reason.
"They were coming strong," he said. "They were throwing the kitchen sink at us. Our guys had huge blocks, making plays. We were able to weather that storm and obviously come out with the win."
While his coach and teammates were crediting Jaillet with preserving the victory, he, in turn, deflected the praise to his teammates with the same skill he used to deflect the many shots he faced.
"I've got to give a lot of credit to my team," he said. "They were blocking shots, making plays, chipping pucks out."
"We might not have played our best period, but we just stuck with it," said Denver defenseman and Hobey Baker Award winner Will Butcher. "We relied on T.J. to make some saves back there and just tried to play defensively as well."
But it came down to Jaillet in the end, as the junior stopped the final five shots he faced, including a big one on Duluth's Joey Anderson in the Bulldogs' final push with their goalie pulled.
Again, Jaillet wanted to talk about his team and not his individual play.
"Obviously, I wasn't alone out there," he said. "My defense and forwards, they're blocking shots and making tons of plays for me. That's all I can ask them to do. I mean, we did it as a team. And it's awesome."