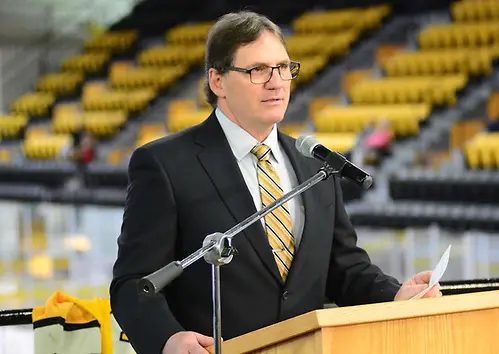 HOUGHTON, Mich. — His first experience in the Copper Country after being convinced to come to Michigan Tech three years ago was a backyard barbeque.
He's been hooked on the area ever since.
Michigan Tech announced the hiring of former assistant coach Joe Shawhan as the 22nd head coach in school history at a press conference Tuesday morning.
Shawhan, who spent the past three seasons under former coach Mel Pearson, is a familiar face to the players, the school, and the community, which should help him ease into his new role.
"It means a lot because [Pearson and I] are friends and because I worked with him side-by-side and I believe in what we did and [the fact that] we did it the right way," said Shawhan. "It means a lot and I am so appreciative of him."
It will not be an easy road for Shawhan.
The Huskies lost several key pieces from a team that won the WCHA playoff title last season and earned its second berth to the NCAA tournament in the past three seasons.
It is a challenge he gladly accepts.
"I like being a being a part of something that is good, part of something that is wholesome," said Shawhan. "I have been able to be a part of that. I am thrilled and can only hope that we as a team can continue on the groundwork that Mel set."
Shawhan has spent the last two years as the Huskies' top recruiter, and that bodes well not only for the current players, but also for those recruits he helped land set to arrive over the next three years.
Shawhan feels that it will not take much tweaking to continue to build on what Pearson started.
"The changes that we make will be subtle," said Shawhan. "Our big deal is just to make sure that guys just continue getting better every day."
Described as a down-to-earth man who loves Michigan's Upper Peninsula, Shawhan has worked very hard to make sure he communicates with his players and that they feel as comfortable with him as he does with them. Several current team members were recruited by Shawhan, and they feel excited by the prospect of his promotion.
Freshman Gavin Gould attributes much of his late-season success to the efforts of Shawhan to him fine-tune his game.
"He was always there to talk," said Gould. "He and I had video sessions throughout the year and he was [helping] me get better and have more of an impact. Every time, it helped. That relationship is huge."
Players recruited prior to Shawhan's arrival have also found their new coach to be very approachable, which has helped ease their tensions throughout his tenure with the team.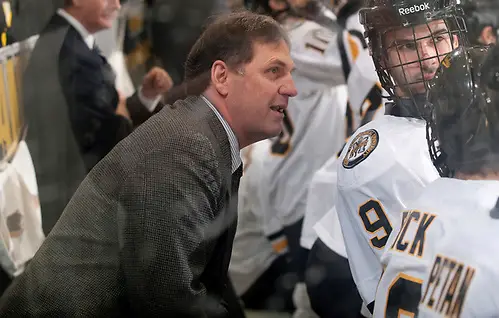 "I love Joe," said senior forward Brent Baltus. "I love what he brings to the program. He's a great mentor, not only with what he does for you on the ice, but also off the ice in how he handles himself and how he goes about his business. He's very professional and he also has great relationships with people. I think he is just a great mentor for players."
When Shawhan was first brought on at Michigan Tech, his primary job was to help junior goaltender Jamie Phillips, a player who had seen action in just 22 games in his first two seasons behind Pheonix Copley, who left school after his sophomore for an NHL contract.
Under Shawhan's guidance, Phillips blossomed into the second-winningest goaltender in school history with a career record of 57-25-8 including a record of 51-17-7 over his final two years, was named the WCHA Outstanding Student-Athlete, and was a finalist for the Mike Richter Award as the nation's top goaltender.
In a statement released by the university, Phillips was quoted as saying, "Joe is definitely a tremendous asset to Michigan Tech hockey. Tech has had nothing but success since he's been there, and he cares passionately about the players, the program, and especially the community."
The impact of Shawhan's original hire was felt by more than just the goaltenders. Responsible largely for the team defense and the penalty kill, Shawhan made sure that he kept the pulse of the players in order to determine where fine tuning was the proper call as opposed to a complete overhaul.
This hands-on approach helped the Huskies' top penalty-killers last season, Michael Neville and Reid Sturos, turn things around early.
"Eight games in, the penalty kill wasn't doing very well," said Neville. "I remember it was a Monday when he called me in and said, 'Hey, this is what I am thinking about this weekend against Northern Michigan. What do you think?' We were just bouncing ideas off of each other and that is kind of how it works and that is the line of communication you want."
Since arriving on campus, the Huskies have gone 75-34-14 with Shawhan on the coaching staff, and that was a factor that weighed into the decision by the university to stick with Shawhan rather than hire a coach from outside the program currently.
"The biggest thing is that we are on a roll and we have some upward trajectory," said MTU athletic director Dr. Suzanne Sanregret. "We are in a much different place now than we were six years ago, meaning we have a lot of positive momentum going. Joe has been a big part of that."
Shawhan believes that there are good pieces in place as he begins his tenure as the head coach.
"I think there is a good nucleus to work with," said Shawhan. "There is still three great defensemen here, Mitch Reinke, Mark Auk and Dane Birks, three tremendous defensemen. We have some good pieces to work with. I like a lot of what we have up front and somebody in net will have to step up and do the job. I am confident that they will."
In Shawhan, the Huskies have found a coach who has had success at every level he has been involved with and now they look forward to continuing that success with him in the years ahead.