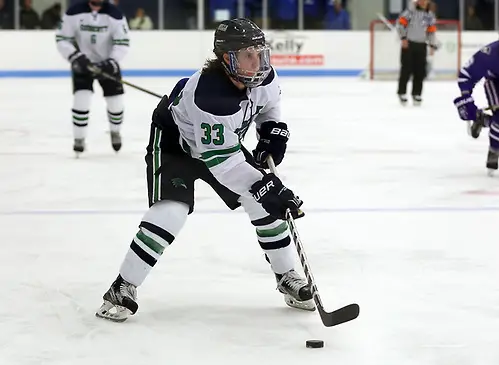 The CCC will be changing after the season, as Johnson & Wales and Suffolk move on to the NEHC, but that is too far off for Endicott coach RJ Tolan to worry about. After winning the league title last season and advancing to the quarterfinals of the NCAA tournament, where a double OT goal from Trinity was the difference in their reaching the Frozen Four, the Gulls' coach has higher aspirations for this year's returning group.
"We want to build the program here to be one of the elite teams that can compete at a national level every year," said Tolan. "We accomplished a lot last year, but still have a ways to go to be at that level. We want to represent our league well and are keenly aware that while we only lost four games last season, three of those losses were in conference. We play in a tough conference and need to go prove ourselves every night."
The favorite
Endicott has had a nice progression in its first two years as an NCAA program. They are looking to continue that progression behind a solid group of highly productive players, including Cam Bleck, Logan Day, and Tommy Besinger. One missing piece in year three will be Kevin Aldridge, who has moved on from the program but was a workhorse in goal for Endicott in their first two seasons.
"Kevin was a great competitor and a big part of our team," noted Tolan. "But it is the way with programs that kids move on for a number of reasons. Mark [Specia] has come back from a lot of hard work to recover from a hip injury, and we have high confidence in him in goal. We also like Justin [Ketola] who transferred to our program this season. We feel good about our goaltending situation heading into the season."
The dark horses
The University of New England Nor'easters reached the conference championship game last season and dropped a 5-4 heartbreaker to Endicott. The B-F-F line returns two-thirds of its membership in forwards Ryan Bloom and Brady Fleurent, last year's conference player of the year return with a strong supporting cast. Coach Kevin Swallow will need his team to play better on the road, where they went 6-9-1 overall and 2-6-1 in conference.
Players to watch
Becker:    Stephen Wolf, forward; James Wallace, forward
Curry: Mack Heisinger, defenseman; Spencer Cookson, goalie
Endicott: Tommy Besinger, forward; Josh Bowes, forward
Johnson & Wales: Chad Guderian, forward; Connor Bechtel, forward
Nichols: JB Baker, forward; Scott Cuthrell, forward
Salve Regina: Blake Wojtala, goalie; Jack Billings, forward
Suffolk: Justin Holiday, forward; Tommy Bishop
University of New England: Brady Fleurent, forward; Dylan Bengston, forward
Wentworth: Tim Shea, Jr., forward; Jake McDonough, forward
Western New England: Matt Smethurst, forward
Predicted finish
1. Endicott
2. University of New England
3. Salve Regina
4. Nichols
5. Johnson & Wales
6. Curry
7. Wentworth
8. Western New England
9. Suffolk
10. Becker
Nonconference games are abundant this weekend including Endicott hosting Plymouth State, Curry hosting long-time rival UMass Dartmouth, Wentworth at UMass Boston, and UNE traveling to in-state rival Southern Maine.