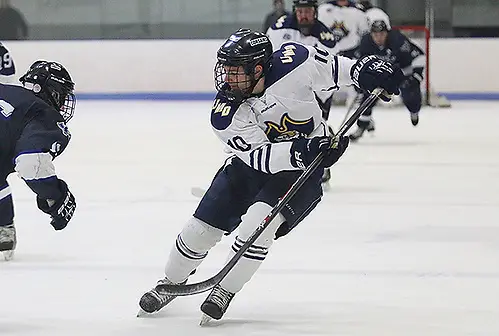 After a slow start to the season due to a number of roster and injury challenges, the Salem State Vikings proved it's not always about being great the entire season, it is about being great at the right time of the season. An 11-4-1 second half carried them past rival Plymouth State in the conference championship before they suffered a 3-1 loss to the eventual national champions from Norwich.
The league has seen a familiar pairing over the past few years with SSU and PSU playing for the title, and according to the coaches, a similar outcome could be in store come late February, but there are a few others who feel like they have a shot at the title and that will make things interesting for the incumbent top seeds.
The favorites
The defending champions have a talented and deep roster returning starting in goal, where Jason Pucciarelli took over the number one role last season and was a big reason the Vikings emerged on top. Forwards Michael Casale and Derek Makimaa provide skill and leadership, while defenseman Callum Hofford looks to continue his strong offensive play and quarterbacking of the power play.
The Panthers from Plymouth State aren't going anywhere other than trying to get out of Salem State's rearview mirror. Quinn Carroll, Matt Volonnino, Ryan Stevens, and Chris Zuccaro will be leaders in the room on the ice for the Panthers who hope to see some added maturity from their sophomore goaltenders, Evan Morelli and Thierry Messervier.
The dark horse
Eric Noack's UMass Dartmouth Corsairs were a third-place team last year and will be relying heavily on their star performers to help take the team to another level as they wind down their collegiate careers. Seniors Mike Sones, Casey Shea, and Drew Michals will all need to be at the top of their game each night for UMD to challenge at the top of the standings.
Players to watch
Fitchburg State: Tyler Warila, forward; James Gordon, forward
Framingham State: Tyler Colacchio, forward; Jake Santorelli, defenseman
UMass – Dartmouth: Casey Shea, forward; Drew Michals,  goalie
Plymouth State:    Ryan Stevens, forward; Chris Zuccaro, forward
Salem State: Michael Casale, forward; Jason Pucciarelli, goalie
Westfield State: Carl Greco, defenseman
Worcester State: Kyle Griffin, forward
Predicted finish
1. Salem  State
2. Plymouth State
3. UMass Dartmouth
4. Fitchburg  State
5. Worcester State
6. Framingham State
7. Westfield State
The top two teams have earned their place at the top, and the balance of the league is certainly looking to raise the level of their game to challenge what has been consistent over the past years: an end-of-year battle between Plymouth State and Salem State for the title. Will this be the year it changes?