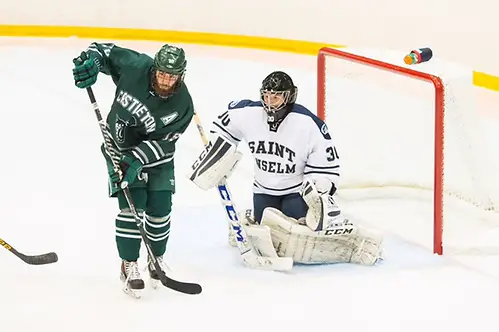 The conference is now inclusive of all the hockey programs without joint league entanglements or mixed schedules. The new NE-10 includes six teams, with a seventh D-II program, Post University, included in the schedule for all teams. Each team will face the other six opponents three times in the regular season, and that kind of familiarity should breed some contempt with three new coaches joining the league for their inaugural seasons. Long-time Colby coach and New Hampshire assistant Jim Tortorella replaces Ed Seney at St. Anselm College; Sean Walsh takes his first ever head coaching position at Southern New Hampshire University, and Shaun Millerick elevates from his assistant coach position to the head job at Franklin Pierce University. The new blood behind the bench is sure to liven things up in the conference, especially where St. Anselm and St. Michael's are not competing in dual conferences for the first time.
The favorite
With Jim Tortorella behind the bench, you can be assured of two things at St. Anselm: the defensive game will be strong, as will the special teams. The Hawks return a solid club that includes good goaltending in junior Colin Soucy and senior Shane Joyce. The junior-laden roster has lots to prove in year one of the "new" NE-10 and a coach who will get the most of the talent on the team.
St. Michael's is in a similar position in terms of focus on the NE-10 schedule. The Purple Knights lost several key players from their run to the championship game last season, but have solid group back led by senior captain Sam D'Antuono up front and junior goalie Chris Johnson. Goals have come at a premium for this team, so coach Damian DeGiulian will be looking for contributions from the eight freshman forwards on the roster.
The dark horses
Assumption won its first ever NE-10 title last season in dramatic fashion, and coach Lance Brady would like nothing more than to repeat. He needs to replace last year's MVP in goal, Nick Commesso, but there are four goalies vying for playing time, which means some pretty spirited competition. Tommy Mahoney and Brian Farrell lead a solid group up front that doesn't take a shift off
Players to watch
Assumption: Brian Farrell, forward; Matt Cowles, defenseman
Franklin Pierce: Shaun Millerick, coach; Nicholas Fotiu, forward
Southern New Hampshire:    Sean Walsh, coach; Chris Moquin, forward
Stonehill: William Palmer, goalie; Cameron Wright, forward
St. Anselm: Shane Joyce, goalie; Bryan Green, forward
St. Michael's: Sam D'Antuono, forward; Chris Johnson, goalie
Predicted finish
1. St. Anselm
2. St. Michael's
3. Assumption
4. Southern New Hampshire
5. Stonehill
6. Franklin Pierce
7. Post*
*Playing full conference schedule, but not eligible for conference tournament.
The Hawks open the season at home against first year program Bryn Athyn on Friday night before facing the University of New England on Saturday in Maine.  Defending champion Assumption will play a non-conference game at Suffolk on Saturday night to open the season.