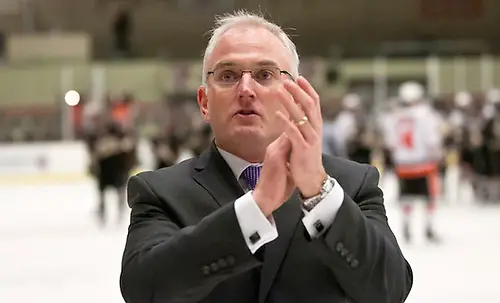 Typically, when you think of a hot streak, you think of lopsided games with the occasional blowout thrown in.
That's why Bowling Green's start to WCHA has flown under the radar.
After opening conference play with a loss to Minnesota State, 4-1 on Oct. 20, the Falcons haven't lost in five straight games, going 3-0-2 and picking up 12 points. That includes a pair of shootouts, one that the Falcons lost and one that they won this past weekend against Michigan Tech for an additional WCHA point.
It might not be the prettiest thing, but the Falcons are getting the job done in the tight-knit WCHA standings.
They are playing good team defense, getting timely goaltending, and taking advantage on special teams.
On Friday, in a 2-1 win against Michigan Tech, the Falcons scored twice on the power play. They did the same thing in a 2-2 tie on Saturday before winning in a shootout.
The one thing missing from the Falcons' game? More 5-on-5 production.
"We need to find a way to score more goals, but overall I liked how we competed and we were engaged the whole game, so I'm happy with it," Bowling Green coach Chris Bergeron said. "It was a special teams weekend and we needed the power play to get us the offense and they did that. I didn't like that we gave up another power-play goal [Friday] night, but Michigan Tech's power play was really good and we still went 4-for-5 on the penalty kill."
The results against Tech have BGSU climbing close toward a ranking in the USCHO poll.
There is no an expectation for the Falcons to do well this weekend against Lake Superior State at home, while two weeks from now a trip to Mankato could be one of the most highly-anticipated matchups of the season.
Whitecloud aims for Olympic glory
When Bemidji State hosts in-state rivals Minnesota State this weekend in Northern Minnesota, they'll be short one piece of their vaunted defensive corps.
That's because sophomore defenseman Zach Whitecloud will be in Switzerland and Finland. But he's not going there to see the sights.
Instead, he'll be suiting up for Team Canada in the Karjala Cup, which is something of a dress rehearsal for the 2018 Winter Olympics in PyeongChang, South Korea.
Whitecloud, a 6-foot-1 blueliner, is the only active college player on the team (Northeastern's Dylan Sikura was also named to the roster but suffered an injury and didn't go to Switzerland). Since the NHL elected not to participate in the Olympics this time around, the rest of Canada's roster for this tournament mostly consists of former NHLers now playing in Europe.
For an undrafted 20-year-old to have a shot at playing in the Olympics is, naturally, a dream come true for the Brandon, Manitoba, native.
"It's every kid's dream growing up in Canada," Whitecloud told the Bemidji Pioneer last week. "To represent my nation's flag on a sweater and play for Team Canada is something that I always dreamt of doing, but never thought I'd be able to do."
Nothing is decided yet — Team Canada has a few pre-Olympic showcase tournaments, and it sounds like they'll be looking at a lot of options. But Whitecloud is already off to a great start. He had an assist in Canada's opener on Wednesday, a 3-2 victory over the Swiss. The tournament runs until Nov. 12.
If Whitecloud does make the team, the Beavers will likely have representatives on two teams in the South Korean games. Former BSU goaltender Matt Dalton, a native of Ontario, will probably be the starting goalie for the Korean team. Dalton, who has been playing professionally in Korea since 2014, became a naturalized South Korean citizen to enable him to suit up for the Olympic hosts, who will be fielding a hockey team for the first-time in Olympic competition.
Players of the Week
This week's WCHA players of the week were Bemidji State senior Gerry Fitzgerald (offensive), Ferris State junior Ryker Killins (defensive), Northern Michigan junior Mathias Israelsson (goaltender) and Bowling Green freshman goaltender Eric Dop (rookie).
Ice Chips
— After starting the season with eight straight games on the road, Alabama Huntsville finally plays its home opener Nov. 10-11 when the Chargers host Alaska Anchorage. It's the start of a six-game homestand that also includes series against Lake Superior State and Ferris State later this month. The Chargers are 2-6-0 through their first eight games away from Alabama.
— Alaska's Steven Jandric is already proving to be one of the better rookies in the league this year. The forward from Prince George, B.C., has one goal and seven assists through 10 games this season — a team-high total.
— As hosts of the long-running Great Lakes Invitational, Michigan Tech this week announced which teams would be participating in the tournament for the next few seasons. Along with the Huskies and perennial competitors Michigan and Michigan State, the next four years of competition will feature plenty of current WCHA (and former CCHA) flavor. This year, Bowling Green will be the fourth team. Lake Superior State will participate in 2018-19, Ferris State in 2019-20 and Northern Michigan in 2020-21. The tournament is moving from Joe Louis Arena to the brand-new Little Caesars Arena.
— Minnesota State junior goalie Jason Pawloski earned his fifth career shutout (and his second of 2017-18) last Friday against Northern Michigan. His five shutouts rank fifth on MSU's career leaderboard.