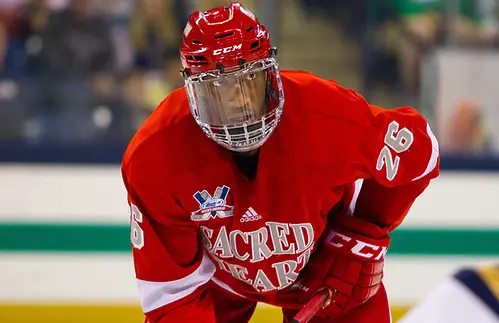 Fairfield County juts west into the metropolitan New York City region, the last stop before the Connecticut-New York state border.
Its largest city, Bridgeport, is most populous in the state as Interstate 95 cuts right through the downtown area. Its sports arena, Webster Bank Arena, rises right along that highway, a testament to the community from which it represents.
It's impossible to drive through the area and ignore the arena. One month into the 2017-2018 college hockey season, it's also impossible to ignore the arena's second-year tenants, the Sacred Heart Pioneers. One month into the current season, there are signs of growth despite a sub-.500 overall record.
"We have a very young team," SHU coach CJ Marottolo said. "There's a lot of freshmen and sophomore players, and our first five games were a tough opening nonleague schedule. We had been preaching about the process and that our guys wouldn't worry about the results."
It's ironic not to focus on results because that's exactly what Sacred Heart already achieved.
The Pioneers are playing virtually .500 hockey since absorbing a sweep loss in the season's first two games at No. 13 Northeastern. They claimed Nutmeg State bragging rights over UConn with a 3-1 victory, defeating their chief in-state rival for the fourth straight season. Then they went out to Notre Dame and shocked the Irish with a 6-4 win in which they scored four third-period goals.
Sacred Heart absorbed two losses against Niagara when it returned home to open Atlantic Hockey play, but it rebounded this past weekend when it turned the lights back on against Canisius with a hard-fought split on home ice. The Pioneers beat the Golden Griffins 6-2 in the series' first game, then gave the visitors all they could handle in a 3-2 defeat the next day.
"We've gotten some results, but we honestly hadn't been too focused on that through our nonleague games," Marottolo said. "We hit Niagara (for two losses), and they were a very good hockey team. Then we rebounded this weekend with our most complete weekend of hockey since the start of the year. We did a lot of little things well, got some timely goals and played 120 minutes of really high energy hockey.
"We got (Sunday) to 2-1 on a power-play goal, and then Canisius came back with a goal. A minute later, we made it 3-2, and we were coming. We had some unbelievable chances to score, and then they took a five-minute major with two minutes to go in the game. We got a 6-on-4 and had some great looks, but I had to tip my hat to Canisius because they just got it done. We couldn't get that goal, but it wasn't for lack of effort or execution. Their goaltender was just tremendous down that stretch."
The youth movement on the roster is already showing signs of maturation through its results as 19 different skaters have at least one point, of which only four are older than sophomores. All six skaters with five points or more through the team's first nine games are underclassmen.
Freshman Marc Johnstone is one of 11 Atlantic Hockey skaters with 10 points to start the season. He is four points in front of any other conference freshman forward, and he scored what became the game-winning goal last Saturday against Canisius.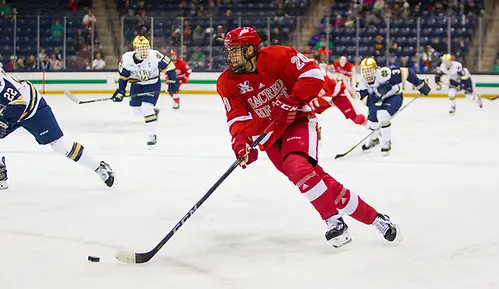 Sophomore Vito Bavaro is right behind him with nine points, six of which are goals – three of which came during a hat trick performance against the No. 5-ranked Fighting Irish. Fellow sophomore Ruslan Rakhmatov is tied for fifth among defensemen with seven points on the year.
"We've seen it in spurts," Marottolo said. "We see it in isolated periods of time – a period against UConn, a period against Notre Dame. But we didn't have the consistency shift to shift, period to period and game to game. I thought we did that this past weekend. I thought we played better on Sunday afternoon in a 3-2 loss than we did in a 6-2 win after I watched the video. So I'm pleased with the progress we're making, and we're looking for more of that consistency coming up in the next stretch of games."
That next set of games will be a great test for the Pioneers as it enters a brutal stretch of opponents. Sacred Heart plays its first AHC road games at AIC this weekend before returning home for one game against Army West Point and two against Air Force.
"I've watched AIC on tape, and they're fast and hungry," Marottolo said. "Their defensemen jump into the play. It's going to be a great test to go on the road and play two against them. I have nothing but respect for Coach (Eric) Lang for what he's doing and what he's trying to do. We're going to have to be ready."
The Pioneers and Yellow Jackets play at the MassMutual Center on Friday at 7:05 p.m. and on Saturday at 2:05 p.m.
The heat is on
I love joking that Chris Lerch and I could recycle every story from this time of year.
Storylines are usually the same, after all, as teams are starting to settle into the grind of the season. As such, let's revisit one of our favorite running conversations for the early stages of the season and check in with nonconference results.
The AHC is 10-16-3 this year through the first month of nonleague scheduling. Air Force accounts for nearly half of that with a 4-1-1 record, while Mercyhurst and Sacred Heart are the only other programs with multiple wins. Interestingly, Army West Point and Bentley haven't played a game against any other league yet, though that will change on Friday when the Falcons head to Merrimack. Also interesting is Canisius' 0-0-1 record after tying Colgate earlier this year.
That record and its subsequent .396 winning percentage is well ahead of last year's pace because it's been converting ties into wins. It's creating a trickle-down effect where five Atlantic Hockey programs rank between Nos. 21-31 in the current PairWise Rankings.
It might be way too early to pencil anyone into the national tournament race, but with more games on the horizon, it's imperative to keep winning or tying those games. More wins ultimately benefit the entire conference, and wins help push all member teams closer to the inside portion of the bubble.
And you feel shame and then you get free
If you're a fan of special teams, you probably want to check in on a couple of teams in Atlantic Hockey these days.
Five of the league's teams are among the ten most penalized teams, including three in the top five.
Holy Cross is third nationally with 16.5 minutes per game, followed closely by Canisius and Sacred Heart's tie for fourth at 16.0 minutes per game. Bentley is No. 10 nationally with 14.9 minutes per game through its first eight games.
But only one team ranks in the top 10 nationally in both power play and penalty kill. Mercyhurst is second best in the country with the extra skater, converting 14 of its 43 chances for a 32.6 percent success rate. Unsurprisingly, the Lakers are also the only conference team in the top 10 nationally in scoring offense.
Army West Point, meanwhile, is sixth in the nation in penalty kill. The Black Knights are 30-for-33 on the kill as one of seven teams over 90%.
Players of the Week
Player of the Week: Bentley's Jonathan Desbiens: The sophomore led all Atlantic Hockey skaters this weekend with four goals in two games during the Falcons' tie and loss against Niagara. It included a hat trick in Friday's tie, his second career tour de chapeau.
Defensive Player of the Week: Mercyhurst's Zach Todd: Todd had five points in Mercyhurst's weekend series at Penn State, scoring twice in the 7-4 win on Friday, then scoring again with two assists during a 7-5 loss on Saturday. He also blocked three shots on the weekend.
Goalie of the Week: Army West Point's Cole Bruns: Bruns recorded a weekend sweep of Air Force, helping the Black Knights "sing second" at Cadet Ice Arena with its first sweep since 2003. It included a shutout win on Saturday, the first time an Army team recorded the feat since 2007.
Rookie of the Week: AIC's Stefano Durante: Durante helped AIC earn a split against RIT this weekend, making 27 saves in a 3-2 overtime victory on Saturday night. It came after he entered the game on Friday in relief, making 22 saves after coming off the bench.