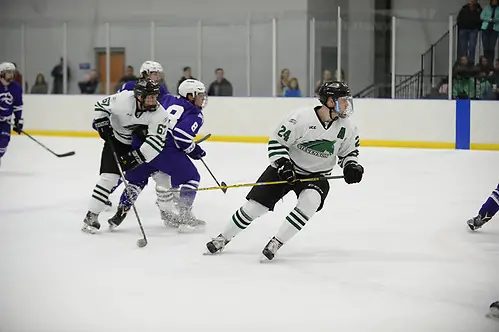 Following last weekend's 1-0 win at Manhattanville, the Stevenson Mustangs have broken out of the gates fast with a 4-0-0 record in the new UCHC, and are 4-0-1 overall. The win had all the trademarks of a playoff game, and that is exactly what coach Dominick Dawes wanted to see from his young team early in the season.
"It did have a playoff atmosphere," said Dawes. "We wanted that environment since we play a handful of games in the MAC [Middle Atlantic Conference] that count toward a championship. The MAC has several important rivalries that go across other sports, so we focus on those games, like the Manhattanville contest, because we want to win the first MAC hockey championship. It is a little like the Ivy League in the ECAC where the games count toward both conference records. With so few games in the MAC they are all important, and we wanted to come out strong against a quality opponent like Manhattanville."
After an opening night 2-2 tie with Morrisville, Stevenson has won four in a row and outscored their opponents by a combined 19-3. That might be surprising for a roster that includes just four seniors and a combined 28 freshmen and sophomores for a team in just their second season of NCAA play.
"Our best player so far has probably been our goaltender, Jacob Caffrey," noted Dawes. "He has been so consistent for us and really has provided the team with great stability in the crease. Jacob is always the first to arrive at the rink and always is working and competing hard, which I just think carries over to other guys on the roster. In the game against Manhattanville, he was definitely our best player, and our sophomore captain, Austin Swingle, was another key player who scored the game-winning goal. Austin is a big boy and plays like a man out there. He was a captain on his junior team and earned that status here last season as a freshman. He has all of the qualities you look for in a leader on and off the ice and has been an important part of our building the program along with Mike [Davis] and Jordan [Watt]."
The new UCHC alignment does help D-III's southern-most program in a couple of ways, including reducing the travel burden on the players. However, the coach also knows that there is no autobid for the conference championship and has built his schedule around galvanizing a team that can play against the best the East has to offer.
"Our school has been incredibly supportive of the new program here at Stevenson," stated Dawes. "The new league format does help our team with travel a bit — now we don't have to leave on Thursday for weekend games with some of our opponents. Most of our nonconference opponents come out of the SUNYAC largely because of geography, but also because of the level of competition. We want our kids to be able to go anywhere and play against anyone. We want to build that discipline and playoff-tough mindset like we had in the game against Manhattanville last weekend."
This upcoming weekend, the Mustangs host Elmira in UCHC play before heading up the road for a big nonconference game on Sunday at Hamilton from NESCAC. In this case, there is an interesting backstory to the Sunday game that will find the Mustangs playing against a nationally ranked opponent.
"It will be great to benchmark ourselves against a program like Hamilton," said Dawes. "I got my first coaching job at Hamilton, and it is a tough place to play for any opponent. When the league realignment came about, there were some challenges to their schedule with a planned opponent. My assistant coach, Matt Bruneteau, has a brother who is a captain at Hamilton this year, and the connection helped pull this matchup together with Rob Haberbusch's team. They are a very good team, especially in their building, and we are excited to play on Sunday. But first things first, we are focused on Elmira Friday night."
The young Mustangs are out of the gates fast and have just seven games remaining before the semester break, including a pair of home games with Buffalo State and important road contests in the UCHC against Utica and Nazareth to close out the first half.
"There is a long way to go in the season," said Dawes. "We are just focused on bringing this young team together and playing as well as we can each and every night. We are off to a good start, but want to continue to build on that success moving forward."