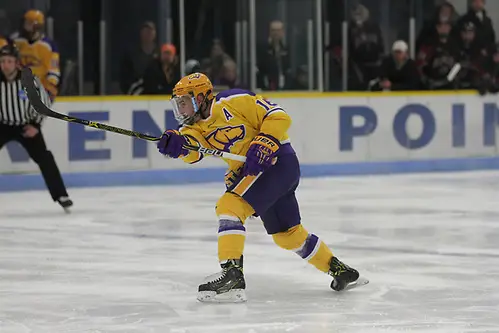 Look at the numbers Tanner Karty has put up in the first 12 games of his junior season; the six goals and six assists have him on pace for the best year of his career, and that isn't a surprise to the Wisconsin-Stevens Point star forward.
"It seems that third or fourth season, no matter where I've been, I really come into my own," Karty said. "Once I get going, I get going."
Karty scored 17 goals and dished out 25 assists in his first two seasons with the Pointers, but keep in mind that he missed the first semester of his freshman year because of an academic issue.
He had taken some classes prior to arriving on campus and originally planned to go to Lake Superior State after playing in 200 games for Des Moines of the USHL.
"It was different; I go from watching games to jumping in right in the middle of the season and playing the rest of the games," the native of Oklahoma said. "We end up winning a national championship."
The Pointers have fallen short of that goal the last two seasons, but being an elite program in NCAA Division III hockey, a title is an expectation, rather than a hope.
"There isn't even a question about that," Karty said. "We have the same expectation every year, and we are going to do everything we can to make it happen."
Wis.-Stevens Point is off to a pretty good start in its quest to achieve that goal. The Pointers are 5-1, and Karty has been instrumental to the team's success. He scored twice in the opener against Aurora, a game the Pointers won 6-1, and has tallied two or more points in all but one game.
"To be able to get a couple of goals that first weekend, and honestly they were just tap-ins, was huge for me. It takes the pressure off of getting that first goal," Karty said.
He also credits Willem Nong-Lambert for his success. The two played together in Des Moines at one point and are clicking at the college level as well.
"The chemistry is there," Karty said. "It's great having someone like that on the ice with you."
A total of 13 players have scored at least one goal, and Karty said that balance takes a great deal of pressure off any one player's shoulders. Having solid goaltending with Max Milosek and Connor Ryckman between the pipes doesn't hurt either.
"It allows me to just play my game," Karty said. "I just try to do whatever I can to help my team win games."
He spent the off season working on his shot, noting in the past he probably hasn't shot the puck as much for someone who loves to score goals, but it's clear from his stats that he's taken care of that.
He can't beat the experience of playing for Wis.-Stevens Point either. From the frenzied student section to the support from faculty, it's something he wouldn't trade.
"The student section is unbelievable; I think it's the best in D3," Karty said. "You can't hear yourself on the ice half the game. And then when you go to class, the professors are always telling you good game. It's pretty cool."
As for the future, the Pointers simply have to keep making progress every day.
"Every day we have to get better," Karty said. "If we continue to improve and perfect our systems, we are going to be tough to beat."
MIAC
Hamline pushed its record above the .500 mark over the weekend with a big-time win over previously unbeaten St. John's. The Pipers topped the Johnnies, 5-3, in their first conference game of the season. The game highlights the offensive muscle of this team, including Mitch McPherson, who scored two goals in the win and now has five goals to go along with an assist.
Russ Jordan, one of the best scoring threats in the conference, has two goals as well this year, as does newcomers Kyle Wendorf. Seven different players have scored at least one goal. In the win over the Johnnies, the Pipers scored five goals for the first time this season. They had scored a total of only seven goals in their previous four games.
It's worth noting that Hamline, which has three games remaining before Thanksgiving, has yet to play a home game, but the good news is four of its next five are at Oscar Johnson Arena.
NCHA
Peter Bates of St. Norbert turned in a memorable performance this past week, and keep in mind that he is only a freshman. Bates scored two goals in a 3-0 win over Trine Friday and then delivered a game-winning goal in overtime against fellow national power Adrian in a 4-3 victory. The goals were his first of the year for a team that has a ton of offensive talent.
His teammate, goalie T.J. Black, was pretty impressive in his own right, recording his ninth career shutout in the win over Trine and then stopping 24 shots in a key showdown against Adrian Saturday. He helped keep the Green Knights unbeaten at 4-0. St. Norbert has outscored the opposition 17-6 in those four games, giving up more than two goals only once.
The Green Knights have a huge weekend ahead, though, playing two nationally ranked opponents in Wisconsin-Eau Claire and Wisconsin-Stevens Point. Both games are on the road.
In the Poll
The top three teams in the nation currently hail from the West Region, with St. Norbert, Adrian, and Augsburg taking the top three spots. The Green Knights received 19 first-place votes this week. Wisconsin-Stevens Point is also in the top 10, sitting at five, and Milwaukee School of Engineering and Wisconsin-Eau Claire are 12th and 13th, respectively.