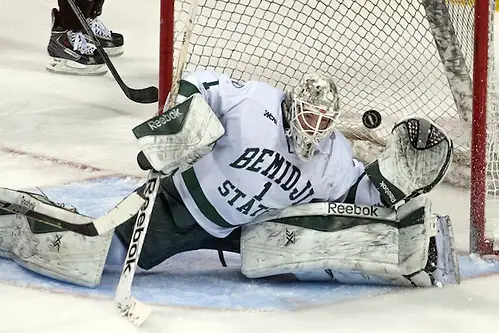 Last weekend in Bemidji, Santa Claus was in the building.
That's right. Kris Kringle himself, Jolly Old St. Nick, was at the Sanford Center on Friday and Saturday night as the Beavers hosted Alaska Anchorage.
During the games, Santa let fans sit on his lap (or pose for pictures next to him) and rode on the Zamboni between periods.
And it being the final series before the holiday break for both teams, everyone was hoping that Father Christmas would be leaving them something before he left the Sanford Center on Saturday night — especially since both the Beavers and the Seawolves had come into the series winless in the conference since early November.
When all was said and done it was the Beavers who found the embarrassment of riches under their hockey tree in the form of a six-point sweep.
The defending MacNaughton Cup champs beat UAA 5-1 on Friday behind Jay Dickman's hat trick then used yet another shutout from All-American goaltender Michael Bitzer to win 4-0.
"It was a big weekend for us, especially the third period tonight," Bitzer said after Saturday's game. "We had to come out big in the third and we wanted to prove that we know what it takes to win games, and I think it showed in the third."
The sweep means the Beavers go into the holiday break in a tie for sixth place in the conference standings. It was also a confidence boost for a team that had failed to win a regulation conference contest since a Nov. 4 game in Alaska. Before last weekend, the Beavers (7-6-5, 4-4-4 WCHA) had earned points in ever series but one (a sweep at the hands of Minnesota State) but had struggled to finish off opponents.
During the first two weekends of December, the Beavers went 0-1-3 and earned just four conference points in a road series at Bowling Green and a home series at Northern Michigan.
BSU head coach Tom Serratore said he thought the Beavers played pretty well in all four of those games and could have been 4-0, pointing to the shot attempts and possession numbers in the series. Against BGSU, the Beavers twice allowed the Falcons to score with less than two minutes in the third period. One of those games ended up a 3-1 BSU loss. The other ended in a tie, although the Beavers ended up winning the shootout.
Against NMU the next weekend the teams tied 1-1 and 4-4, but the Wildcats earned the extra point both times.
"We've played outstanding in those four games," Serratore said. "I can't ask any more out of our guys. Sometimes things fall your way and sometimes they don't. Our guys are playing pretty good hockey. I don't even like to talk about playing better the second half. I hope we play like we did against Northern Michigan and Bowling Green the rest of the year."
Against the Seawolves, the Beavers managed to use that same momentum only this time they never surrendered the lead. In both games they held the Seawolves to less than 25 shots. In both games, the Beavers' defense looked like it did for the bulk of the 2016-17 season — when it was the No. 2 scoring defense in the nation.
The Beavers have a week off for the holiday break and return home for a series with Alabama Huntsville. After that, the Beavers have just five more home games for the rest of 2018 (unless they host a playoff series). With that in mind, Serratore says he hopes his team can continue to play at this level to climb the standings and, just maybe, have a shot at reclaiming their conference title — as unlikely as that seems given the current standings.
"We needed these six points," Serratore said of sweeping UAA. "You take a look at our schedule down the road, our January, we're just going to be road warriors. You (have to) make hay at home and it's nice to get the six points this weekend."
Young Seawolves hoping to learn
In the other locker room last weekend, Alaska Anchorage was in a familiar position.
They'd been swept again. The Seawolves are in the midst of a six-game losing streak. Their only win of the season came Nov. 4 at Lake Superior State.
An with a lineup decimated by injuries to upperclassmen — the Seawolves have been without captain Matt Anholt, among others — UAA head coach Matt Thomas has a very specific task in mind for the season's second half.
"When you lose seniors and upperclassmen, especially when you have a big freshman class like we do, there are guys who are being tossed into some pretty hefty roles," said Thomas, who has 12 freshmen on the roster this season. "When that happens you're going to end up making some mistakes and losing some tight games. We've been in a lot of tight games. We haven't found a way to win them when they've mattered most."
The Seawolves have also had a tough schedule, with an early-season series against North Dakota, a series at Colorado College and an extended two-week trip to the Lower 48. That added up to a 1-13-4 overall record (they're 1-8-3 in the WCHA). They're the lowest-scoring team in the conference right now, although senior forward Austin Azurdia (8 goals, 13 points) has been able to net some goals. Tad Kozun and Jonah Renouf are the other two players with double digit scoring (10 points each).
Right now, Thomas said, the goal is pretty simple: Fight for a playoff spot. If the Seawolves can get in, in his mind, anything can happen. It would be their first playoff appearance since the 2013-14 season, when they upset instate rivals Alaska to make a surprise Final Five berth.
The Seawolves leave the state just twice in the second half and have 10 home games in the second half.
"We do have some games-in-hand on teams," he said. "We have to win those games to make up some points. But the big thing is, we've got to get better. When you're losing and not finding results is keeping your belief in each other more than anything. That's been our struggle right now."
Players of the Week
This week's WCHA Players of the Week were Bemidji State junior Jay Dickman (offensive), Northern Michigan senior Jordan Klimek (defensive), Bemidji State senior Michael Bitzer (goaltender) and Michigan Tech freshman goaltender Michael Beydoun (rookie).