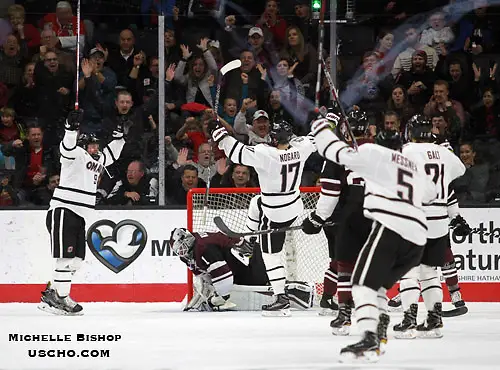 Each week during the season, we look at the big events and big games around Division I men's college hockey in Tuesday Morning Quarterback.
Jim: First off, Happy New Year!
With the change of the calendar, I'm sure there are a few teams that might like to put 2017 in the rearview mirror, while others (I'm guessing you can put Denver in this category) want to keeping rolling into the new year.
Let's put that topic on hold for now, though.
The hot topic right now is World Juniors. The preliminary round is over and a number of collegiate players had a major impact thus far. And for the first time in a long time, those impact players aren't only wearing red, white and blue.
Sure, it's been difficult to ignore American performances from Minnesota's Casey Mittelstadt (four goals, five assists, leading the tournament in scoring) and Boston University's Brady Tkachuk (two goals, four assists, tied for sixth in scoring), but collegians have also played big roles for both Finland and Canada.
Aapeli Rasanen from Boston College has potted three goals in four games for Finland, while blueliners Cale Makar from Massachusetts and Dante Fabbro from BU have both been solid on the Canadian back end.
As a college hockey fan, I've always looked forward to World Juniors, but with players spread among multiple teams, it's been even more enjoyable.
Paula: Happy New Year to you, too!
Yes, I love the World Juniors as well. In an alternative universe, I'm there every year. This year with the frigid cold in my corner of Michigan, I'm glued to the NHL Network while covered in flannel.
This tournament has already lived up to its hype and is far more interesting for us college hockey fans when you see NCAA players contributing to teams outside of the U.S. It's not surprising to see Rasanen, Makar and Fabbro represent the state of Massachusetts well.
And Mittelstadt is a monster.
What is surprising to me is how the team defense is struggling for Team USA. Boston College's Joseph Woll and Boston University's Jake Oettinger have combined so far for a GAA of 2.46. Woll's save percentage is .883 and Oettinger's is .880. I'm not trying to single out the goaltending at all, because the team as a whole has shown the need for better overall defensive play in front of these two.
Yet in spite of some rather interesting and youthful mistakes the team as a whole has made, the U.S. team has managed to win two games that it looked intent on losing, the overtime shootout against Canada in that outdoor game and the 5-4 win over Finland. It may not be the kind of exciting Bobby Motzko and his coaching staff want, but it is exciting hockey all the same.
Jim: I agree that the back end for the Americans is an interesting situation.
Neither Woll nor Oettinger possess stellar statistics, but the reality is I can count one or two moments in each and every game – even the 9-0 win over Denmark – when the American goaltenders have been forced to make huge saves. Now, though, goaltending will prove whether it's a benefit or a liability. One and done hockey is thrilling and scary simultaneously and only teams with excellent goaltenders typically survive.
Back in the college hockey world, I found it pretty impressive that Minnesota Duluth was able to travel to Dartmouth and take home the title at the Ledyard Bank tournament despite being without five players on World Junior rosters. They did so with a win and tie, an ultimately a shootout win over the host Big Green.
Hats off, as well, to Providence, which captured the Three Rivers Classic, and St. Lawrence, a pleasant surprise capturing the Catamount Cup. I started today's column talking about teams that want to turn the page from 2017 and St. Lawrence probably fits that category. And a solid end to 2017 might be the best way.
Paula: Yes, Duluth's play was very impressive indeed, and St. Lawrence is a team that has struck me as underperforming all season (as opposed to having a rebuilding or off year). Maybe the Saints will be able to use the Catamount Cup to make some noise in the ECAC.
In the Big Ten, Minnesota certainly needed its sweep of Army to help overcome a bad end to the first half of the season. In their last 10 games before the break, the Gophers were 3-6-1, capped by a sweep at the hands of Ohio State that propelled the Buckeyes into second place in B1G hockey.
Looking at the Great Lakes Invitational this week, I'm sure all four participants would like strong showings to help in the second half. The only team in that tournament that is happy with its first half is Michigan State, which at midseason is one win ahead of what it had for the entire 2016-2017 season.
The two WCHA participants this year, Bowling Green and host Michigan Tech, are two teams that have seemed just on the verge of breaking through to solid, consistent success since the WCHA was reorganized. Both the Falcons and Huskies have five ties each in league play, something that must be frustrating. Bowling Green is 7-2-5-2 in WCHA play, but the Falcons are 2-2-3 since Thanksgiving – just shy of getting over that hump that seems to haunt them perennially. The Huskies are 7-6-5-2 in conference play, but are 4-1-1 since Thanksgiving, and they'll want to build on that.
I imagine that Boston University is another team very disappointed in its first half and looking to try to salvage this season in the months to come. The Terriers warm up against the U.S. Under-18 Team this Friday before taking on Maine Saturday, and that game against the Black Bears is their first D-I competition since Dec. 9, nearly a full month. It's always interesting to see how teams respond to such a long break, especially teams that are trying to regroup in the second half.
A Tip of the Cap…
Jim: It's rare that we'll talk much about a player in our column and then recognize him with the tip of the cap, but when it comes to Casey Mittelstadt, that's necessary. As we mentioned, he's leading the World Juniors in scoring. And last Thursday, when he team was down against Slovakia, he took it upon himself to tie the game (yes, I know the U.S. eventually lost, but c'mon, what a goal!!!)
#1 on #SCTop10 ? @cmittelstadt

Thanks @Buccigross ? #WJCinBUF pic.twitter.com/UouAW7gv9a

— Buffalo Sabres (@BuffaloSabres) December 29, 2017
Paula: That goal defines "sweetness."
A good note about Mittelstadt's World Juniors performance so far is that he has one fewer goal in this tournament than he's had in 19 games with the Golden Gophers this season. We've all seen how WJC experience can help season some young collegians. Just think of what Mittelstadt may bring with him from this tournament when he returns to Minnesota.