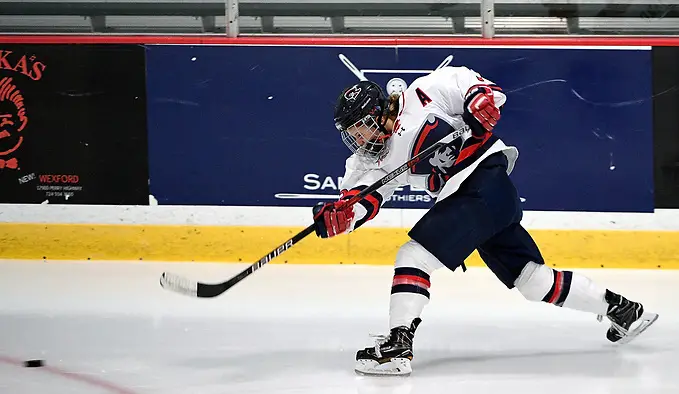 There are six weeks left in the regular season, and for the most part, conference crowns are up for grabs. Before the 2018 part of the season kicks off, here's a look at where each of the conferences stand and who the favorites are to close out the final stretch.
While certainly anything can happen, it sure looks like Wisconsin has the WCHA wrapped up. They have a four-point lead on Minnesota as well as four games in hand. The two teams will face off in Madison on the final weekend of the regular season, but with the way the Badgers have played so far, it sure seems like they'll win their second-straight regular-season title.
Mercyhurst hadn't been on my radar as their overall schedule isn't what the Lakers hoped it would be, but Robert Morris has to keep an eye on Mercyhurst as they are just one point behind the Colonials in CHA play. The two teams split a series at the beginning of December and they meet again the second-to-last weekend of the regular season. Every single conference point will be crucial for each of these teams.
With the late-starting Ivy League schedule and some scheduling anomalies, things are really unclear in the ECAC. Clarkson is two points clear of Quinnipiac with two games in hand on them, while St. Lawrence is one point behind Quinnipiac but with two games in hand. They all have to watch out for Colgate and Cornell, who are just four points back of the top spot and each have two games in hand to Clarkson and four games to Quinnipiac. Just seven points separate first place from eighth place, meaning we don't have a lot of clarity about what home ice might look like and how the ECAC tournament could play out.
Boston College looks to be on cruise control in Hockey East, but things aren't fully decided yet. Providence is just five points back with two games in hand on the Eagles. Northeastern is currently sitting in the bottom half of the standings and would have to go on the road in the postseason, but they are just a point behind Maine and two points behind New Hampshire. Seeing how spots 2-5 shake out in Hockey East could be a fun race to watch as the second half progresses.
Looking beyond that, the NCAA tournament field could be super interesting. Robert Morris currently sits ninth. If they don't win the CHA, they probably don't make the field. Providence, currently eighth, would also likely be out, losing that final spot to the CHA winner, whoever it may be. Using the polls as an indicator, there's some clear and large gaps between many of the teams. The quality win bonus could come into play in a major way in the second half. Teams like Providence, St. Lawrence, and even Minnesota and Ohio State could find themselves with much more solid footing with wins over ranked conference foes.
Patty's Prospects
Other than postseason seeding, the most interesting contest down the stretch will be among the top players in the league. Nomination forms will go out to coaches at the end of January and will be due a week later. Any player that appears on more than one nomination form will then be placed on the official ballot that goes back to coaches in mid-February. The Top-10 finalists are announced on February 22, and the Selection Committee meets a few days later to discuss all the finalists and each member will submit their ballot that evening. The Top-3 will be announced on March 1, and the Patty Kazmaier Memorial Award Brunch will be held on March 17 on the Saturday of Frozen Four weekend.
At this point in the season, it seems difficult to imagine a top-10 that isn't entirely comprised of forwards. Boston College's Daryl Watts and Caitrin Lonergan and Boston University's Victoria Bach and Rebecca Leslie continue to score at a ridiculous pace. Bach and Leslie's case will be hurt if the Terriers aren't able to pick it up a bit in the second half, but right now it seems impossible that they wouldn't all be on that top-10 list.
From there, I'd expect Clarkson's Elizabeth Giguère and Loren Gabel, Maine's Tereza Vanišová, and Robert Morris' Brittany Howard. That's eight spots.
Mercyhurst's Vilma Tanskanen is leading her team to push for the CHA title and is doing it as a transfer from North Dakota, something I think resonates with people this season.
Clarkson's Michaela Pejzlová is not only a top scorer overall, but has been stellar on the power play.
Wisconsin is the top team in the country, and sophomore Abby Roque is leading them. I think she gets a serious look for one of those final spots.
Rookies Emma Maltais from Ohio State and Grace Zumwinkle from Minnesota will certainly be in consideration, but I'm not sure they make the top-10.
It would be unusual for the list to consist exclusively of forwards, but no netminder is close to having a season like Ann-Renée Desbiens did last season, and it's doubtful a goalie would make the top ten.
As far as defense, BC senior Toni Ann Miano is the highest scorer, but she was also off the ice for the Eagles for half of last season. Those details are between her and the coaches, but it could work against her.
Clarkson senior Savannah Harmon is the second-highest scoring defender and will certainly get consideration, but will the coaches pass up a player like Sophie Skarzynski, who's played pretty much anywhere Minnesota has needed her, in order to put Harmon in the top-10?
BC's Makenna Newkirk has been entirely crucial to Watts' and Lonergan's success and is the eighth-highest scorer in the nation. Does she get a spot over teammate Miano?
There's still time for another player to separate themselves and show how important they are to their squad, but it certainly seems like the top-10 will come from this group.
About half the teams return to action this weekend, so the race for conference titles and the national MVP start on Friday.