The top two teams in the conference meet and two series feature long-time rivals. This should be a very good weekend of B1G hockey. First, though, Drew Claussen and I have picks records to share.
Last week
Drew: 4-1-1 (.750)
Paula: 2-3-1 (.416)
This season
Drew: 81-43-12 (.640)
Paula: 84-40-12 (.662)
This Week
Notre Dame needs two wins this weekend to clinch the regular-season Big Ten title, but Ohio State is going to try to keep that from happening. Five points ahead of Minnesota, Wisconsin will try to hold onto third place — or catch up to the Buckeyes in second — in front of a sold-out house in the Kohl Center. After playing in East Lansing Friday night, Michigan and Michigan State will play for the Iron D trophy in Little Caesars Arena Saturday night. Penn State sits this weekend out. All times are local.
No. 19 Michigan vs. Michigan State
Drew: Both of these teams have struggled with consistency this season, so this one is pretty tough to pick. Despite having a 0.500 conference record in the second half of the season, I like the way Michigan has been playing. On the other side of the coin the Spartans' victory over Ohio State last weekend was also very impressive. With the in-state rivalry factor in play, I'll take the Spartans to win their home game and Michigan to win in Detroit.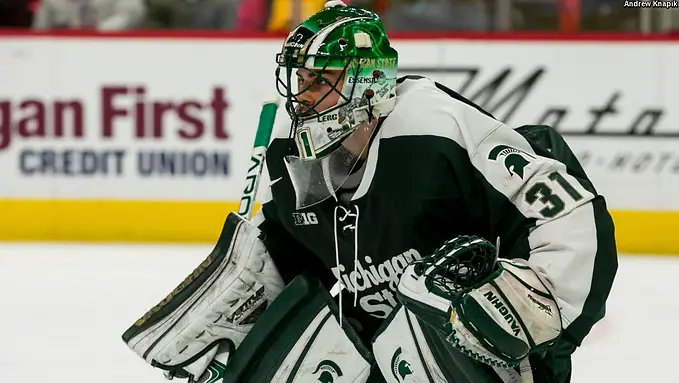 Paula: These teams swapped shutouts in Ann Arbor the first weekend in December, with the Wolverines winning the first night and the Spartans winning the second, and Michigan bested Michigan State in the consolation game of the Great Lakes Invitational tournament 6-4. I think they'll split, too, with the Spartans winning at home, but I can see Michigan sweeping. Friday's game in Munn Ice Arena begins at 7:05 p.m. and is untelevised. Saturday's 7:05 p.m. start in the LCA will be carried by Fox Sports Detroit.
Drew's picks: Michigan State 4-2, Michigan 5-2.
Paula's picks: Michigan State 4-3, Michigan 4-3.
No. 12 Minnesota at No.17 Wisconsin
Drew: I would not be surprised if this series mirrored the one that went down in early December in Minneapolis where the two teams split two one-goal games. It'll be interesting to see how the Badgers handle the absence of Tony Granato for the rest of the regular season, but they shouldn't have any problem getting pumped up for this series regardless of who is behind the bench. A split seems like the likely outcome, but I'll predict a Badgers' sweep.
Paula: A Wisconsin sweep is a bold call and I am not going there. Minnesota's only 2-8-1 on the road this season, but the Golden Gophers are 3-1-0 in their last four games and they've knocked off the No. 1 team in the country twice in 2018, shutouts over St. Cloud (Jan. 7) and Notre Dame (Jan. 26). The Gophers can get up for big games, and these games are big, indeed. The Gophers are also well rested following a bye week. Friday's game begins at 8:07 p.m. and is carried by the Big Ten Network. Saturday's game begins at 7:07 p.m. and is carried by Fox Sport West Plus and Fox Sports North Plus.
Drew's picks: Wisconsin 4-3, 3-2.
Paula's picks: Minnesota 3-2, Wisconsin 3-2.
No. 6 Ohio State at No. 1 Notre Dame
Drew: Massive series here as Ohio State needs to sweep to have any hope of catching Notre Dame in the standings. Even if the Buckeyes do sweep I'd still put my money on the Irish capturing the top seed, though. I'll pick a split.
Paula: The Buckeyes do play well on the road (10-2-1) and they're 10-2-0 in their last 12 games, so there is a possibility of Ohio State picking up points this weekend. The Irish have managed to find ways to win games that have been close recently except for that 1-0 loss to Minnesota two weeks ago and a tie against Penn State last weekend. Notre Dame swept Ohio State in Columbus the first week in November. Friday's game begins at 7:35 p.m. and is televised by NBC Sports. Saturday's game starts at 7:05 p.m. and is not televised.
Drew's picks: Notre Dame 4-1, Ohio State 3-2.
Paula's picks: Ohio State 2-1, Notre Dame 3-1.
The standings, according to us
Should Drew pick every game correctly, this is how the B1G standings will look Sunday, with points in parenthesis:
1. Notre Dame (50)
2. Ohio State (37)
3. Wisconsin (34)
4. Michigan (30)
5. Penn State (25)
6. Minnesota (23)
7. Michigan State (17)
Given my record from last weekend, this is definitely not how the league will look on Sunday, but here's how I'm picking it:
1. Notre Dame (50)
2. Ohio State (37)
3. Wisconsin (31)
4. Michigan (30)
5. Minnesota (26)
6. Penn State (25)
7. Michigan State (17)
Twitter us!
Follow both Drew (@drewclaussen) and me (@paulacweston) on Twitter. I'll be live tweeting from the Little Caesars Arena for the Duel in the D Saturday night.