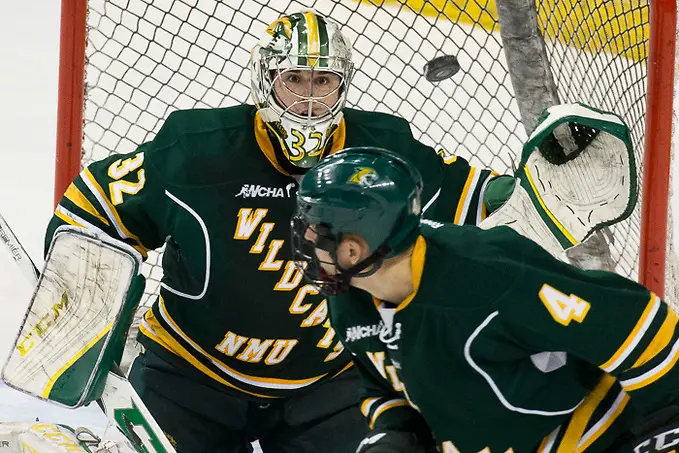 Their win streak ended, but the Northern Michigan Wildcats are glad they're still on top.
A string of seven consecutive victories came to a close on Sunday, when the Wildcats dropped the second game of their series at Alabama Huntsville.
Despite that loss, the Wildcats continue to hold on to first place in the WCHA standings by a single point over second-place Minnesota State — still in striking distance of the program's first MacNaughton Cup championship since 1991.
It's not a place first-year head coach Grant Potulny necessarily thought his team would be this late in the season, but he's glad his team has been able to play even better than the preseason expectations — the Wildcats were picked to finish seventh by both the coaches and media at the start of 2017 after an eighth-place finish the season before.
"Obviously there's a lot of hockey left, but we're happy where we sit," Potulny said. "When the season started, the goal was to make sure you get home ice in the playoffs. We achieved that last weekend. Now you want to finish as high as you can and stay at home as long as you can."
The Wildcats (18-11-3 overall) are in the midst of their best season since 2009-10, when they won 20 games and made the NCAA tournament. They've had just one other winning season since, and after they moved back to the WCHA in 2013 they've been mediocre, finishing no higher than fifth.
This season, that won't happen.
The Wildcats clinched home ice in the first round of the playoffs for the first time since 2012 — back in the CCHA — and will finish no lower than fourth.
Potulny said he's been most impressed by how his team's mindset has evolved since the start of the season. Back then, the Wildcats would have trouble playing two complete games in a series. They were just 6-5-1 through the first two months until finally hitting a turning point in December.
"We were inconsistent. We'd have a great effort then the next night we wouldn't be able to sustain it. I think that's part of the maturation process of a team, trying to figure out how to win," Potulny said. "Around Christmas time, I think we were getting two solid efforts two nights in a row.
"I always thought the potential was there. I didn't know if we could get over that hump to be consistent every night and expect to win. That's a hurdle that all teams have to go through. When you haven't had the success you'd hoped in the past, when you start having that success now, you expect to win. I think our program is at a point where we go into every game and expect to give ourselves a chance to win."
It helps that the Wildcats are scoring — they've got 97 goals through 32 games this season; NMU scored just 93 in all of last season.
Hobey Baker candidate Robbie Payne started the season hot, with 17 goals in 24 games. Since then he's experienced a bit of a goalscoring drought, but NMU has found other ways to put the puck in the net when opponents focus on Payne. Junior Troy Loggins has 15 goals and 32 points, sophomore Darien Craighead has 15 goals and 28 points and junior Adam Rockwood has seven goals and 34 points (his 27 assists lead the WCHA). Loggins and Rockwood are the league's co-scoring-leaders.
"Robbie had a great start to the year, and kinda came out of the gates on fire. Over the course of the year, there's going to be a natural ebb and flow (to scoring)," Potulny said. "But Adam Rockwood and Troy Loggins have been outstanding the last two months of the year. Craighead has given us some real good production with 15 goals. We're probably a little top-heavy, but we're getting a little more depth in scoring lately."
Forwards Zach Diamantoni and Joseph Nardi have both scored for NMU in the past two weeks, and the Wildcats are also getting good scoring production from defensemen. Sophomore Philip Beaulieu has nine goals to lead all WCHA defensemen. Jordan Klimek and Ryan Black each have 15 points and Robert Fosdick has just four points but scored a key goal to help NMU beat Alaska Anchorage two weeks ago.
"Those guys do a great job getting the poucknup to the forwards and giving them opportunities to create offense, but they do a great job entering the rush," Potulny said of his defensive corps.
In all, it's an exciting time to be a hockey fan in Marquette. The Wildcats are 10-2-0 at home — their best home record in a long time — and have a chance to win a title and make the NCAA tournament for the first time in years.
"There's an incredible buzz about the program around town, and an incredible buzz about the season some of our players are having," Potulny said. "In a community like ours, you're not just the college's team, you're the community's team, so for us it's been so fun with the excitement and energy around our program."
NMU hosts Alaska this weekend for a conference series and then takes a week off before a home-and-home with rivals Michigan Tech to close out the regular season. The Wildcats don't control their own destiny for the MacNaughton Cup — Minnesota State has two games in hand on them — but they do have a legitimate shot at an at-large NCAA tournament berth if they keep winning.
"It would be awesome to get our chance at (the MacNaughton)," Potulny said. "Some of that stuff is out of our control. But in the national picture, every game is so important for us. Obviously you want to try and win the regular season, you want to try and win the playoff, but I think we can get into the tournament without winning the WCHA playoff. That only happens if we take care of business down the stretch here."
Dot dominance
Possession is nine-tenths of the law, right?
If you have the puck, your opponent doesn't, and it means the game is better tilted in your favor at that point. So which WCHA players are best suited at setting up their team for success in face-offs and winning key draws?
At first glance, there may not be a more dynamic face-off duo than Ferris State's Coale Norris and Craig Pefley. The pair of Bulldog forwards lead the WCHA in face-off percentage. Norris is winning 62.2 percent of his face-offs, while Pefley is winning 58.3. The problem is the sample size for Norris, he's yet to take 100 face-offs this season, meaning his success hasn't yielded more opportunities.
So if we take a deeper look at the numbers, and the game film, we might have stumbled upon the top go-to face-off taker in the WCHA.
Minnesota State's C.J. Suess has won 57 percent of his draws this season and is third in the league with 347 total wins to 262 losses. The two players with more overall wins also have more than 75 extra losses against Suess' numbers.
Suess was always good at face-offs and was third in the league last season with 391 wins, but also lost 392 of them (he was still named C.J. Franklin at the time, he legally changed his named before his senior season).
"It's just something that you continuously work on," Suess told the Winnipeg Jets official site. "I feel like I've done a good job with them so far this season and I just need to keep it going."
Suess' heir apparent heading into next season? Likely Northern Michigan freshman Joseph Nardi, who is also up there when it comes to both quantity and quality of draws. Nardi has won 57.7 percent of his face-offs — 259 wins, 190 losses — and has been one of the most-trusted freshmen in the WCHA when it comes to re-starts.
Players of the Week
The WCHA players of the week were Michigan Tech junior Jake Lucchini (offensive), Alaska senior Zach Frye (defensive), Alaska sophomore Anton Martinsson (goaltender) and Minnesota State freshman forward Jake Jaremko (rookie).
Players of the Month
The WCHA players of the month for January were Northern Michigan junior Troy Loggins (offensive), Bowling Green sophomore Alec Rauhauser (defensive), Minnesota State senior Connor LaCouvee (goaltender) and Bowling Green freshman forward Brandon Kruse (rookie).
Ice Chips
— Alabama Huntsville's 4-2 victory over Northern Michigan Sunday means that the Chargers are now 10-18-2. It's the first time since 2009-10 that UAH has reached double-digit victories. They won 12 games that year and made an NCAA tournament appearance. Huntsville native Josh Kestner scored two of UAH's four goals in the win and another Saturday, giving him 20 goals this season. He's first in the WCHA in goalscoring and tied for second nationally.
— Alaska's two wins over Ferris State gave the Nanooks their first home sweep of the season. UAF beat Ferris 4-2 and 4-1 to leapfrog ahead of the Bulldogs in the standings. The Nanooks are now in seventh place, one point ahead of FSU with two games-in-hand. The Nanooks' Frye, who leads Alaska with 25 points, had another solid weekend against Ferris with a goal and three assists.
— Bemidji State's two shutouts at the hands of Lake Superior State were the second and third for the Beavers this season but the first time BSU had been shut out at home since a 2-0 loss to Bowling Green in 2015.
— Lake Superior State junior Nick Kossoff (28 saves) and freshman Mareks Mitens (36) combined to give the Lakers a pair of 2-0 shutout wins last weekend at Bemidji State. It was the first time the Lakers had shutouts in consecutive games since March 2013. Additionally, LSSU had not blanked the same opponent for an entire weekend series since holding Ferris State scoreless Nov. 12-13, 2010 (1-0 and 4-0).