It's the penultimate weekend of regular-season play — you know I've been waiting all season to use that word — and this is how Drew Claussen and I have come through it so far.
Last week
Drew: 2-3-1 (.416)
Paula: 2-3-1 (.416)
This season
Drew: 83-46-13 (.630)
Paula: 86-43-13 (.651)
This week
Everyone but Wisconsin plays this week. All times are local. There is a lot of B1G hockey televised, too.
No. 18 Michigan vs. No. 1 Notre Dame
Drew: If this series is anything like the last time these two went to battle, it should be a good one. The Wolverines probably deserved a split last time, but the Irish picked up two 2-1 victories. Notre Dame has the Big Ten regular-season title and the No. 1 seed in the postseason tournament in the bag, but I doubt Jeff Jackson will tolerate the Irish taking their foot off the gas. I'll take each team to win their home game.
Paula: Both of these teams are 6-3-1 in their last 10 games, and each is also 3-3-1 in the last seven. At this point, I'd say they're evenly matched as well. Notre Dame can lock down a team like no one else right now, especially because of the play of Cale Morris in net, but Michigan can exploit any defense if the Wolverines play smart as a team. In third place, the Wolverines are three points ahead of Minnesota, four ahead of Wisconsin, seven ahead of Penn State — and this is Michigan's last weekend of B1G conference play. I like a split as well. Friday's game begins at 7:35 p.m. in the Compton Family Ice Arena and is not televised. The Big Ten Network will carry Sunday's rematch, which starts at 5:35 p.m. in Yost Ice Arena.
Drew's picks: Notre Dame 3-2, Michigan 3-2.
Paula's picks: Notre Dame 2-1, Michigan 3-2.
No. 6 Ohio State at No. 10 Minnesota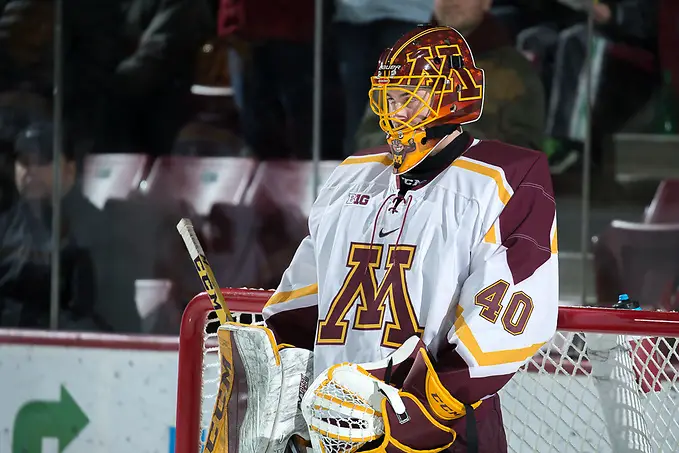 Drew: I was in Indiana last weekend watching a different Gophers' team get dominated, but I did notice that my prediction of the Gophers getting swept in hockey didn't exactly come off. The Gophers' 7-1 win over Wisconsin was, for lack of a better word, convincing. The Buckeyes have split their last two series, but that doesn't diminish how they have played throughout this season. Both of these teams are playing well and hopefully it's a good series. I'll take a split.
Paula: Here's an interesting note on the Buckeyes: when they score first this season, they're undefeated (13-0-2), so Minnesota will be looking to come out flying each night. Ohio State is 4-1-0 in the last five meetings against Minnesota, but the Gophers are 12-5-1 against the Buckeyes since the beginning of B1G play. Friday's game begins at 8:07 p.m. and is televised by the Big Ten Network. Saturday's 4:07 p.m. is carried by ESPNU.
Drew's picks: Minnesota 4-2, Ohio State 3-2.
Paula's picks: Ohio State 3-2, 3-2.
No. 16 Penn State at Michigan State
Drew: I assume losing five of six points to Notre Dame didn't sit well with Penn State during its week off, so the Nittany Lions should be eager to hit the ice this weekend. Michigan State has shown some bright spots this season and has played decent at home, but I'm going to go with a Penn State sweep.
Paula: The Nittany Lions and the Spartans have exactly the same number of wins each in their last 10 games. The Nittany Lions are 2-5-3 in their last 10 and winless in their last seven, having last captured three points in a single game against Ohio State Jan. 12. The Spartans are 2-7-1 in their last 10, having last posted a win against Ohio State Feb. 3. Michigan State would need a lot of help from the teams ahead of it to finish above last place; if Penn State sweeps its last four remaining games, the Nittany Lions would secure fourth place in the B1G standings and earn home ice for the first round of the playoffs. That is some motivation. Friday's game begins at 6:35 p.m., Saturday's game begins at 5:05 p.m., and both are carried by the Big Ten Network.
Drew's picks: Penn State 5-2, 4-2.
Paula's picks: Michigan State 3-2, Penn State 4-2.
Tweet us!
You can follow Drew (@drewclaussen) and me (@paulacweston) on Twitter. I'll be covering Friday's game from Munn Ice Arena, and I'll likely be tweeting from home during the two early Saturday games.