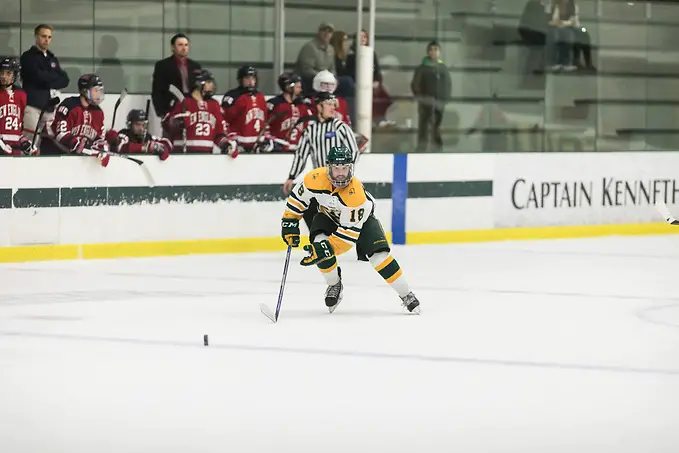 Following Tuesday night's semifinal win over defending MASCAC champion Salem State, the Fitchburg State Falcons and coach Dean Fuller are focused on winning the MASCAC title and winning their way into their very first NCAA tournament if they can defeat upset winner Massachusetts-Dartmouth on Saturday.
"We have had a lot of success as a program," noted Fuller. "we won a lot of titles when there was no autobid or many times we were not eligible to go to the NCAA tournament. First things first -– we need a big win on Tuesday, and then we can focus on Saturday and a chance to win the title, which is the most important thing for our team. Winning that will make playing in the NCAA tournament possible, and that will be a great thing for this team and our program."
This year's Falcons squad has been a surprising combination of youth and experience that has emerged to generate one of the best seasons in recent Fitchburg State hockey history. Including the playoffs, the Falcons are now 17-6-3 on the season and riding a seven-game win streak. Confidence is high across the roster, and two key players that represent the experienced and new have showcased why Fitchburg is flying high at the most important time of the season.
"As a team, we go as Nik DiNicola goes," stated Fuller. "Nik has been everything you could possibly want in a player on, and off the ice, and this season his numbers are just spectacular. He has made players around him better, and one of those players and biggest surprises has been freshman forward Sascha Figi, who has certainly been a big piece of our offense this season, contributing more than 35 points."
You don't have to look further back than Tuesday's MASCAC semifinal against Salem State where Figi recorded a hat trick and increased his goal output to 21 on the season while DiNicola added three assists, two on Figi goals, in the 5-2 win. The points moved DiNicola to 11-34-45 on the season, while his freshman teammate has posted great rookie numbers at 21-18-39.
"Their numbers are great, but more importantly, this group just has fun together and loves to prepare and play the game," said Fuller. "This has been a great bunch to coach, and I know our staff really enjoys showing up to the rink every day because these players are having fun and make it fun to coach. Of course, winning games helps the attitude too. It is definitely more fun to win, and we see that on the ice from this group, who hopefully has a few more in them this season. It is fun to be playing hockey in March."
The bonus hockey through the playoff run has also given the Falcons a chance to get healthy for the championship run. Forward Tyler Warila was back in the lineup this week and contributed an assist in the win over Salem State. The team is deep and balanced, with seven players scoring more than 20 points and five players with at least 10 goals this season.
"I really like our team and the fact that everyone is contributing to our success," said Fuller. "It isn't only the forwards or the power play. Our defensive group has been solid all season, and our goalie tandem of Brian [McGrath] and Kirby [Saaari] has been very consistent all season long. There is a high level of confidence in all aspects of our game right now, and as you would expect any coach to say, we are just focused on one game right now."
While Fitchburg may have expected to be playing at top-seed Plymouth State on Saturday, the Panthers ouster means the Falcons now host the championship game against Massachusetts-Dartmouth. The season series with the Corsairs finished 1-1-1 in the three league games in the regular season. While the Falcons won and tied on the road, there is clearly a focus on the fact that they lost 4-2 at home in early January. Corsairs netminder Drew Michals made 37 saves that night and was a key factor in UMD's upset win over Plymouth State on Tuesday night. A hot playoff goalie will make any coach concerned, but Fuller likes his team and his chances.
"These guys have met every challenge this season," said Fuller. "Having fun while remaining focused has kept us relaxed and performing at a high level. We want to continue that as far as this road will take us."
That road has a major tollgate on Saturday night with a conference championship on the line and a first-ever opportunity for a program and its coach with 534 career wins to play on a national stage.