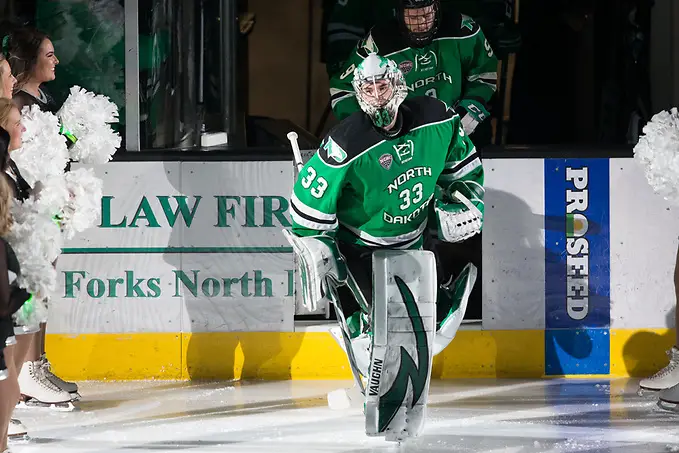 Nearly all hockey teams like to have a No. 1 goaltender established before the postseason appears on the horizon.
North Dakota seems to have one — the one most people expected — but took its time getting there.
Senior Cam Johnson, who won a national championship with UND two seasons ago, has been pushed by freshman Peter Thome, but appears to be the Fighting Hawks' go-to goalie when the NCHC playoffs start later this week.
Twice after Christmas, Thome had a steadying influence on the ice for UND, putting in solid starts in Saturday home games against Omaha and Colorado College after losses in the series openers.
After Thome picked up a 6-3 loss at Omaha on Feb. 16, however, Johnson has started all five of UND's games since then, including a loss and a tie last weekend at home against St. Cloud State.
Johnson gave up six goals on the weekend to the top-ranked Huskies but helped take both games to overtime. Two Ryan Poehling goals, including the game-winner 2:48 into overtime, were the difference Friday in SCSU's victory, but although UND coughed up a two-goal lead Saturday, a 2-2 tie allowed the Hawks to clinch home ice for the first round of the NCHC playoffs. UND then picked up the extra point by scoring in a 3-on-3 overtime period.
Johnson had a role to play there, making 23 saves in what could have been his last game at Ralph Engelstad Arena. Now, he's expected to play at least two more this weekend against fifth-seeded Omaha.
UND coaches and players knew on Saturday what was required to keep their home schedule running.
"We were aware of what was going on and the scores around the league and different things like that," Hawks coach Brad Berry said. "It didn't change the way we played, and we were out to win and wanted to win the game.
"Obviously giving up a two-goal lead, you don't want to do that, but they score one on a power play and then they get one shortly after there, but I was proud of the way our guys had a little bit of resilience and resolve there to push it and then win it in overtime."
Johnson was a big reason why UND sent its fans home happy. The Hawks clinched home ice by virtue of getting a point after 65 minutes, but Johnson's save on a breakaway in the second extra period from SCSU's Blake Lizotte kept the game going.
"When you talk about the challenge of playing against a good team, I think Cam's one guy that relishes that," Berry said. "He loves playing against top teams and you saw it tonight. He had to make some huge saves at key times of the game and he helped win us a game tonight."
He also got over conceding on Friday perhaps college hockey's goal of the season.
Poehling's first of the night put St. Cloud ahead 3-2 at 8:39 of the third period when he came in alone, tucked the puck between his own legs onto his forehand and beat Johnson low stick-side inside the far post.
The goal went viral, but as Johnson showed on Saturday, he wasn't broken.
"You know what, give Poehling credit," Berry said. "It was a heck of a goal, but we have a heck of a goaltender here and he showed up tonight with his 'A' game."
First round features intriguing matchups
Each of this year's NCHC playoff quarterfinal series has interesting storylines.
Let's stick with North Dakota and Omaha first for the teams' first postseason meetings. UND leads the all-time series 17-10-1, but it's often a toss-up when these teams meet in Grand Forks, with the Hawks holding a 7-6-1 advantage over UNO at the Ralph. This will be UND's 16th consecutive season hosting first-round playoff games, the longest such streak in the country, and both teams need to win this series to maintain realistic NCAA tournament hopes. Omaha is 14th in the PairWise Rankings, UND 15th.
Top-seeded St. Cloud State hosts No. 8 Miami this weekend in a series putting together two teams that have won the NCHC playoff championship once apiece. SCSU swept the teams' only two games so far this season on Feb. 9-10 in Oxford, Ohio, and the Huskies are unbeaten in their last 11 games. History suggests they need to be careful here, however: in 2014, Eighth-seeded Miami swept SCSU in a pair of one-goal games in that year's NCHC first round.
Minnesota Duluth has been to the last two NCHC Frozen Faceoffs and will look get there a third year running should the Bulldogs advance this weekend past sixth-seeded Western Michigan. This is another tricky one as Western swept UMD in Duluth in the 2014 conference quarterfinals, but UMD is 3-1-0 against the Broncos this season and won two games in Kalamazoo, Mich., late last month by a combined 14-1.
Finally, we have perhaps the most intriguing series of the weekend with Denver hosting arch-rival Colorado College. We were here last year, too, when DU swept the Tigers in the quarterfinals by a combined 8-1, but CC managed to split its regular-season series with the Pioneers this time at 1-1-2. The Tigers won't be nervous heading to Magness Arena, where they have a tie and a shutout win under their belt from earlier this season.
Players of the week
Offensive player of the week: Ryan Poehling, St. Cloud State. The sophomore forward had three goals last weekend at North Dakota, including two in an overtime victory over the Fighting Hawks on Friday night. For the season. Poehling is fourth on SCSU's scoring chart with 29 points (12 goals, 17 assists) from 30 games.
Defensive player of the week: Jimmy Schuldt, St. Cloud State. Schuldt finished last weekend's series in Grand Forks with a goal and two assists while helping the Huskies pick up four standings points after having already wrapped up the conference's regular season championship. Schmidt currently leads the nation in plus-minus at plus-23.
Rookie of the week: Josh Passolt, Western Michigan. The freshman forward had a goal and two assists last weekend as WMU picked up a road split against Colorado College. Passolt had the game-winning goal on Saturday, breaking up what had been a 2-2 tie before Western scored six unanswered.
Goaltender of the week: Evan Weninger, Omaha. The junior netminder stopped 76 of the 80 shots he faced last weekend in helping UNO to a road split against Minnesota Duluth. Weninger has now started each of the Mavericks' last 14 games and has bumped his save percentage up 10 points to .900 in that stretch.
Thank you
As my writing partner Candace Horgan will be taking us home next week with our final NCHC column for the season, I'd like to take a moment to thank all of our loyal readers.
You're the reason we do what we do and a big reason why I'm thrilled to return each season. This has been my 10th with USCHO. A decade can go by faster than you'd think.
I'd like to thank the objectively wonderful Lynn Evenson, my boss at the Bottineau Courant, for continuing to let me take part in this passion project and for just generally putting up with me. The same applies for Matt Mackinder here at USCHO.
Thanks, too, to Candace, to whom I'll soon be sending beer money for losing our annual season-long picks contest. I'm going to win that thing one of these years. OK, fine, one of these decades.
Thank you to my family, particularly the immediate four in Omaha and Nashville. I love each of you more than you know.
Thanks, everyone. Let's meet back here in October.