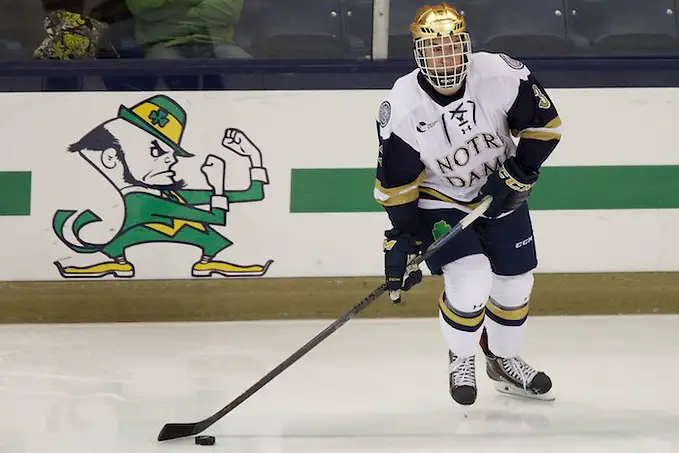 Well, here we are.
The top two teams in the Big Ten survived the season to meet for the championship this Saturday. Notre Dame is hosting.
Many people will have something to say about the fact that Saturday is St. Patrick's Day. I am not among them. I know that it will take more than luck for either Notre Dame or Ohio State to capture the Big Ten playoff crown.
Jeff Jackson knows that, too.
"It's a one-and-done season right now," said Jackson after the Irish beat Penn State 3-2 in last Saturday's semifinal game. "You have to learn to embrace that. Every game at this time of the year is a championship game; you either win or it ends your chance at playing for a championship."
Notre Dame won that game against Penn State in impressive fashion, and luck had nothing to do with it. The Nittany Lions made the first period all about Penn State hockey: lots of back-and-forth play, 18 shots on goal to Notre Dame's 16, and an answer to each of Notre Dame's two goals to make it 2-2 at the end of the first.
But Notre Dame beat Penn State by playing the game that the Nittany Lions dictated, and by playing it better than Penn State did. By the end of the game, the Irish had outshot the Nittany Lions 47-45, and with 31 seconds left in regulation, Jack Jenkins scored to give Notre Dame a 3-2 win. In short, the Irish did what good teams do – they found a way to win, even when they couldn't change the way the game was being played to a style with which they were more comfortable. Very impressive.
In Columbus, Ohio State found a way to turn a neutral site into a home venue and beat its arch-rival for the fifth time this season, 32 seconds into overtime. What the Buckeyes did was equally impressive, as Michigan in the second half of the season had become a team that no one wanted to play. In that game, the Wolverines outscored the Buckeyes in the second period, the only stretch in which they outshot the Buckeyes. Cooper Marody scored twice for Michigan, the second goal coming on the power play early in the third period to tie the game.
But the Buckeyes' proverbial big players did their proverbial stepping up in overtime. Goalie Sean Romeo made two tough saves in the opening half-minute of OT, and Tanner Laczynski connected with Matthew Weis to score the game-winning goal.
For the championship, two talented teams are meeting. The first-place team stumbled into the playoffs with a record of 4-5-1 in its last 10 regular-season games, took the bye week to address whatever led to that skid, prepared well for Penn State, and adjusted mid-game against the Nittany Lions. The second-place team, the team that played the most consistent hockey in the Big Ten all season long, kept its cool in an emotional game and beat its primary nemesis for the fifth time this season.
Here's a quick look at this match by the overall numbers.
Here's a brief look at each series by the overall numbers.
No. 2 Ohio State (24-8-5) at No. 1 Notre Dame (24-9-2)
Scoring offense: Ohio State 3.22 (11th), Notre Dame 2.94 (26th).
Scoring defense: Ohio State 2.08 (fourth), Notre Dame 2.17 (eighth).
Power play: Ohio State 24.3 (seventh), Notre Dame 21.8 (17th).
Penalty kill: Ohio State 89.9 (first), Notre Dame 88.5 (second).
Scoring threats: The Buckeyes have a deep offense, with six players who have scored 10 or more goals. Junior Mason Jobst is one away from 20. For Notre Dame, sophomore Cal Burke (13-10—23) is the team's leading goal scorer, and the Irish do score by committee.
Top goaltenders: Sean Romeo (2.07 GAA, .926 SV%) for Ohio State, Cale Morris (1.93 GAA, .946 SV%) for Notre Dame.
In the regular season, Notre Dame went 3-1-0 against Ohio State, but the Buckeyes took that last meeting by a score of 5-1 in South Bend Feb. 10.
Ohio State coach Steve Rohlik knows that his team will need more than luck in this Saturday's game. "We obviously are playing a program that beat us three times this year. We have a lot of respect for their program, their coaching staff, their players. We certainly know we have our work cut out for us. Hopefully, we can go in there, compete at our highest level and be at the top of our game."
Saturday's game in Notre Dame's Compton Family Ice Arena begins at 8:00 p.m. and is televised by the Big Ten Network.
The waiting game
It's been a fantastic season – in spots – for Big Ten hockey. To date, the league has the best win percentage among all conferences in nonconference play (.679). Notre Dame looked unbeatable for 16 straight games. Michigan somehow pulled itself together and played some tour-de-force hockey in the second half. Goaltending has improved throughout the league. The league's new playoff format has been a hit with the fans. All in all, it's been a fun season.
And here we are in mid-March with both the Fighting Irish and the Buckeyes among the top four teams in the PairWise Rankings, Michigan sitting in 10th, Penn State in 12th and Minnesota in 13th. There is a real possibility that five of the league's seven teams will head to the NCAA tournament, and for the first time since the league's inception, Big Ten hockey has the opportunity to provide a solid showing.
While Ohio State and Notre Dame play for the league title this weekend, though, Michigan, Penn State and Minnesota play that waiting game. The Wolverines are in. It takes a lot of finagling with the PairWise Predictor to find scenarios that knock out the Nittany Lions, although the Golden Gophers are more at risk.
On "The Mel Pearson Show" this week on WTKA radio, Michigan assistant coach Bill Muckalt – who I first covered as a player in the 1995-1996 season, and whose post-game press conference after Michigan won the national championship that year is one of my fondest hockey memories – talked about what last week's game against Ohio State did for the Wolverines.
"When you play a quality opponent, in an NHL rink, in a hostile environment, I think those are all good learning curves," said Muckalt. "Now we're taking the final exam, that being kind of a midterm. Now there's no more do-overs where we've got to get better at this or continue to do this well. It's do or die. We can't look past it. We can play a maximum of four games left in our year but we have to approach it like one shift, one period, one game at a time and really find a way to come out on top."
Only Michigan's senior class has seen any NCAA postseason play. Muckalt pointed out, though, that the coaching staff is experienced. "Obviously, Mel's got an awful lot of experience in the tournament and success in the tournament. It's an exciting time."
The field for this year's NCAA tournament will be announced on ESPNU's selection show at noon, Sunday, March 18.
All well deserved
Congratulations to all of this year's Big Ten postseason award winners!
Ohio State head coach Steve Rohlik, this year's Coach of the Year, and his staff have worked very hard to create the kind of program that attracts the kind of players that have created the kind of season the Buckeyes have had this year.
Notre Dame sophomore goaltender Cale Morris absolutely deserves his Player of the Year Honors, and he should be a strong contender for this year's Hobey Baker Award.
One of the most interesting picks is Michigan State's Mitchell Lewandowski, fully deserving of his Rookie of the Year award but making only honorable mention for the all-league teams, while Michigan's Quinn Hughes is the only freshman to be named to either all-league team (Second Team). Lewandowski was a unanimous pick, too.
Also notable is that no players from either Minnesota or Wisconsin were named to the First or Second Teams, but there were a bunch that received an honorable mention, including Wisconsin lead scorer Trent Frederic, who signed a professional contract with the Boston Bruins this week.
My ballot
1. Denver
2. Cornell
3. St. Cloud
4. Ohio State
5. Notre Dame
6. Minnesota State
7. Minnesota Duluth
8. Providence
9. Michigan
10. Northeastern
11. North Dakota
12. Clarkson
13. Penn State
14. Boston College
15. Mercyhurst
16. Northern Michigan
17. Minnesota
18. Bowling Green
19. Omaha
20. Michigan Tech
So long, for now
This is the last week of the season for regular conference columns at USCHO, which means that our coverage from now through the Frozen Four will consist of previews, news, game stories, features and blogs.
This is also ends my 22nd season of conference columns for USCHO, beginning with the CCHA in 1996-1997, our first season of publication. I'm always grateful for the college hockey family that I've found along the way and I look forward to seeing many family members at the Frozen Four. I'm looking forward to covering the Big Ten next season as well.
As always, I remain profoundly grateful to anyone who bothers to read what I write. I would also like to thank several colleagues here at USCHO, which is really one big family. Thanks to Matt Mackinder, USCHO's managing editor who works hard and puts up with my occasional lapses in judgment – and who takes it all with a grain of salt and genuine good humor. Thanks to Todd Milewski, USCHO's executive editor who is the glue that holds this all together and maybe the best hockey reporter I've ever known. Thanks to my writing partner, Drew Claussen, from whom I learn something every week. Thanks to Jimmy Connelly, who pushes me to be a better writer with every TMQ we produce.
I would be completely remiss if I didn't thank Candace Horgan, Chris Lerch, Ed Trefzger and David Hendrickson, whose friendship keeps me sane through the season, and thanks to our publisher, Tim Brule, for keeping us going through all of it.
Thanks to all of our hard-working conference writers, photographers, recap and contributing writers, and editors. There are a lot of people who work really hard here to make USCHO happen and I am grateful for every single one of them.
Mostly, though, thanks to our big college hockey community and to you, my hockey friends, for taking an interest in what we do.