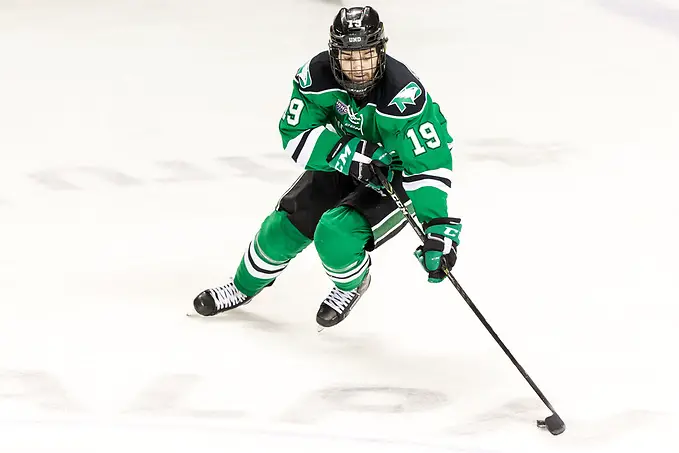 North Dakota has been in this position before.
In fact, it was just a few years ago, in the inaugural season of the NCHC, where the Fighting Hawks had to win a game in the Frozen Faceoff and then hope that Wisconsin beat Ohio State for them to qualify for the NCAA tournament.
That scenario did, in fact, play out, and the Hawks went on a run to the Frozen Four, falling to Minnesota on a last-second goal.
This year, North Dakota is in a similar position, having fallen far enough down in the PairWise that a wrong bounce could end their streak of NCAA tournament appearances at 15.
"We've been facing that all year long as far as our backs against the wall," said North Dakota coach Brad Berry. "It seems like our guys like the challenge knowing that our feet are to the fire. It's going to be tough competition. You have four very good NCHC teams. We know that to keep our season alive, we're going to have to have some success down there. Our guys have done a good job handling it over the course of the last month. We don't seem to think otherwise as far as what we have to do."
The Hawks took a big step forward last weekend in sweeping Omaha at home. Prior to that weekend, North Dakota hadn't swept a weekend series since December.
"Last weekend was a huge confidence boost for our team," said North Dakota captain Austin Poganski. "I thought the weekend before against St. Cloud, we had two pretty solid games that allowed us to keep home ice, which is huge in playoffs. Going into Omaha last weekend, I thought we had a very good week of practice, we were very prepared for them, and I think it showed in the weekend, and that confidence is just going to hopefully continue to get stronger throughout the next week here and help us throughout the NCHC tournament down into the NCAA."
Still, it wasn't easy.
After a solid win Friday, North Dakota blew an early two-goal lead Saturday and trailed 3-2 late in the third before Nick Jones tied it with a power-play goal. He also scored the game-winner in OT. Jones had a circuitous path to North Dakota, playing at Ohio State before going back to junior hockey in the BCHL and then coming to North Dakota.
"When he went back to junior hockey, he was in a leadership role, and he flourished as far as playing both sides of the puck," said Berry. "He had an opportunity to be a good offensive player and also a good defensive player in all situations, and that really gave him some seasoning and some veteran leadership to come in and take the reins."
This weekend in the first semifinal, North Dakota will face St. Cloud State. Last season, North Dakota ended St. Cloud's season in the NCHC first round, and Berry and his players are expecting a tough game. The two teams played four times this season, with St. Cloud winning twice and the teams tying twice.
"Going into this year, St. Cloud didn't lose very many players from last year, and they were a very good team last year," said Berry. "We played them in the first round of the playoffs here in Grand Forks. We knew they were going to be a very good team, and they've only grown and gotten better. We feel we're very comparable; both teams, they each bring a little bit something different to the table. At this time of year when it's a one-game shot, anything can happen, and I thought over the course of the four games that we played them this year, they were very tight games, and again, that's what the NCHC is all about, the parity and how tight games are, and it should be a good game Friday afternoon."
Minnesota Duluth continues strong second half
Two shutout wins over Western Michigan continued an already strong season for goalie Hunter Shepard, who has a set both a program and NCHC single season shutout record this year.
Shepard has eight shutouts on the year, with a 1.91 GAA and a .927 save percentage.
Shepard's evolution as a goalie has been a boon for a team that lost its starter from last year, Hunter Miska, to the pros.
"I think it was very similar to our goalie situation last year, especially the first month," said UMD coach Scott Sandelin. "We had Hunter Miska coming in last year, and he was our key recruit, but we didn't throw him in every game early. I think through the first month he battled, and I think it was no different this year between Shep and (Nick) Deery. We tried to give those guys opportunities, and from November Shep has grabbed the net and grown."
This weekend will mark Duluth's third-straight appearance in the NCHC Frozen Faceoff, and the Bulldogs are the defending champions, having beaten North Dakota for the championship last year. However, this year's situation is somewhat different.
"I think it's nice that we have an opportunity to go back down there to defend it," said Sandelin. "Sometimes that doesn't always happen. It's a new group, it's a new experience for our young players, which I think it's an important experience. It's another step throughout the season. You have your regular season, you have your playoffs, and this is another opportunity to win a trophy. I think those things are all important. It's a little bit different situation than we were in last year. I think last year we knew we were going to be playing the following weekend. This year, it's not 100 percent sure, so we have to play with that one-game mentality, because you need to be in that anyway this time of the year."
Added Duluth captain Karson Kuhlman: "Last year basically our whole team had been there and understood what it takes to win because we'd fallen short the year prior to last year winning it. I think this year all week we've kind of instilled how hard playoff hockey is, especially in our league where everyone is fighting for a spot in the NCAA tournament or a better seed in it."
While Duluth isn't quite a lock for the NCAA tournament, it would take a lot for them to fall short. Most sites list them at 98 percent or better to be playing in two weeks. Going forward, the Bulldogs know they can draw on their experiences in the NCHC.
"I think it's one of the reason guys come to UMD and the rest of the league, because you get a tough schedule like that," said Kuhlman. "Every weekend is a top-end team with top-end talent, and it only betters ourselves throughout the season. That's why our league has had so much success in the NCAA tournament, because week in and week out, we are playing top teams. That just prepares you for the postseason."
Friday, the Bulldogs face a familiar opponent: Denver, who beat them last year in the NCAA championship game. Denver also defeated Duluth in all four games this year in the regular season, and they were all one-goal contests.
"I think we're building a good little rivalry here the past couple of years; that's kind of nice to see," said Kuhlman.
"The one thing I've learned is don't make too many mistakes against them because they're going to capitalize," added Sandelin. "I thought in most games, we made some critical mistakes that they certainly buried, and they have the guys who can do that, just like any great team does. It's a good challenge for us. I think you don't make some of those mistakes, maybe we win a game or two. They've been even. We know that they have the ability to bring it to another level, and hopefully it forces us to see a better level in our team."