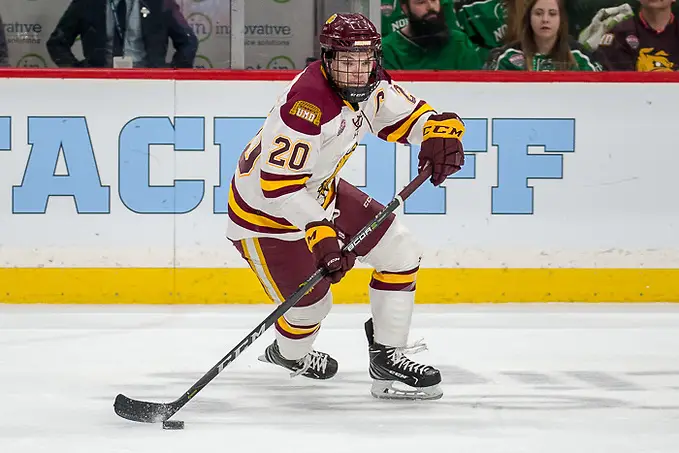 With the NCAA Regionals starting this weekend, our columnists weigh in with their picks on what team comes out of each region.
Who ya got?
West: This hasn't been the best year for Minnesota Duluth, but a pretty healthy Bulldogs team will be my pick to reach St. Paul, a city with wonderful memories.
East: This might be the Hockey East homer in me, but I love this Providence team and think that if they get past Clarkson, they can take this region.
Midwest: When Denver won the NCHC title on Saturday, I once again became sold on this Pioneers team.
Northeast: This will be an all-Hockey East final, in my opinion and now I feel like I need to flip a coin. Northeastern and BU never got their chance for a rematch last weekend, and I'll go with the Huskies if they get that chance on Sunday.
— Jim Connelly
West Regional – Minnesota State: It was unfortunate that the Mavericks were one win away from the WCHA title game, as their loss to Michigan Tech in the semifinals likely prevented them from being the top seed in this regional. That said, I still think they're the ones who make it out of this one. They have the offensive firepower to keep up with any team in the country, and they've played well against both UMD and St. Cloud recently. I think they'll make their first-ever Frozen Four.
Midwest Regional – Ohio State: It seems like Ohio State flew a little bit under the radar this season (at least, compared to the other top teams in this tournament). I'm going to go ahead and pick them because I like them as a No. 1 seed (although if they have to play Penn State in Allentown in the regional final, they could be in trouble).
East Regional – Notre Dame: The Irish seem to have the best draw of any of the top seeds in this tournament. The Irish are also the only team in the competition who won both the regular season and conference tournament title (they only had to win two games to do it, but still). They also have one of the best goalies in the country in Cale Morris. I think they go to St. Paul.
Northeast Regional – Cornell: This is the one I have the least confidence in, despite the fact that I think Cornell is one of the best teams in the country. They seem to have a tough draw in Boston U and either Michigan or Northeastern, but I think they will get out of it.
— Jack Hittinger
West: St. Cloud State. The Huskies won four of six games earlier this season against the rest of the field and should get rolling again after losing the NCHC playoff championship game to Denver.
Midwest: Denver. The Pioneers are playoff championship momentum into Allentown, Pa., but will have their hands full in a tough region.
East: Boston University. I'm not even sure this would that big of an upset. I don't know that Cornell will beat BU again, and the Terriers haven't lost in over a month.
Northeast: Notre Dame. There isn't an easy out in this regional, but I like the Irish to get past Michigan Tech and either Providence or Clarkson.
— Matthew Semisch
West Regional: I think Minnesota State emerges from the West Regional. After having lost their second-round WCHA playoff series in three games to Michigan Tech, the Mavericks have had over a week off to prepare for the NCAA tournament – and I'm sure they've used that time to determine what went wrong against the Huskies.
Midwest Regional: Denver is my pick to emerge from the Midwest Regional. Ohio State was the best team I saw play in person this season; Denver was the best team I saw, period.
Northeast Regional: I want to call Michigan to emerge from the Northeast Regional, but Boston University impressed me so much in the second half and in the Hockey East playoffs that I think it's BU's to lose.
East Regional: I am not a betting woman, but if I were, I wouldn't bet against Cale Morris. He's not the sum total of the Notre Dame team, but he's been so very good that he makes everyone else in front of him even better. The Fighting Irish also have an unfair reputation as a defense-only team, and what I saw from them in the Big Ten title game tells me otherwise.
— Paula C. Weston
West: St. Cloud State – In the battle for Minnesota (plus Air Force), the Huskies are at the head of the class. They're the No. 1 team in the country for a reason.
Midwest: Princeton – The Tigers have only lost twice since mid-January, powered by an awesome offense and power play.
Northeast: Northeastern – The Huskies feature an unstoppable first line and power play along with a strong defense and Hockey East's best goalie.
East: Clarkson – A great combination of team defense and a killer power play, an ideal playoff recipe.
— David H. Hendrickson
Northeast – Northeastern. The Huskies have a dominant top line and good goaltending – two key parts of postseason success.
East – Clarkson. The Golden Knights are the most balanced team in the regional, and have had success against opening round opponent Providence this season.
West – St. Cloud State. The Huskies are loaded and haven't played well in the second half of the year. I don't have a lot of reasons to pick against them.
Midwest – Princeton. I picked against the Tigers twice during the ECAC championship weekend. I won't make that mistake again, as this team is playing with a ton of confidence right now.
— Nate Owen
West Regional: Minnesota State. Being a jaded Minnesota sports fan, I was tempted to pick Air Force, but I'll take the Mavericks in a very close game against St. Cloud State.
Midwest Regional: Denver. I've watched a decent amount of Ohio State games this season and think that the Buckeyes do have a good chance to advance to the Frozen Four, but I'll take an experienced Pioneers squad.
Northeast Regional: Michigan. Even though they were bested by Ohio State for the fifth time this season last time out, Mel Person's Wolverines were one of the hotter teams down the stretch.
East Regional: Notre Dame. Goaltender Cale Morris should be able to lead the Irish back to the Frozen Four if his offense can put up enough goals.
— Drew Claussen
Northeast: Boston University – I'm going with the hot hand. All but the Terriers lost their previous game, and BU comes in undefeated in its last seven (6-0-1).
West: St. Cloud State – If the Huskies can get past Air Force, which is not a slam dunk, they match up well against both state rivals.
Midwest: Denver – Penn State and what should be a partisan crowd presents a big challenge for the Pioneers, as does a pair of teams (Princeton and Ohio State) that are a combined 12-1-1 in their last seven games, but I think DU's experience will be the difference.
Northeast: Notre Dame – The Irish found their groove just in time in the Big Ten Tournament, and I think that will continue, with the added motivation of getting back to the Frozen Four to erase the memory of last year.
— Chris Lerch
Coming out of the West, I see St. Cloud State heading to the Frozen Four. They have a balanced offensive attack up and down the lineup. Dávid Hrenák has been strong in net for the Huskies since the start of February.
Coming out of the Midwest, I like the defending champions, the Denver Pioneers. Last year's experience will be key for another deep playoff run. It doesn't hurt they have one of the most skilled players in college hockey in Henrik Borgström.
In the Northeast, I believe Cornell will come out as the survivor. They have always bounced back from a loss. Matthew Galajda will have to have a stellar weekend like he has been having all year if the Big Red want to go to Minnesota.
In the East, Notre Dame comes out of Bridgeport. The Fighting Irish will need to be strong in all facets of their game. Cale Morris has been fantastic and I don't see that changing this weekend.
— Nathan Fournier
West Regional: I think this regional comes down to the NCHC teams, and I'm leaning toward Minnesota Duluth. I think the Huskies might feel more pressure from having the top seed, while the Bulldogs will play free because they almost didn't make it after losing twice in the Frozen Faceoff.
Midwest Regional: Denver. Despite the Pioneers' occasional concentration lapses this year, they seem to have their swagger back over the last two weeks, and no one has more talent than Denver.
East Regional: Notre Dame. Frankly, the Irish are one of the strongest teams in the tournament, and the other three teams in this region struggled somewhat down the stretch. Michigan Tech will present a challenge since they are playing with confidence after winning the WCHA, but if the Irish get past the Huskies, I don't see either Providence or Clarkson stopping them.
Northeast: Boston University. The Terriers underachieved this season, but since the postseason began, they are playing with purpose and precision.
— Candace Horgan