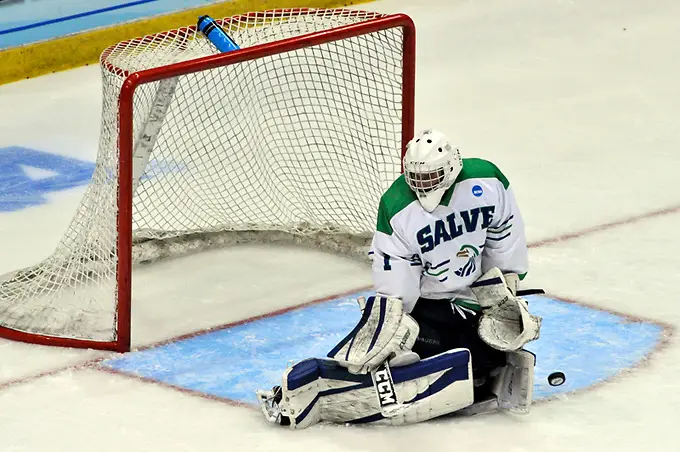 While today's semifinal battle between first-time Frozen Four participant Salve Regina and the Frozen Four experienced Wisconsin–Stevens Point would seem to favor the team from the West, Salve Regina counted on their fiercest competitor to help level the game on the ice.
Goaltender Blake Wojtala has been the guardian of the crease since he arrived three years ago (coincidentally the year they first qualified for the NCAA tournament), and his competitive spirit and leadership in the goal has helped Salve Regina win several big games against nationally ranked opponents already this season.
None was bigger than the 3-0 win in the semifinals, as Wojtala made an NCAA Division III playoff record 55 saves in a 60-minute game.
"Blake is probably the most competitive guy in the room," noted first-year coach Zech Klann. "He certainly gets the guys going and really gets prepared for the marquee matchups with teams like Norwich, Adrian, and Massachusetts-Boston this season. He works very hard on perfecting his craft, and even during our three weeks off before our first-round NCAA game he was right back into sessions with his goalie coach and working on the fundamentals."
This season, the Seahawks are now an impressive 9-1-0 against ranked opponents, and Wojtala has played in all of them. On Friday, he was recognized for his work by the American Hockey Coaches Association as he was named a first-team All-American.
Wojtala has started all but two games this season and sports a .937 save percentage and stingy 1.99 goals-against average. He also has recorded three shutouts this season. The accolades are surely appreciated, but his coach knows that Wojtala, like his teammates, wanted to win on Friday afternoon.
"Getting here to Lake Placid was definitely one of our goals at the beginning of the season," said Klann before the game. "You get to this point, and everybody you could play is a very good hockey team. Wisconsin–Stevens Point has been here a lot over the past five or six years, and they have players on the roster that know what it takes to win it all. I think our team is up for that challenge, and Blake will certainly want to do his part in competing against their excellent goaltender [Max Milosek] and giving us a chance to play on Saturday night."
Wojtala didn't give them a chance to win on Friday. He gave them the ability to win. Now, he will try to repeat that ability in the national championship game.