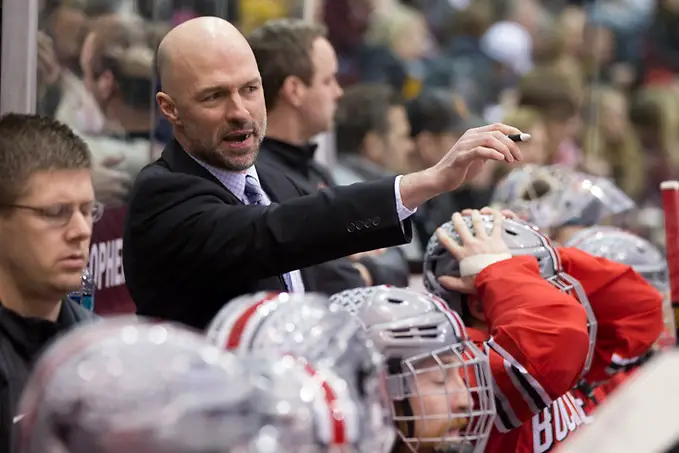 St. Cloud State announced Friday afternoon the appointment of Brett Larson as the new head coach of the men's hockey program.
Larson joins the staff at St. Cloud State with a decorated college hockey coaching resume that includes helping lead NCHC rival Minnesota Duluth to one of its most successful runs in the history of that program – including two NCAA championships in 2011 and 2018.
"Brett is a tremendously talented coach and has played a significant role in the success of the University of Minnesota Duluth's men's hockey program," said SCSU director of athletics Heather Weems in a statement. "As an assistant coach during both of UMD's national championships, and with a stop at Ohio State University during their program's elevation, Coach Larson has proven himself a top recruiter and helped to develop multiple players during their collegiate careers and as they advance to the next level of play.
"Throughout our search, Brett's name continually came up as a must-contact and he is well-respected across the hockey community. I am excited to welcome Brett and his family to St. Cloud State University and the St. Cloud community and look forward to his leadership as we continue the strong Huskies hockey tradition established by our impressive honor roll of coaches and alumni and seek our first national title."
Larson replaces Bob Motzko, who left for the Minnesota head coaching job earlier this offseason after 13 seasons at SCSU.
Larson is the third coach at St. Cloud State in the history of the school's NCAA Division I men's hockey program, and SCSU's 17th head coach since the program stared intercollegiate play in 1931-32.
"I want to thank the St. Cloud State administration and hiring committee for this great opportunity," Larson added. "I also want to thank coach Bob Motzko and his staff here at St. Cloud State. Because of their hard work and dedication this is one of the best coaching opportunities in college hockey.
"I am honored to be taking over a program that is already filled with great student athletes who are respected on the ice, in the community and in the classroom. I am thrilled to become the next head coach at such a well-regarded institution and with one of the top programs in college hockey."
Larson served as an assistant coach at his alma mater Minnesota Duluth from 2015 to 2018. He also was an assistant with the Bulldogs from 2008 to 2011 and helped Minnesota Duluth win an NCAA Division I national title in 2011.
In addition to his time at UMD, Larson served as head coach and general manager with the USHL's Sioux City Musketeers from 2011 to 2013.
Larson, who served as the head coach for gold medal-winning Team USA at the 2012 World Junior A Challenge, returned to the collegiate ranks in 2013 when he joined the staff at Ohio State as an associate head coach.
A Duluth, Minn., native, Larson played college hockey as a defenseman at UMD for four seasons (1991-95). He scored 24 goals and 43 assists for 67 points in 133 career games. He captained the Bulldogs during his senior year in 1994-95 and was a three-time WCHA All-Academic team award recipient.
An 11th round pick by the Detroit Red Wings in the 1990 NHL draft, Larson went on to play 12 years in the professional ranks, including two (1990-2001) as a player-coach with the San Diego Gulls of the now-defunct West Coast Hockey League. He also played with the Colonial Hockey League's Madison Monsters, the East Coast Hockey League's Louisville Riverfrogs, the International Hockey League's Utah Grizzlies, Las Vegas Thunder and Long Beach Ice Dogs, in addition to spending another five years in Denmark, Germany and England.
He wrapped up his playing days in 2006-07 as a player/assistant coach for the Florida Seals of the Southern Professional Hockey League. During the spring of 2008, Larson coached Team RBK (AAA selects) in the Twin Cities metro area.
Larson received his Bachelor's degree in criminology from UMD in 2004. He and his wife, Kelly, have two children, Lane and Calla.