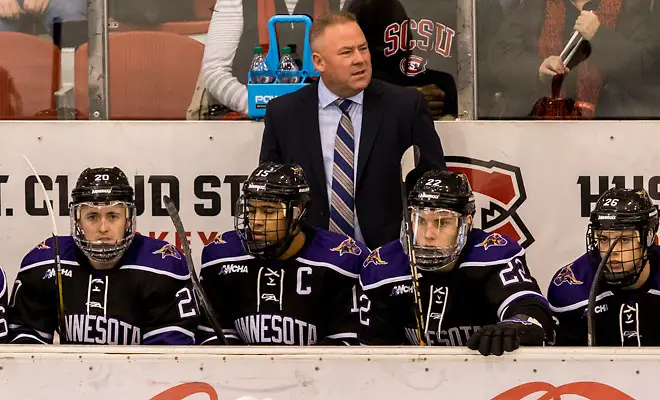 Minnesota State coach Mike Hastings has replaced David Quinn as head coach of the 2019 U.S. National Junior Team.
Team USA will take part in the 2019 IIHF World Junior Championship Dec. 26, 2018 to Jan. 5, 2019, in Vancouver and Victoria, B.C.
Quinn, the former Boston University head coach, stepped down from the position after accepting the head coaching job of the NHL's New York Rangers.
Hastings was originally named to the U.S. staff as an assistant on April 20 along with David Lassonde (Dartmouth) and Steve Miller (Ohio State).
Minnesota Duluth coach Scott Sandelin has been named assistant coach in Hastings' place.
"Mike was the obvious choice in taking over as head coach of our national junior team," said John Vanbiesbrouck, assistant executive director of hockey operations for USA Hockey and general manager of the 2019 U.S. National Junior Team, in a statement. "While we wish David Quinn all the best in his return to the NHL, it speaks volumes to our American depth in the coaching ranks that not only can someone of Mike's stature fill this position, but we can add an individual with Scott's resume, as well."
Hastings will be behind a U.S. bench for the fifth time and his first as head coach of a U.S. team in an IIHF event.
"It's always an honor to represent your country and I'm thrilled to be asked to do so as head coach of this year's U.S. National Junior Team," added Hastings. "Our first few weeks as a staff have already been terrific thanks in large part to David's leadership and we couldn't be happier to have Scott join in the evaluation process. The talent depth is better than it's ever been and we fully believe we can build a roster more than capable of claiming a fourth straight medal in this tournament."