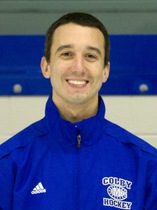 The Merrimack women's program has announced the hiring of Chris Hall as an assistant coach.
"We have been fortunate over our program's existence to have some tremendous people working with our players, and Chris is an outstanding addition," Merrimack coach Erin Hamlen said in a statement. "His success in recruiting to and developing top players at Colby with their men's hockey program — one that won its league championship last season — is one of the many reasons that he is a great fit for Merrimack women's hockey. A former goalie himself, Chris will work primarily with our goaltenders and the defense as a whole, in addition to his other coaching duties."
Hall joins the Warriors after spending six years at Colby, where he was an assistant coach with the men's program, as well as head coach of the golf program.
Hall was the recruiting coordinator for the Mules and helped Colby reach five NESCAC playoff appearances and one NCAA Frozen Four appearance.
Prior to Colby, Hall worked with both the Massachusetts and Amherst men's hockey teams and was an undergraduate student assistant coach at Notre Dame from 2005 to 2010. He has also worked for the Minnesota Hockey Camps as a coach and head counselor.
Dana Gobeil has also been named the Merrimack women's program's equipment manager.