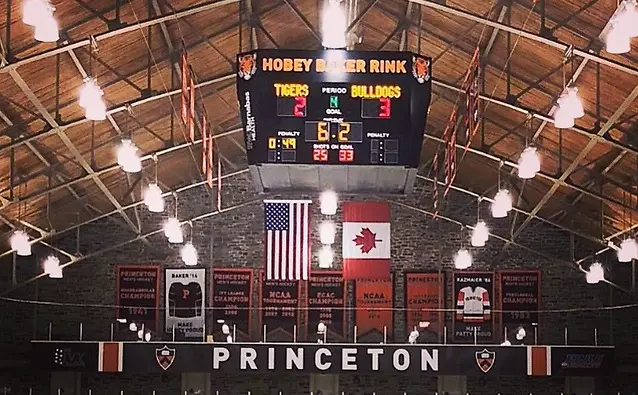 Each week, USCHO.com will pick the top 10 moments from the past weekend in our brand-new Monday 10 feature.
1. An upset sweep and a lot of goals
Unranked Wisconsin, picked to finish sixth out of seven in the Big Ten preseason coaches poll, swept No. 12 Boston College at home with a 3-0 shutout and 7-5 win. In Friday's opening game, junior Jack Berry made 29 saves in his seventh career shutout. In Saturday's 7-5 game, Wisconsin sophomore Sean Dhooghe scored his first goal of the season just 38 seconds into the first period. The Badgers and Eagles exchanged goals throughout the game, but Wisconsin never trailed in the win.
After the sweep, coach Tony Granato said that the Badgers saw areas where they can improve this season but added, "The one thing that we know we have [is that] we've got workers, guys that play hard, energy and a lot of young players. To be able to accomplish that this early certainly should give us some confidence, but we know we've got a long ways to go to keep improving each and every week."
The Badgers beat the Eagles in Boston Oct. 13, 2017 and followed that with a win over Merrimack the next night, but Wisconsin didn't record a weekend sweep of a single opponent for all of 2017-18.
2. An upset-and-a-half
Unranked Bemidji State opened its season with a home-and-home series against No. 13 North Dakota, beating the Fighting Hawks 2-1 at home before tying North Dakota 1-1 on the road.
Bemidji freshman Owen Sillinger's first career goal at 7:12 in the third period Friday was the game winner for the Beavers, and sophomore Charlie Combs scored at 15:46 in the third Saturday to tie the game. The Fighting Hawks outshot the Beavers 56-34 in the two games.
North Dakota senior forward Nick Jones didn't mince words after the series, saying "As a whole, taking in mind both games, unacceptable. Disappointing. Can't have that. Come and get a loss and a tie. Embarrassing is the only word I got."
Jones assisted on both of North Dakota's goals on the weekend.
3. The first title of the season
After advancing to the title game of this year's Ice Breaker on a shootout following a 6-6 tie with host Mercyhurst, Notre Dame captured the tournament title with a 3-0 win over Providence. This is the second time in the tournament's history that the Fighting Irish have won the championship.
In Friday's 6-6 tie, Mercyhurst led 4-3 heading into the third period, but junior Cal Burke scored power-play goals for Notre Dame at 4:52 and 5:43 to give the Irish a lead. After Josh Lammon tied the game for the Lakers 10:52, Burke netted his third goal of the night at 13:55 to complete his second career hat trick. In the shootout, Notre Dame senior Bobby Nardella recorded the only goal. Junior goaltender Cale Morris played both games in the Notre Dame net, saving 22 in his sixth career shutout in Saturday's 3-0 win.
After Saturday's win, Notre Dame coach Jeff Jackson said that he was "really excited" with how his young team played after Friday's game.
"I thought we did a much better job with the puck, got some timely scoring and got good goaltending," Jackson said. "That's how we win."
4. Shutting them out
Eleven of the 48 Division I games played this weekend, nearly 23 percent, resulted in shutout hockey, with 11 different goaltenders winning those games. With his 3-0 win over Mercyhurst Saturday night, Miami junior Ryan Larkin has his second shutout in three games played this season.
5. Opening sweeps
Nine different teams opened their 2018-19 season play with sweeps of single opponents this past weekend: Colgate, Maine, Massachusetts, Minnesota State, Northeastern, Ohio State, Penn State, St. Cloud State and Wisconsin. Denver also recorded two wins, but against two different teams.
6. Shorty times two
Colorado College junior Alex Berardinelli had two shorthanded goals on the same penalty kill in the third period of the Tigers' 6-1 win over Air Force Saturday. Junior Alex Pernitsky had the assist on the goal at 7:55, and goaltender Alex Leclerc had the single assist at 8:52.
Berardinelli had one goal in 12 games last season and has four in four so far in 2018-19. The shorthanders were the second and third of his collegiate career. The assist was the second point of Leclerc's 71 collegiate games.
7. Slow-starting offense
Alabama Huntsville traveled to Colorado to play single games against Colorado College and Denver, and the Chargers were kept scoreless against both teams, losing 1-0 to the Tigers Friday and 6-0 to the Pioneers Saturday. One statistic of note beyond the final scores is the shot differential between Alabama Huntsville and its opponents: CC outshot UAH 47-18 and Denver outshot the Chargers 49-16.
Alabama Huntsville is 0-4 in two weekends of play, having been shut out in three of those games. In two games against Miami Oct. 6-7, the RedHawks outshot the Chargers 85-29. Austin Beaulieu has UAH's lone goal so far this season, scored in the first period of the Chargers' first game against Miami.
8. Friction and penalties
In two games at Alfond Arena, St. Lawrence and Maine combined for 109 penalty minutes, with the Saints earning 64 minutes of those infractions. In Friday's contest, Maine had nine minor penalties while St. Lawrence had 11.
Saturday's contest was a little different. At 18:10 in the third period, St. Lawrence sophomore defenseman Dylan Woolf hit Maine freshman Adam Dawe, which resulted in an on-ice altercation involving several players. Dawe left the game after remaining on the ice for a short period.
Woolf earned a 10-minute misconduct and a game disqualification, five minutes for contact to the head and five minutes for fighting – a total of four penalties for 30 minutes in the game. Maine junior forward Patrick Shea earned a game disqualification and five minutes for fighting.
9. D-III triumps over D-I
Adrian beat Princeton 3-2 in overtime Saturday in an exhibition game played at Hobey Baker Arena.
Ironically, Princeton head coach Ron Fogarty and assistant coach Stavros Paskaris formerly held the same positions at Adrian.
10. This looks familiar
After two weekends of mostly nonconference play, the Big Ten leads all leagues with a record of 9-2-2 against non-league opponents for a win percentage of .769. The NCHC follows (14-6-3, .674) with Hockey East (12-12-0, .500) in third. It is very early, but this mirrors the inter-conference play of the 2017-18 season, in which the Big Ten edged the NCHC, followed by HEA.
Of course, at the end of the 2017-18 season, we saw how much all of that mattered.