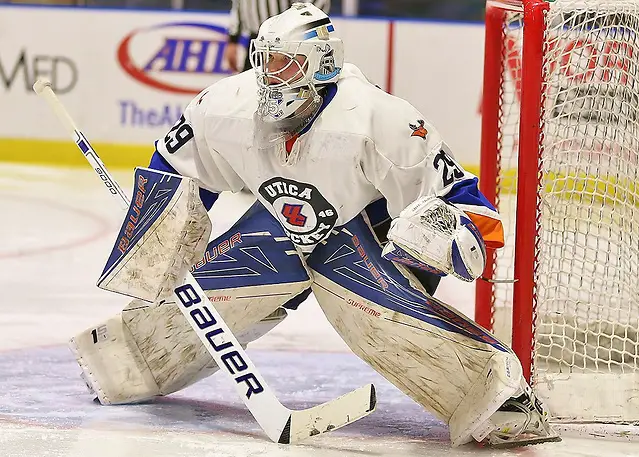 The UCHC has come a long way from its days as the ECAC West. The league now boasts 10 teams with the addition of Wilkes to the conference ranks this season. With teams now spanning New York, Pennsylvania, and Maryland, the conference is geographically diverse and drawing talent from all parts of the United States and beyond.
Additionally, the playoff format for this season has been modified. Only the top six teams qualify for the postseason, which is consistent with last year. First round games between the lower seeds are a single elimination format, with the winners advancing to a two-game series and possible mini-game scenario to decide the finalists. The same format will be used in the finals to foster additional opportunity for at-large consideration, as well as crowning the first conference champion that will receive an autobid to the NCAA tournament.
The Favorite
Utica may feel the autobid is a year late, as they won last year's conference championship but missed an at-large bid into the NCAA tournament. Coach Gary Heenan's squad is not likely to pass up the opportunity to check both boxes this season and will rely heavily upon goalie Patrik Virtanen and seniors Gregg Burmaster, Zach Borsoi, and Justin Derlago to lead the way for the Pioneers.
The Dark Horses
With 13 seniors on the roster, coach Arlen Marshall is looking for his Manhattanville Valiants to take advantage of their experience and talent in battling for the title and autobid to the NCAA tournament. Matt Lippa, along with fellow seniors Casper Dyrssen, Eric Berglund, and Bryan Platt, will be expected to lead by example and put up some numbers this season.
They say the best thing about a freshman is that he becomes a sophomore. Elmira coach Aaron Saul is certainly hoping that is the case, as he has 10 sophomores on the roster and five freshmen for added youth. If captains Blake O'Neill, Chris Moses, and Brent Lafayette can get the youth movement up to speed fast, Elmira will be a contender when it matters in February.
USCHO Predicted Finish
1) Utica
2) Manhattanville
3) Elmira
4) Lebanon Valley
5) Stevenson
6) Nazareth
7) Neumann
8) Chatham
9) King's
10) Wilkes
Players to Watch
Chatham: Kirk Underwood — forward; Chris Lutz — forward
Elmira: Blake O'Neill — defenseman; Chris Moses — forward
King's: Nicholas Palumbo — defenseman; Tyler O'Mara — forward
Lebanon Valley: Cole Hepler — forward; Brett Johnson — forward
Manhattanville: Casper Dyrssen — forward; Matt Lippa — forward
Nazareth: Austin Romzek — forward; Brad Pizzey — forward
Neumann:Joe Mitchell — forward; Connor Annett — defenseman
Stevenson: Mike Davis — forward; Jordan Watt — forward
Utica: Gregg Burmaster — forward; Patrik Virtanen — goalie
Wilkes: Brett Riley — coach; Taylor Bommarito — forward
Within the UCHC is a subset of teams (Manhattanville, Stevenson, Lebanon Valley, King's, and now Wilkes) who will see their scheduled games count toward the second Middle Atlantic Conference championship. Manhattanville and Lebanon Valley will battle for the MAC title as part of their overlapping games with the UCHC schedule.